4 Days Introduction De-Stress Wellness Retreat Udaipur, Rajasthan
---
Experience Overview
Satwa, Rajas and Tamas are known as three mahagunas of mind. But when Rajas and Tamas goes beyond the limit they become the doshas of mind which if increased vitiates the doshas in their own way and creates certain disturbances in our day to day life. It causes issues like headache, disturbed sleep, insomnia, memory loss etc. Under Stress, the muscles get tensed, breath becomes faster, heart rate increases and the body gets into a fight & flight response. Our inability to deal with stress is due to the imbalance in, or lack of coordination of three main Mental functions—Dhi (Learning), Dhriti (Retention) & Smriti (Long term Memory) along -with lack of Ojas energy in the body.
At Raas Devigarh we have arranged the package which cure all the mind issues and body ailments by including certain therapies like abhyanga, shirodhara, yoga, meditation etc. The activities help in controlling emotions and brain stimulation releasing the stress in our soul which helps a lot to feel us light. On arrival our wellness consultant will meet you to fix the wellness program depending on your Dosha (Body constitution). The entire wellness retreat will be customized as per length of stay and your wellness requirements.
---
Group Size
The maximum size of the group is 5
---
---
Amenities
---
About the center
RAAS Devigarh
Founded in 1999
A place nestled in the ancient and majestic Aravallis just a 45 mins drive from the city of Udaipur, a tall standing testament to the Rajputana world of the 18th century is Raas Devigarh. This heritage palace has been responsibly restored so as to meet the needs of the historically inclined yet modern traveller.
Panoramic views, thoughtfully landscaped gardens, swings, fairytale turrets & arches, temperatured controlled jacuzzi, turquoise blue swimming pool, minimalist interiors and Artefacts of house of Mewari are what await you at Raas Devigarh. History has it that 'Devigarh Palace' was completed in the year 1760 AD during the reign of Rajrana Sajja Singh II.
The restoration project lasted 15 years and took a talented team of 750 people, the palace hotel was finally opened in 1999 offering a blend of the old era and the new world. In 2015 the property was upgraded and rebranded as Raas Devigarh.
"Raas Devigarh is an intimate immersion into a theatrical and primordial dreamscape. RAAS Devigarh is potent. To stay here is to obtain a steady, surprising and joyous sense of resting in what by any standards can only be described as the perfect spot." -- Conde' Nast Traveller.
---
Accommodation Overview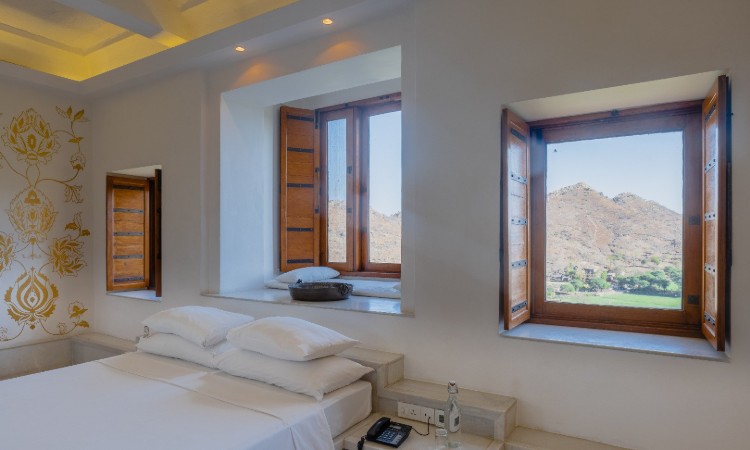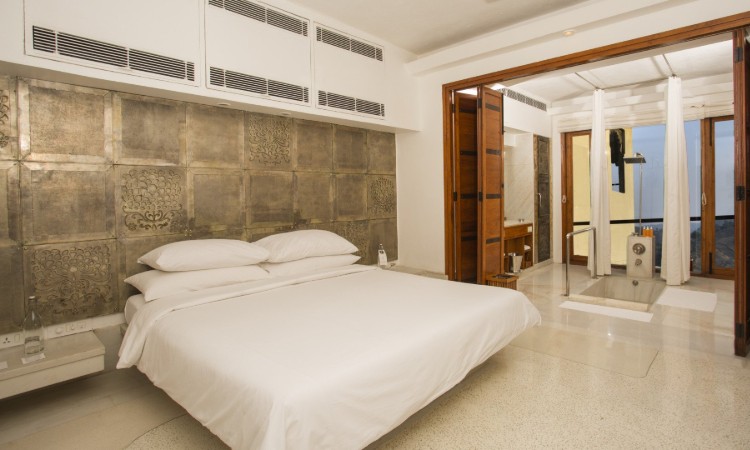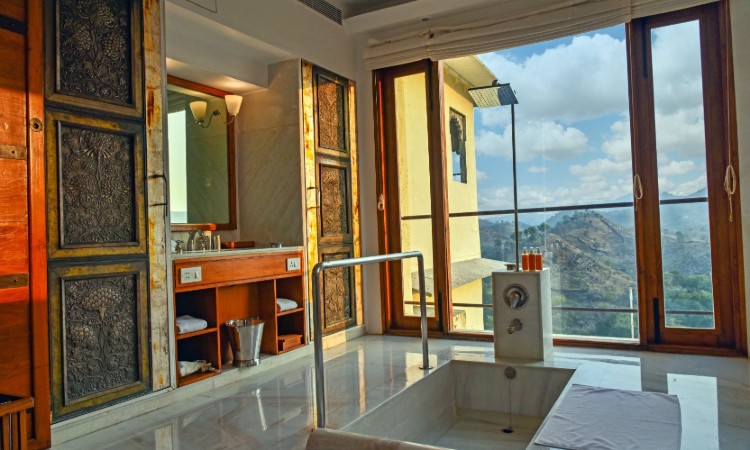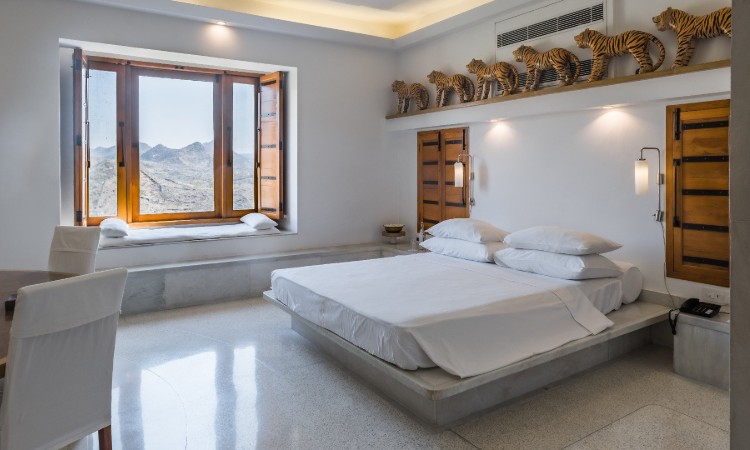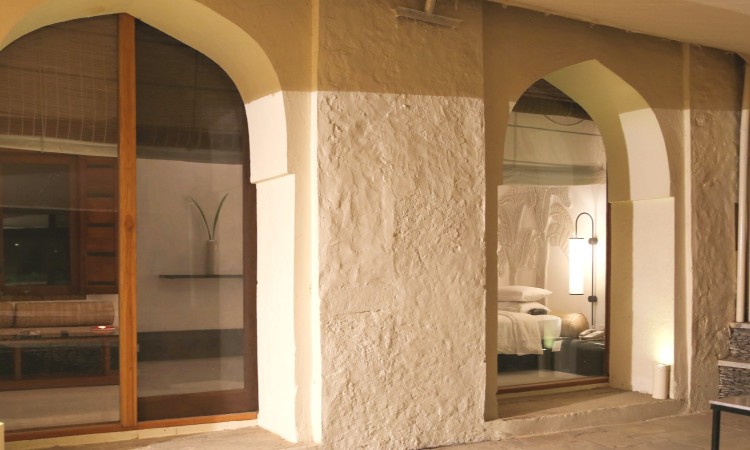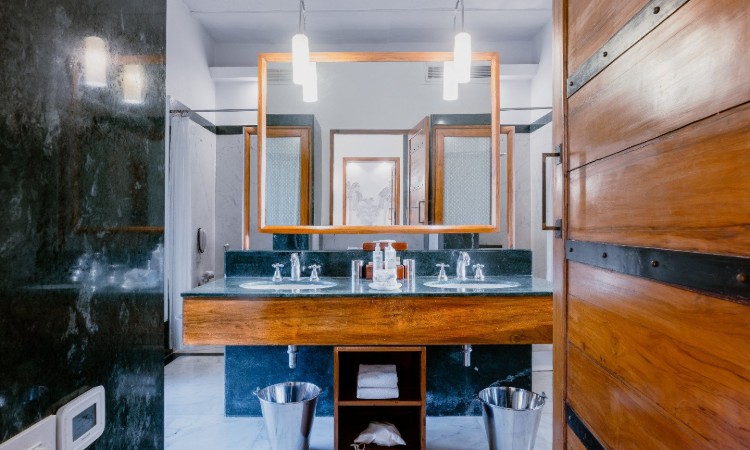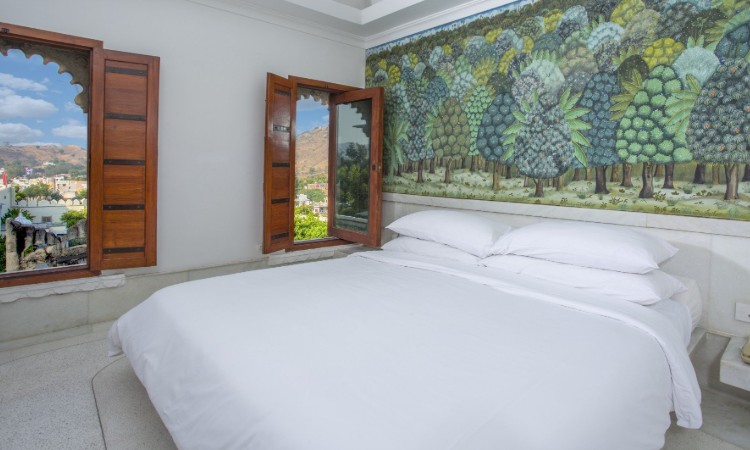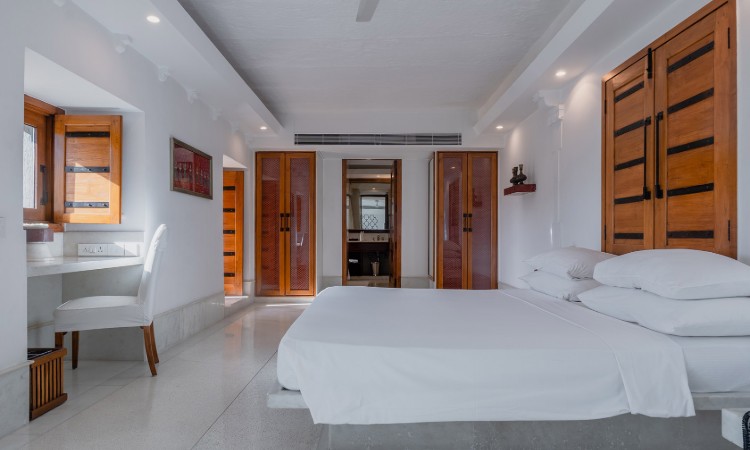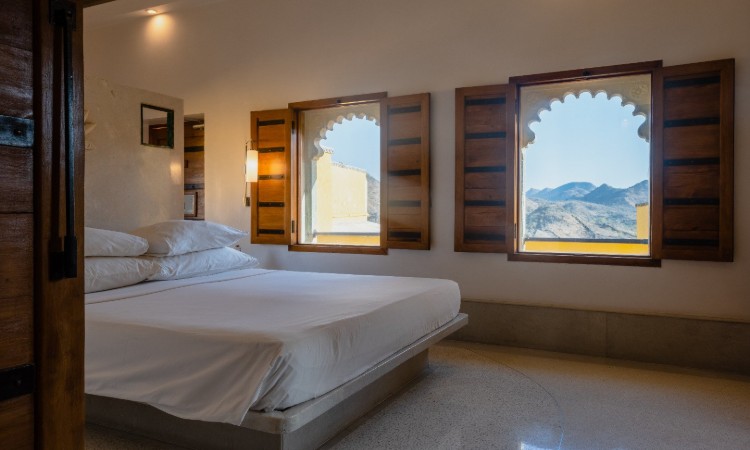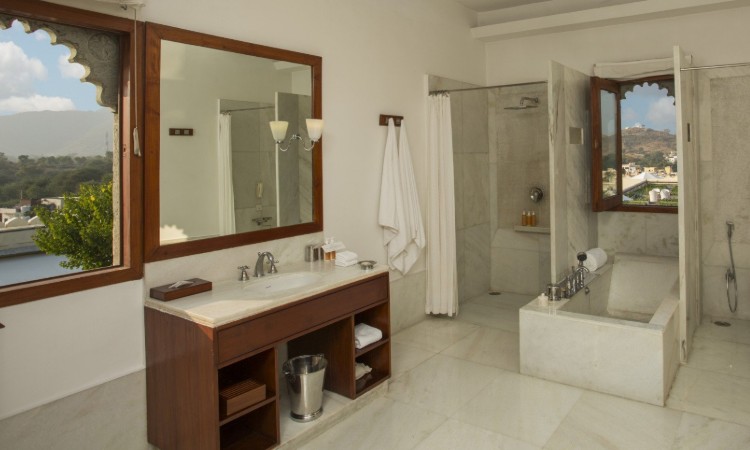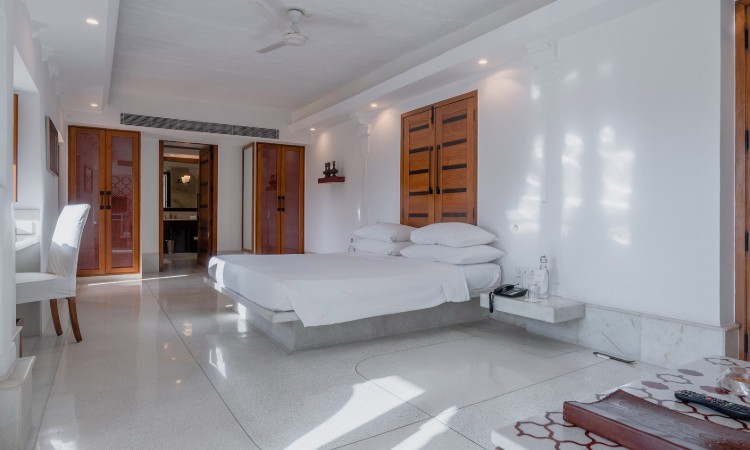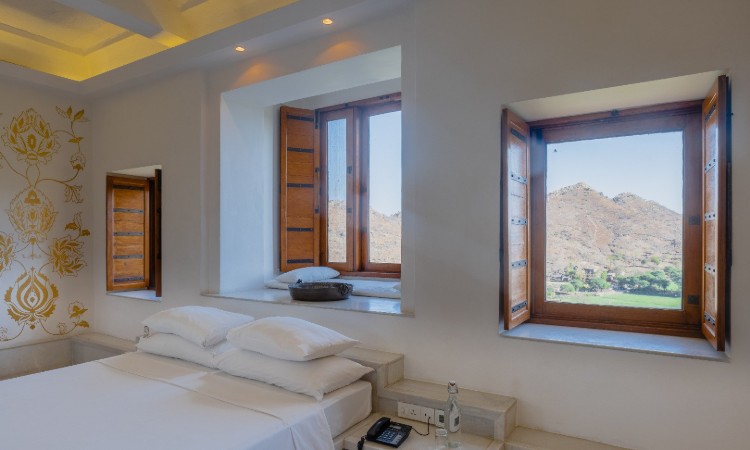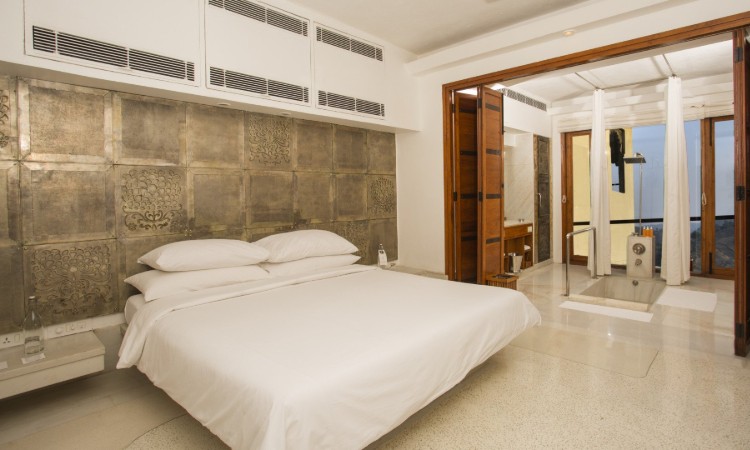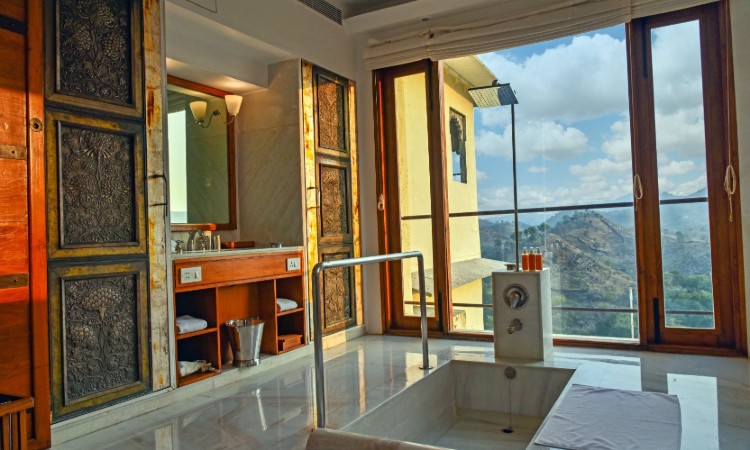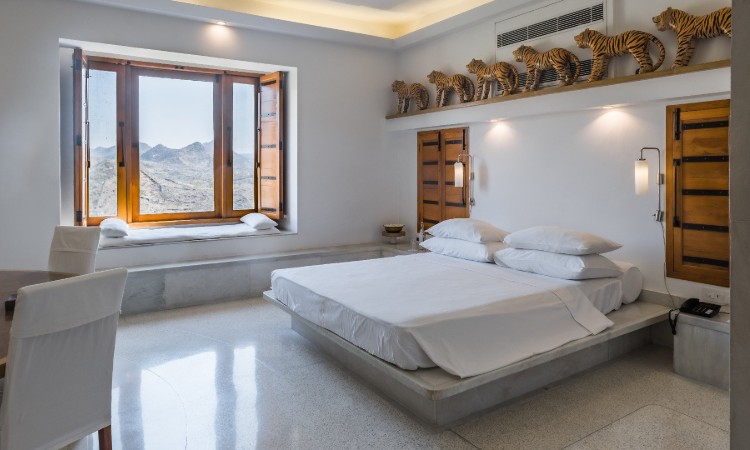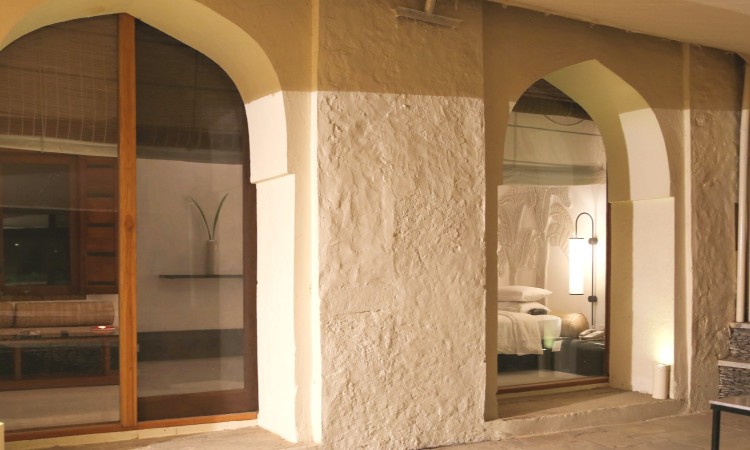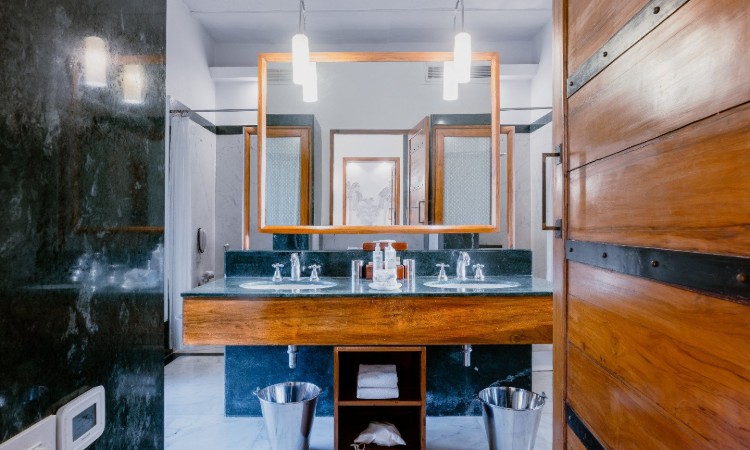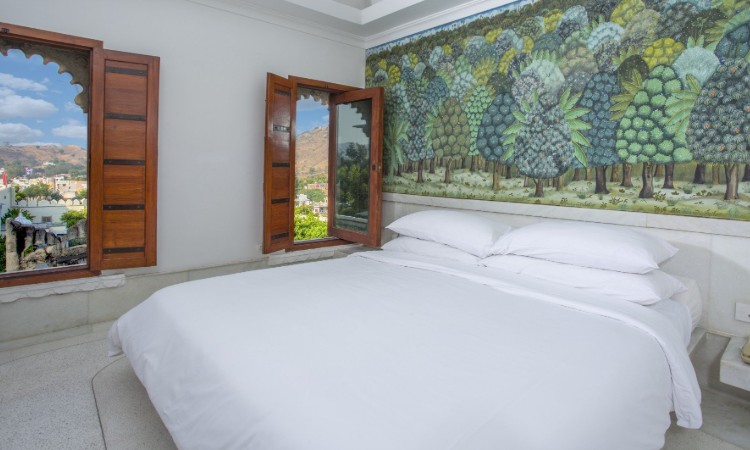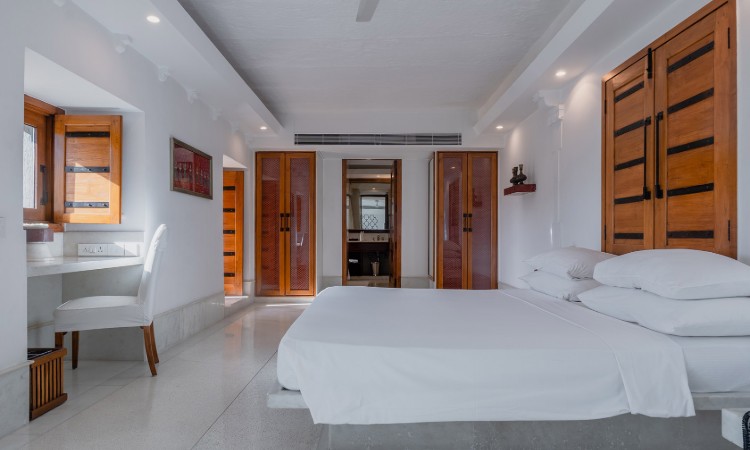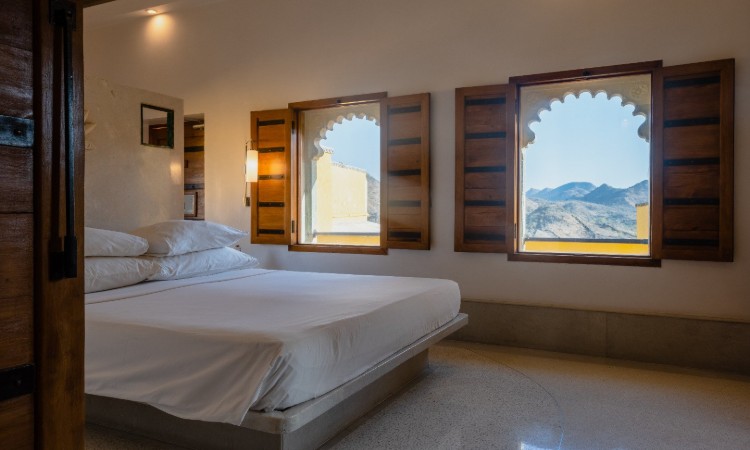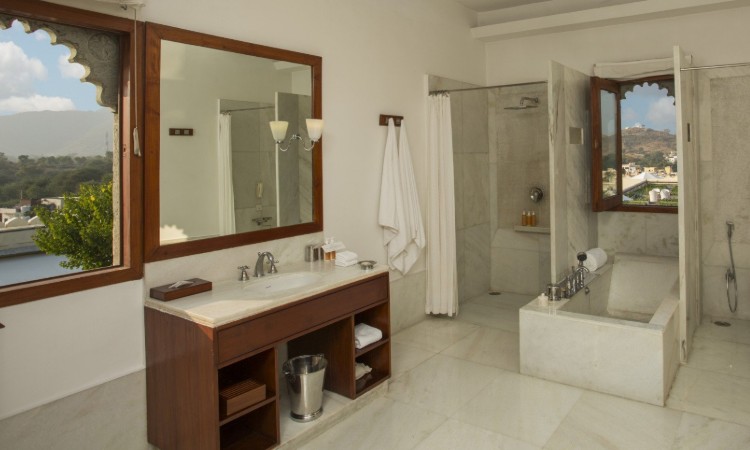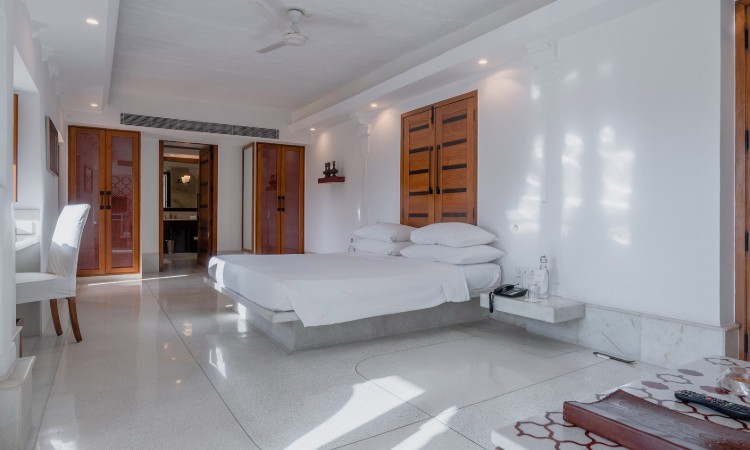 RAAS Devigarh offers 39 unique suites, each unmatched by any other hotel experience in Udaipur. Seamlessly melding contemporary luxury with ancient beauty, each suite comes with free wi-fi, a minibar, tea and coffee making facilities, and a room service menu.
The Garden Suites (490 sqft) are our most modest but no less magical. For many of our repeat guests, they become a preference – beloved for their chic simplicity and lovely outdoor patios.
The Palace And Aravalli Suites (650 sqft & 720 sqft) are often a must for first-time visitors – each is different, but all are magically romantic with soul-stirring views over the surrounding countryside and a sense of old-world Rajasthani mystery.
For the ultimate in both privacy and luxury, opt for The Devigarh Suite (1200 sqft), complete with its own swimming pool.
---
How to get there
By Air
The nearest airport is Maharana Pratap Airport Udaipur (UDR)
By Car
A 45 mins drive from Udaipur to the village of Delwara
---
Food Overview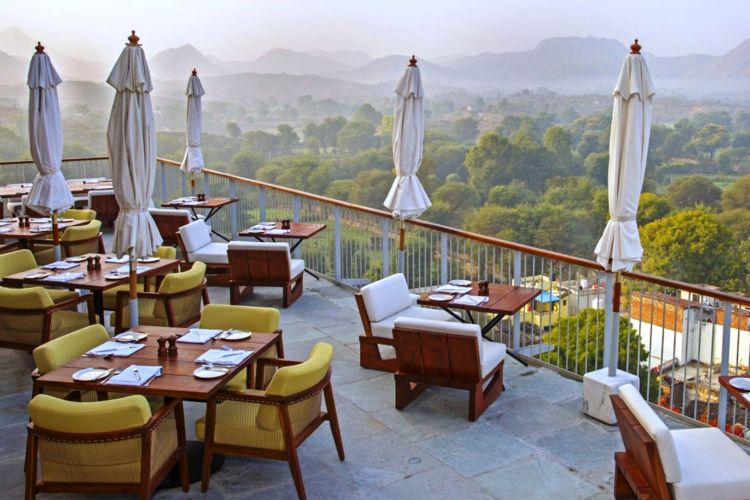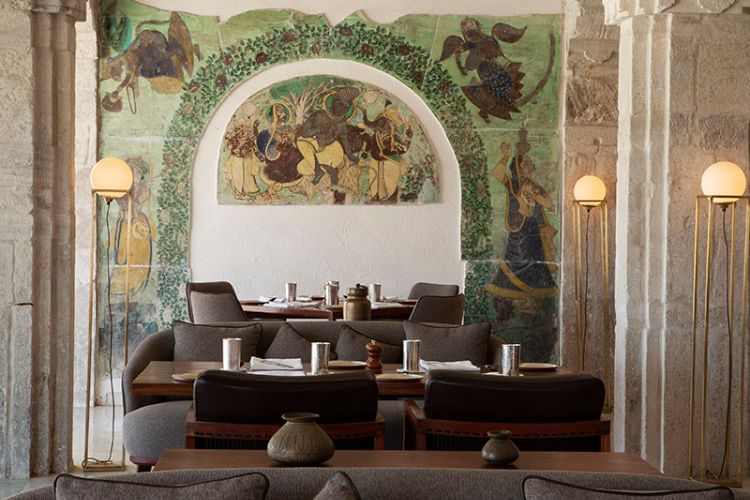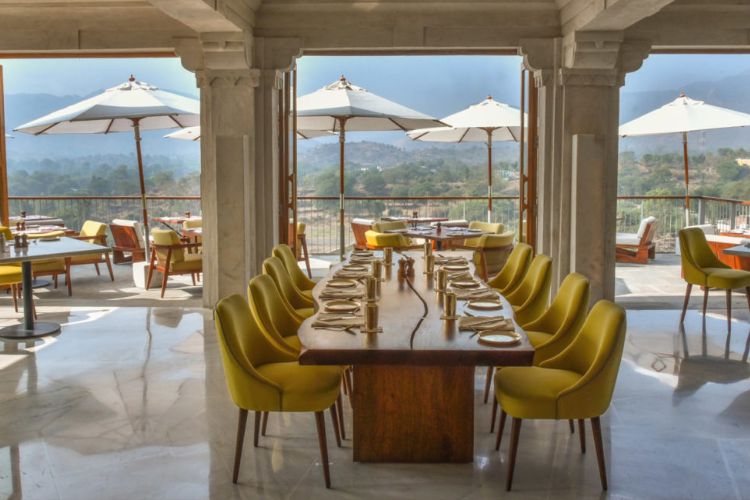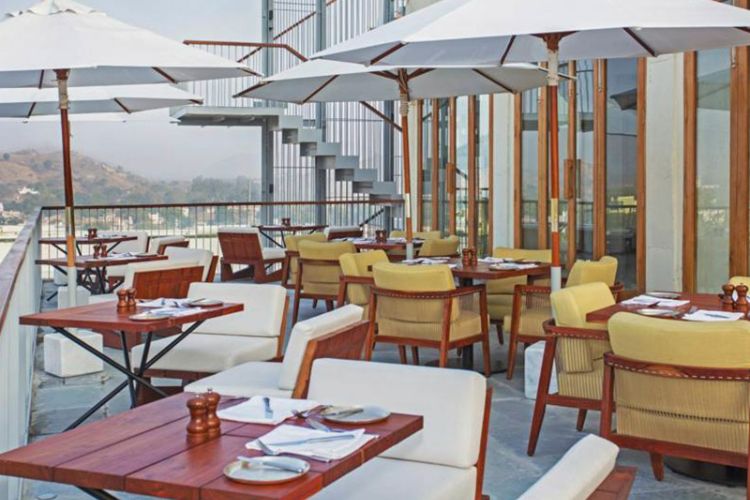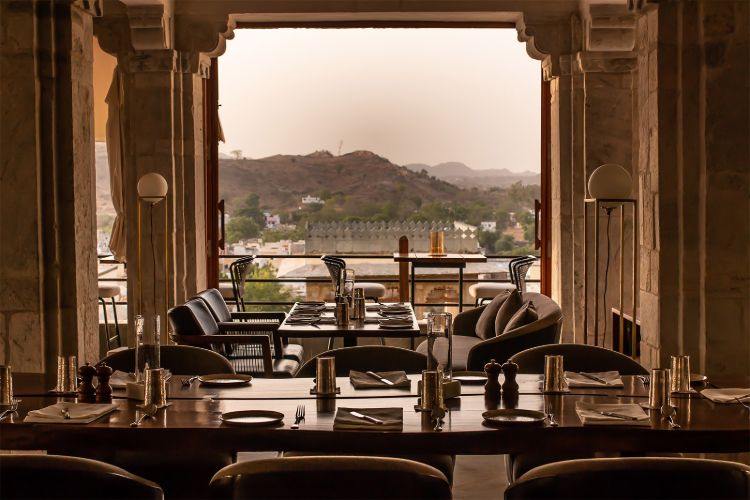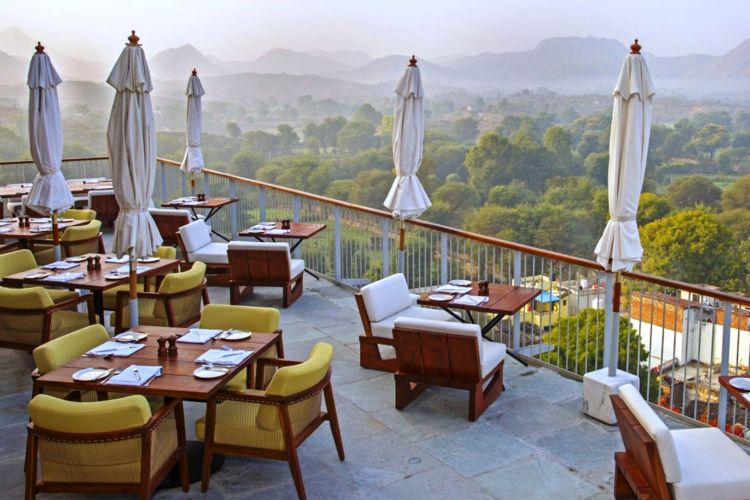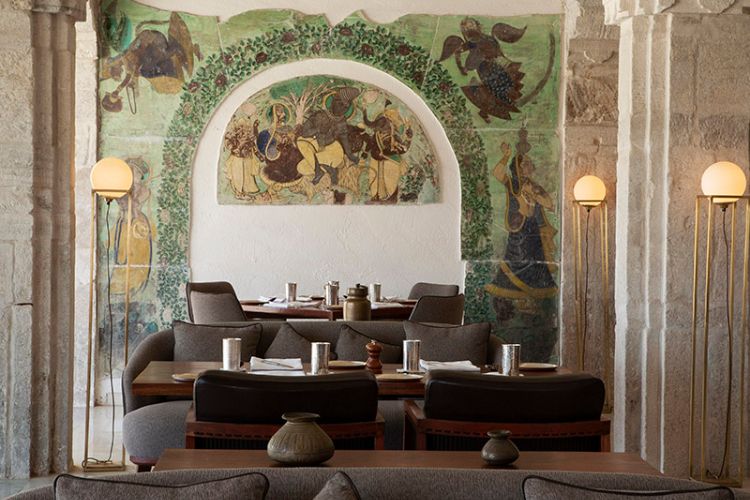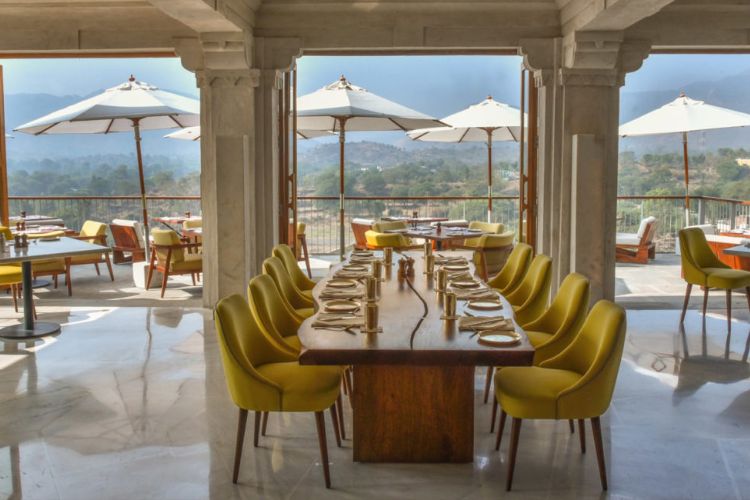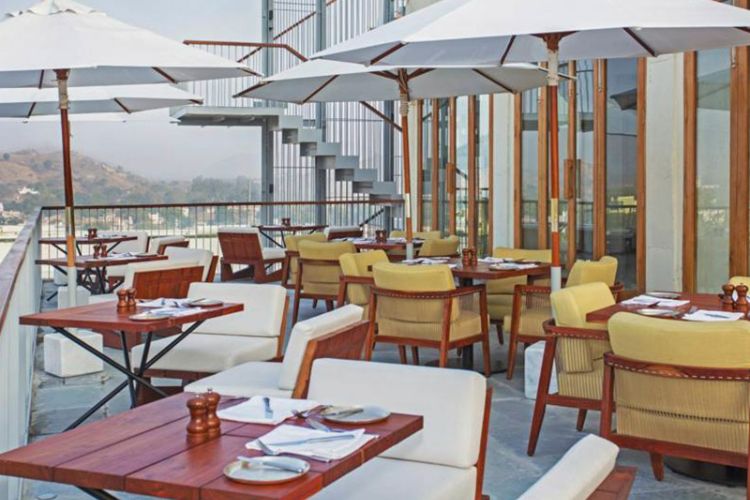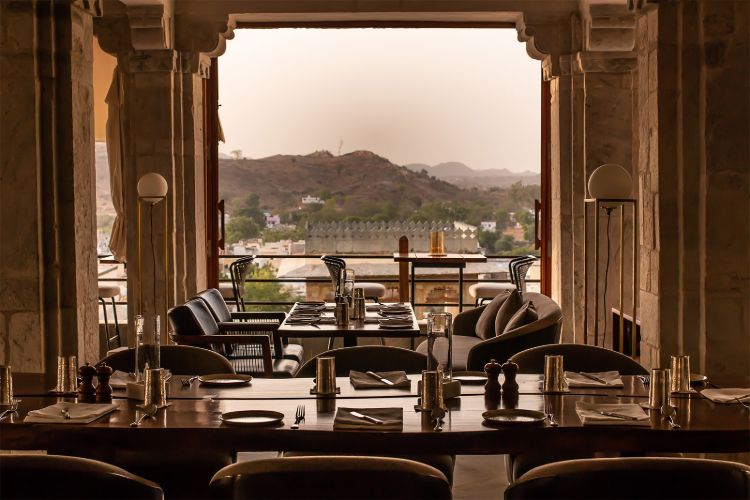 Devigarh offers a range of local and international cuisine to suit all tastes, and in a range of settings that show off the hidden jewels of the palace. Breakfast and Dinner are served in our restaurant, whilst Lunch can be enjoyed in the Bar. We can also serve you in your room, by the pool, or whichever part of the palace takes your fancy. We have private dining options for parties of all sizes. Room Service is available 24/7; if you should desire anything, we're on hand. We also have a dedicated spa menu, which offers a range of options to boost your health using the purest of ingredients and including medicinal herbal teas.
Kothar Bar
Whatever time of day, whether you're after a glass of wine on the balcony or a mid-morning chai masala in the lounge, the Bar is well-stocked for all occasions. From its terrace, the sun can be seen setting behind the hills and provides the perfect evening atmosphere to enjoy over refreshing cocktails. Open all day and late into the evening, we serve fresh coffee, hand-squeezed juices, and many alcoholic options. Our wine list showcases the best of India's up-and-coming vineyards, as well as a carefully curated selection of international wines, right up to the finest of champagne.
Restaurant
Our Restaurant serves a seasonal menu, with ingredients home-grown and picked a stone's throw from the palace in our chef's garden. The Restaurant offers superb panoramic views over the surrounding countryside and the Aravalli hill range. The clean, minimalist design is complemented by original wall paintings of Devigarh's former rulers and historic photographs of the palace.
Private Dining Options mentioned below are available at extra cost
Durbar Bar
A confined courtyard that boats a spectacular view of the skyline, the Durbar Courtyard offers diners a unique ambiance that is complimented by the soft sounds of the gently cascading water fountains. This could function as a private venue for an intimate lunch, where diners can enjoy secluded moments with their loved ones. It is also an ideal destination for evening drinks for 25-30, providing an open-air venue with enviable views.
Available for 10 guests or more.
Hawa Gokra
The Hawa Gokra is another intimate setting for meals. The room was originally built with many windows to harness the refreshing energy of the natural breeze and keep it cool in the summer. This architectural element has the fortunate coincidence of also creating stunning views from the top of the palace. Bedecked with roses and candles, it becomes a very special place to share dinner.
Available for up to 4 guests.
Garden Dining
Furniture covered with silver, and walls that mirror the luxury of the room, the Silver Lounge offers diners an opulence that has made it one of the most desirable places to eat around Udaipur. Candles are set up across each table to create a mesmerising ambiance, and the quality of the food matches that of the setting.
Available for 4 guests or more; we think it's ideal for 15 to 20.
Janana Courtyard
Janana Courtyard contains a modern fountain beside an ancient swing. Enjoy local delicacies from our world-class kitchen in this open-air setting that is steeped in the history of Devigarh palace. Janana means 'Maidens', and the Janana Courtyard was once reserved as the women's quarters of the palace. Now open to all, you will be welcomed by black-top tables, many candles, and an array of flowers. A place for all seasons, winter visitors, in particular, will be delighted by the use of bonfires, placed for your comfort.
Available for 10 guests or more; we think 25 to 30 guests are ideal.
Pool Deck
No trip to the Devigarh Palace can be complete without a meal enjoyed with the backdrop of the setting sun. Overlooking the Aravalli Range, this open-air terrace comes equipped with protective canopies to combat unforeseen weather conditions. The ideal venue for breakfast, evening drinks, high-tea or dinner, as the pool calmly laps near you.
Available for 25 guests or more; we think 45 is ideal.
Roof Top
The Roof Top offers diners an enclosed veranda with a private Jharokha [balcony] to enjoy their meal in. Enjoy the best of the palace's cuisine under the stars, or sheltered from the sun under a canopy with cooling breezes. The Roof Top gives diners a unique vantage point over Delwara village and this lush region of Rajasthan, a memorable venue for lunch, dinner, or just to raise a glass to the good life.
Available for 4 guests or more.
Sheesh Mahal
The Sheesh Mahal is a highly popular setting for meals. This intimate room, with windows offering views from high over the Udaipur countryside, preserves the palace's history in the hand-decorated mirrors that adorn the walls. Devigarh's kings once used this as a spot to entertain their queens and royal guests, now you can take their place. When prepared with candles and flowers, the whole room glows warmly.
Available for up to 4 guests
Silver Lounge
Furniture covered with silver, and walls that mirror the luxury of the room, the Silver Lounge offers diners an opulence that has made it one of the most desirable places to eat around Udaipur. Candles are set up across each table to create a mesmerising ambiance, and the quality of the food matches that of the setting.
Available for 4 guests or more; we think it's ideal for 15 to 20.
---
What is Included
Arrival and Departure wellness consultation
1x Private treatment session per day per person
3 Nights Chosen Accommodation
Group activities
1x Guided trekking tour
All three major meals
2-way airport transfer from Udaipur airport
---
What is not Included
Prices are excluding tax (GST-18%)
Personal expenses
Tickets
---
Cancellation Policy
The cancellation policy General policy:
30 days before arrival no charges
Within 30-15 days of arrival – 50% of the retreat price will be charged as cancellation
Within 15 days of arrival – 100% of the retreat price will be charged as cancellation
Covid policy:
The cancellations will be based on govt. guidelines for travel.
---
Things to do around
The hotel offers a wide range of recreational activities, both indoors and outdoors and suitable for all ages. There are guided excursions beyond the palace available for those who wish to explore the area. These promise to take you on memorable journeys through Rajasthan's rich cultural history.
Rural rajasthan: delwara heritage walk followed by handicraft experience.

A journey through sacred places: eklingji and nagda temples

Religious rituals: shrinathji temple in nathdwara

Battle stories: haldighati

A royal experience: udaipur

Panoramic summit: sajjan garh

A rajput stronghold: chittorgarh and sanwariyaji temple

Temples of old & new

A village exploration!
---