5, 7 Days Ayurvedic Immunity Booster in Chowara, Kerala
---
---
Amenities
---
About the center
Nikki's Nest Kerala
Founded in 1996
Nikki's Nest Seaside Ayurvedic Resort Kerala in the tranquil town of Chowara, Kerala. The Ayurveda resort is located off an ancient fishing village in the south of Kerala. As per its name, Nikki's Nest is a cozy and welcoming resort that is also a nest for wellness. The resort came into existence in 1996, since then it has established a name for itself in the field of Ayurveda, health, and wellness. This cozy resort has forty-seven rooms across five categories, two restaurants that specialize in vegetarian and seafood respectively, a yoga floor that opens up to the expansive views of the blue sea, a spacious sun deck by the swimming pool, a gift corner, a beauty salon, and a library to cater to your reading requirements.
Nikki's Nest Seaside Ayurvedic Resort Kerala offers priceless views of local life such as local fishermen setting out in catamarans lit only by a hurricane lamp. The rooms at the resort have breezy corridors and are open to the lush green lawns. The cottages at Nikki's Nest are sprawled across a palm fringed hillock sloping gently down to the Arabian Sea. All the cottages come equipped with amenities; one would possibly need for a relaxing holiday.
The rooms at Nikki's Nest Seaside Ayurvedic Resort Kerala are of five types, namely Standard Room (located opposite the Ayurveda ashram, and below the restaurant), cottage (thatched circular twin cottage), chalets (squared tiled roof cottages with an ocean view), Kerala House (a sea facing wooden house built as per the local architectural style), and The Nest (a bigger version of Kerala House that is 950 sq ft. in area, and located at the top of the hill slope.) All the rooms are smoking-free to encourage the idea of health and wellness. Nikki Nest's also organizes cultural activities, from time to time, to entertain and enlighten their guests about the local culture.
---
Accommodation Overview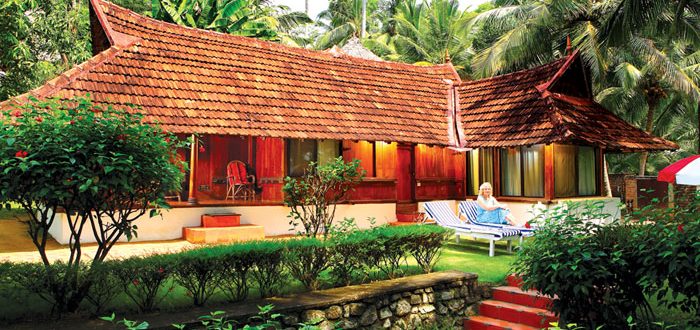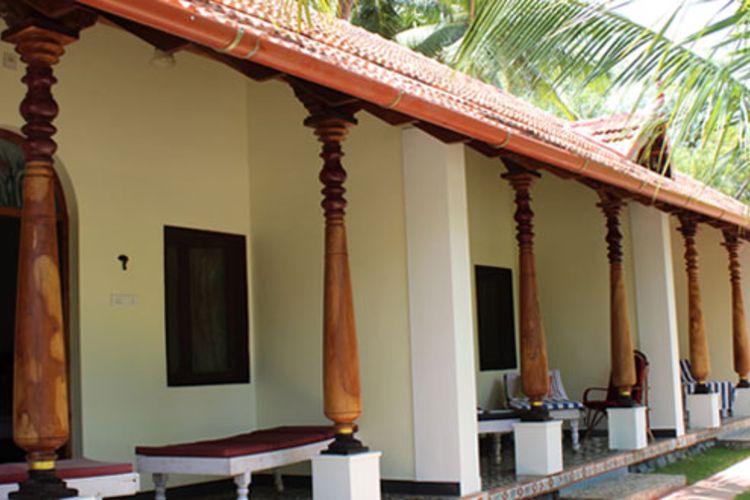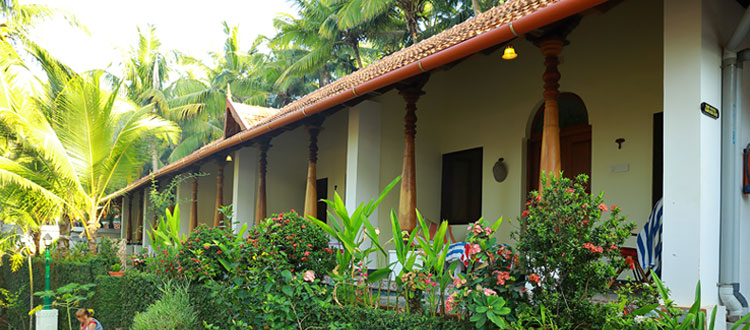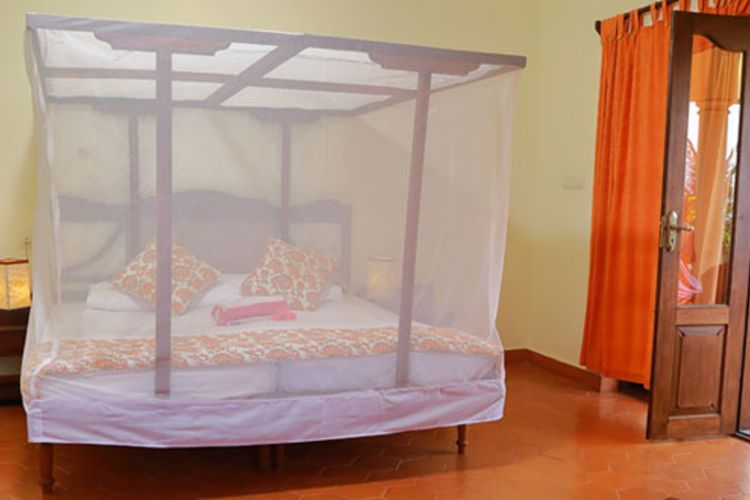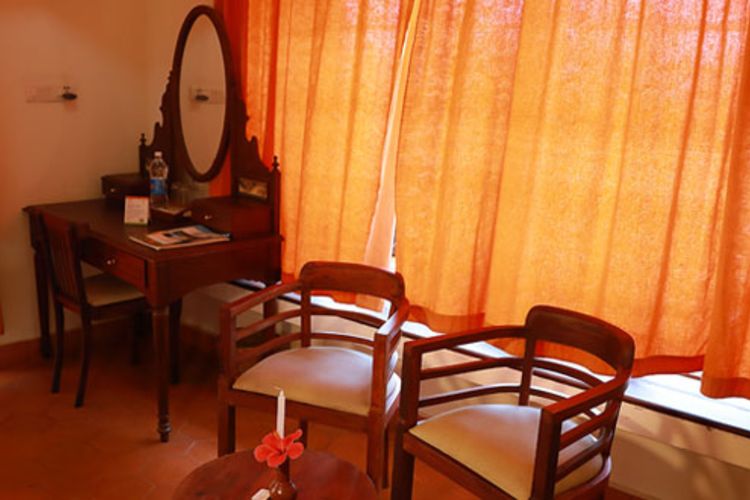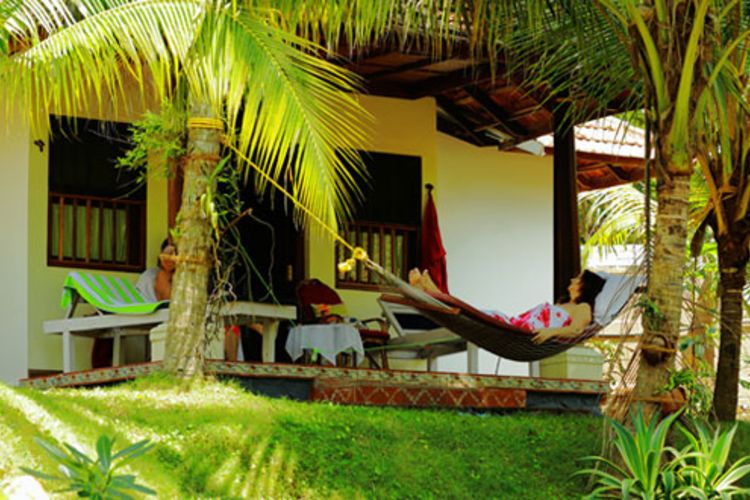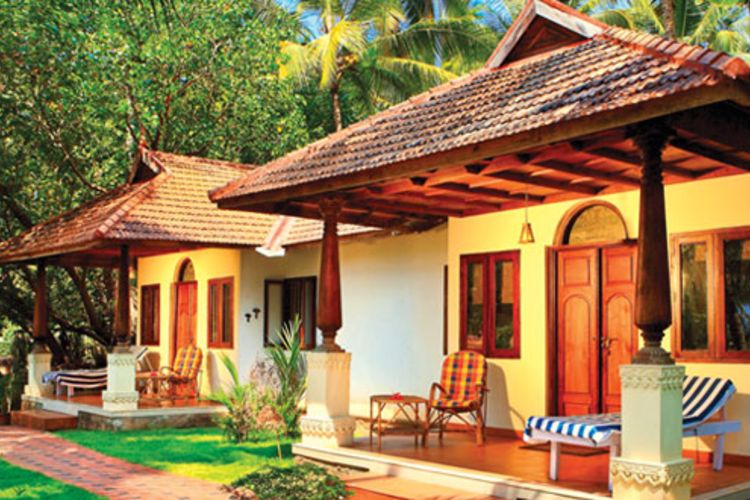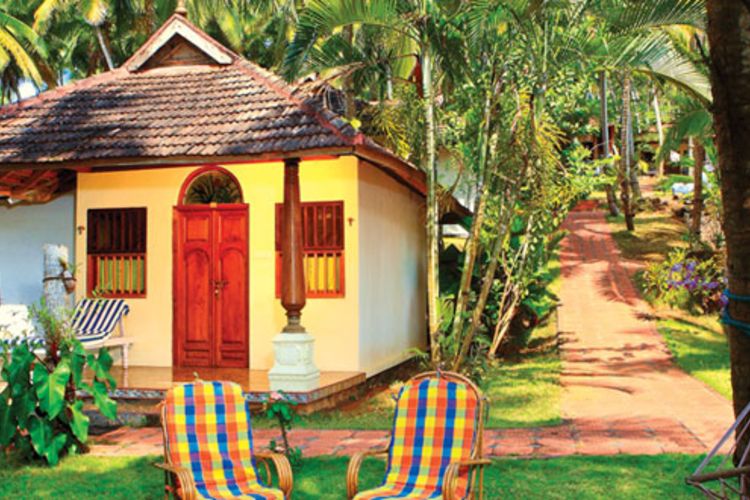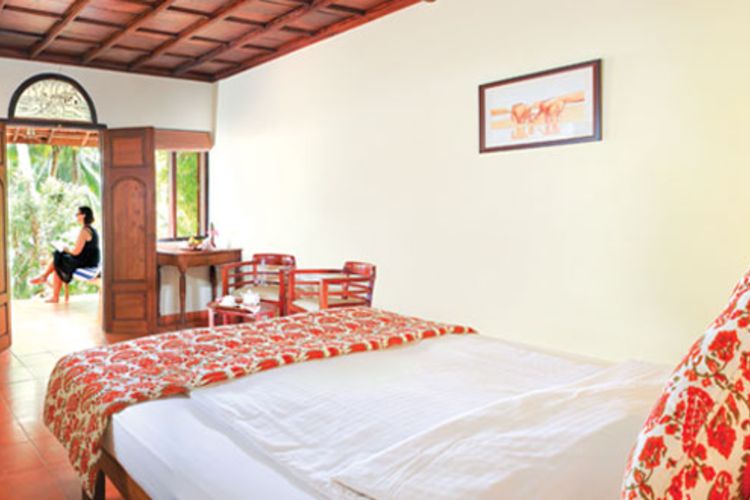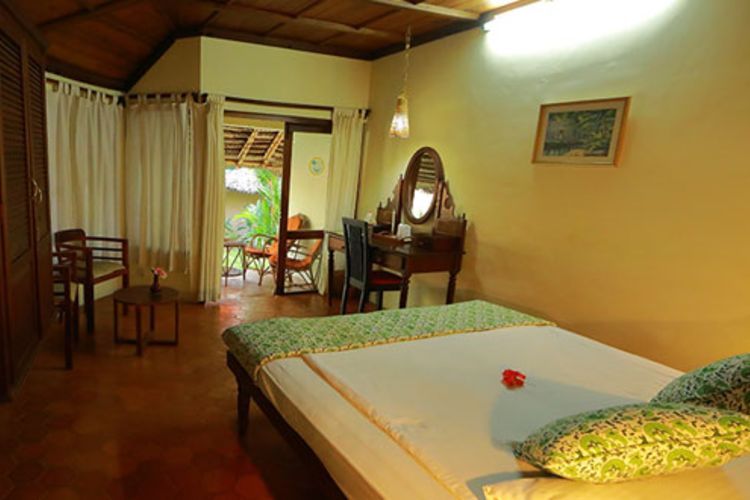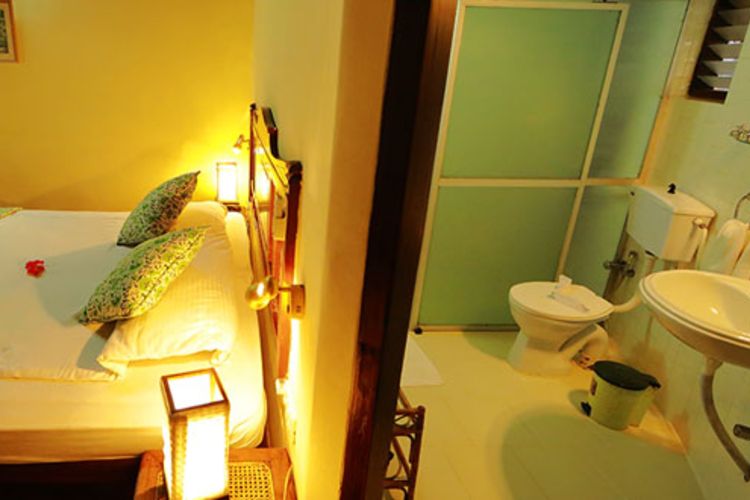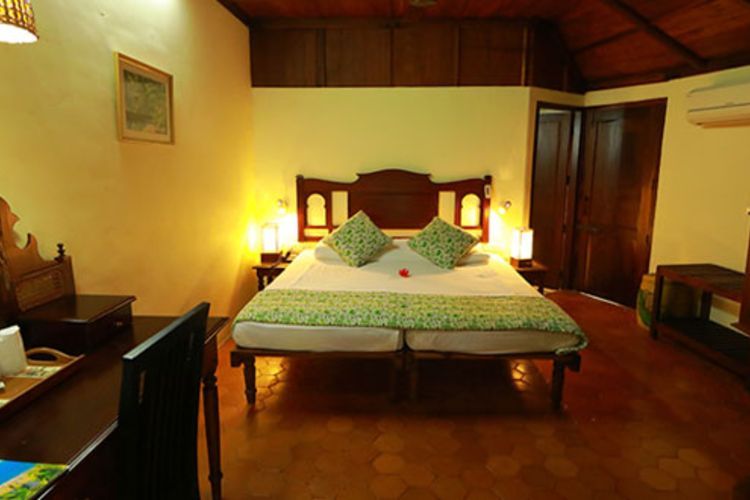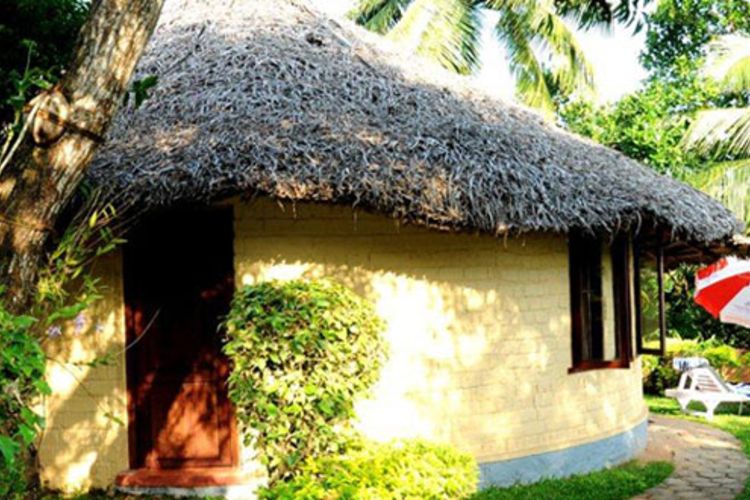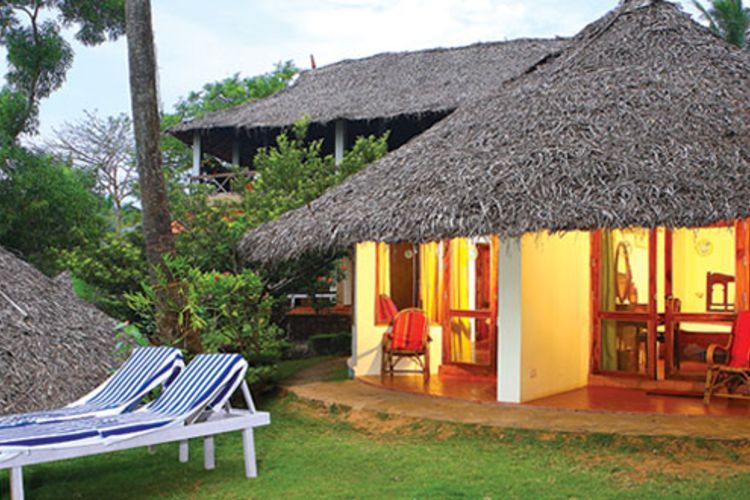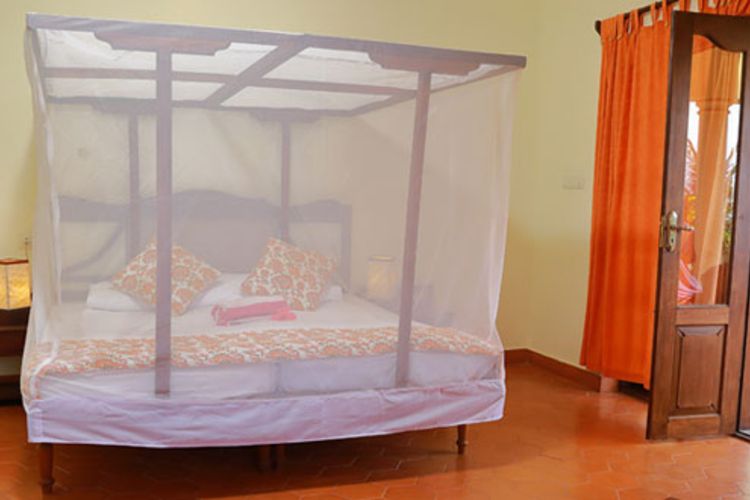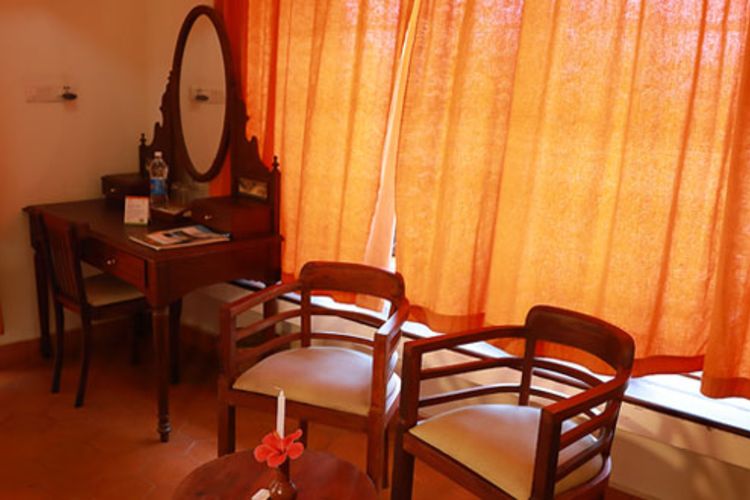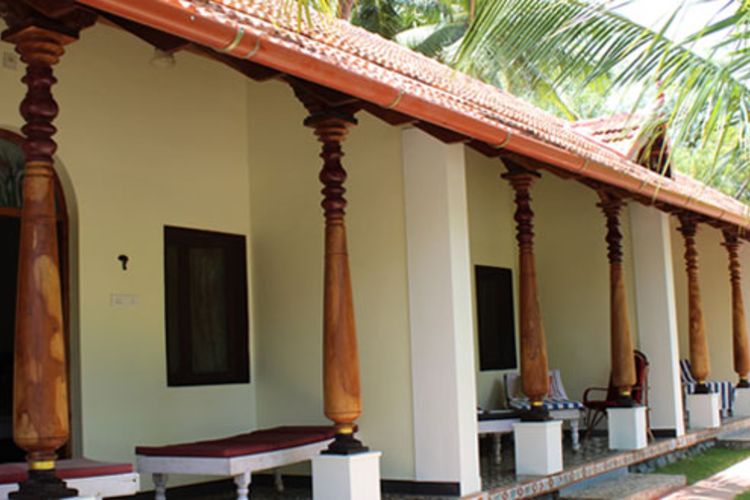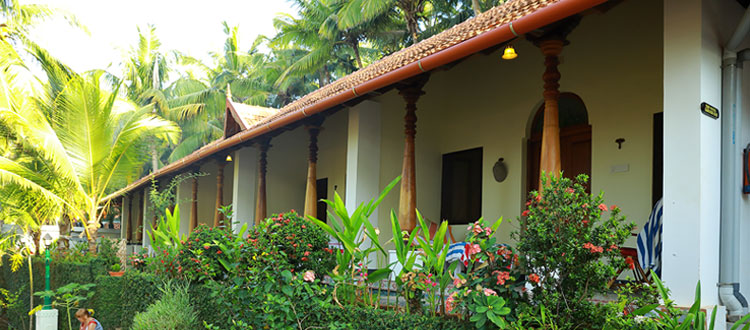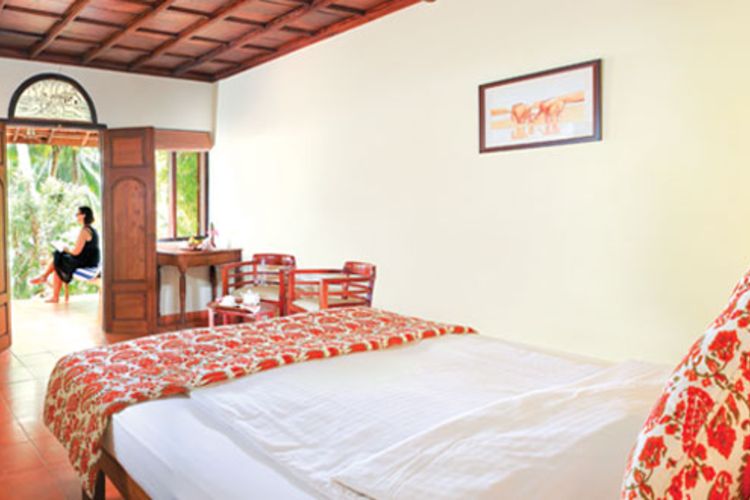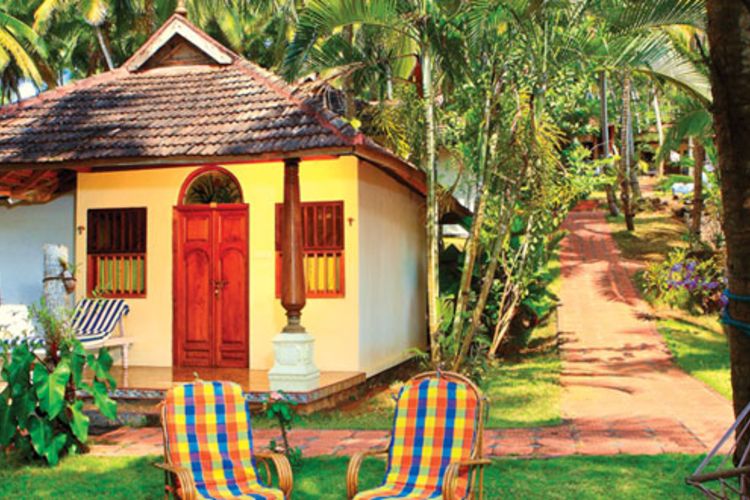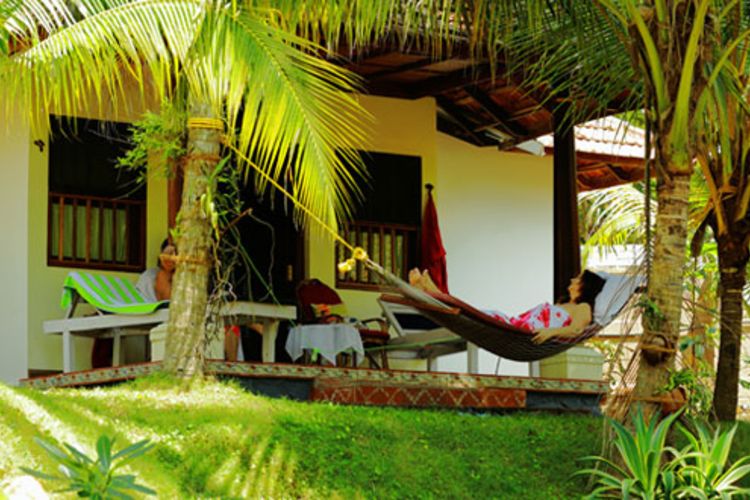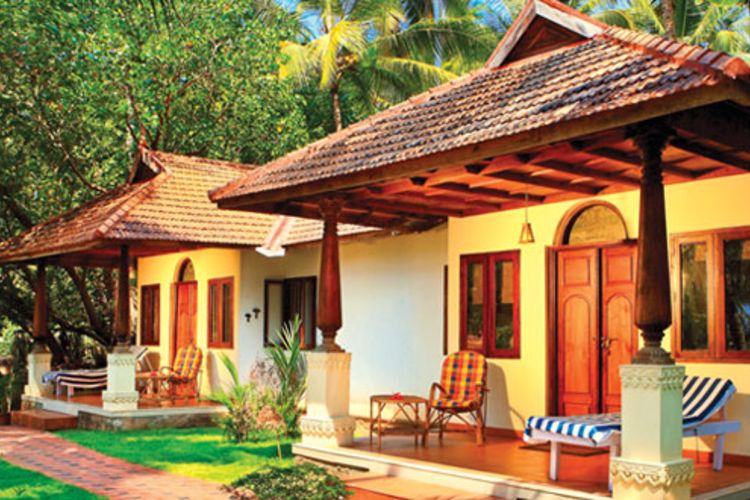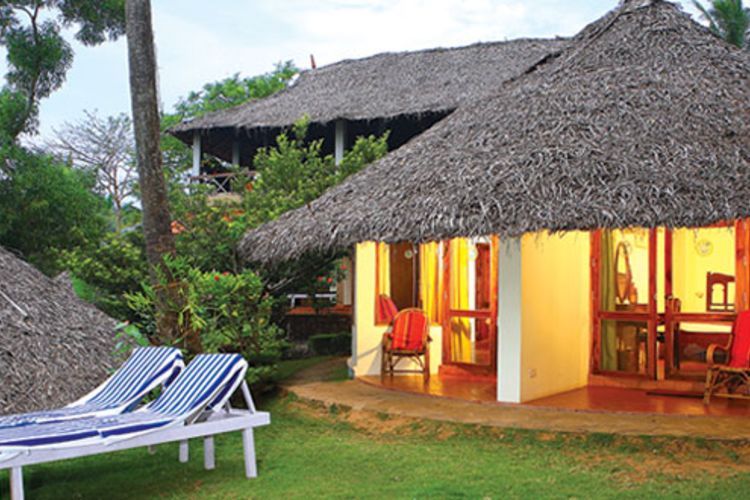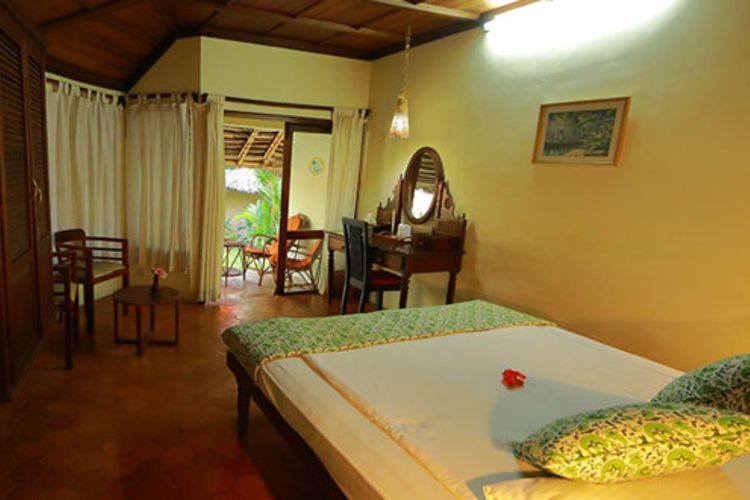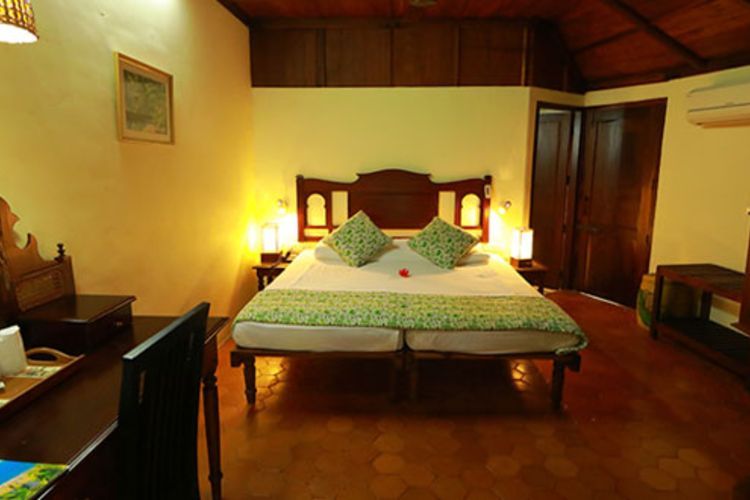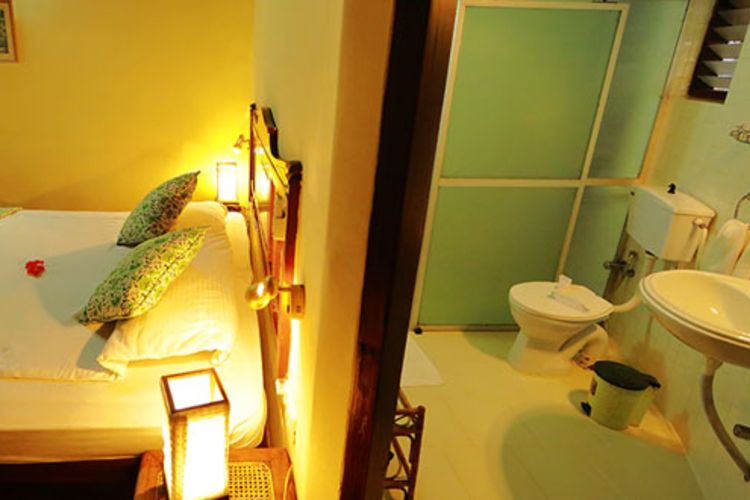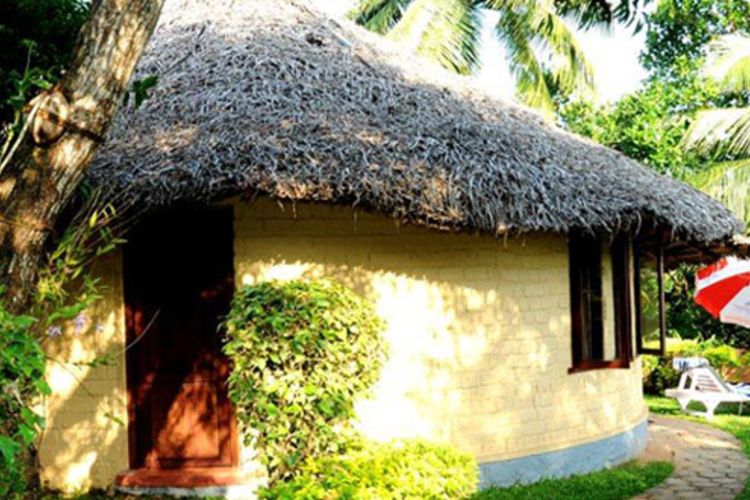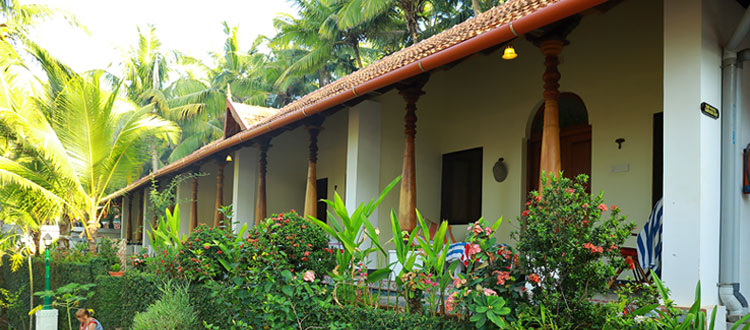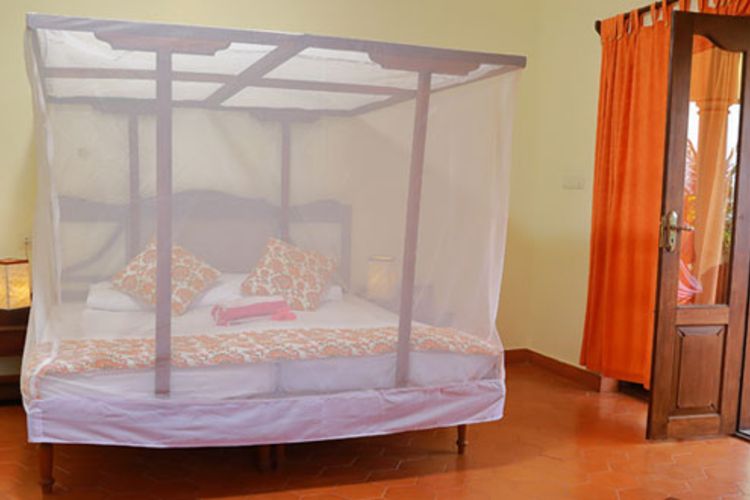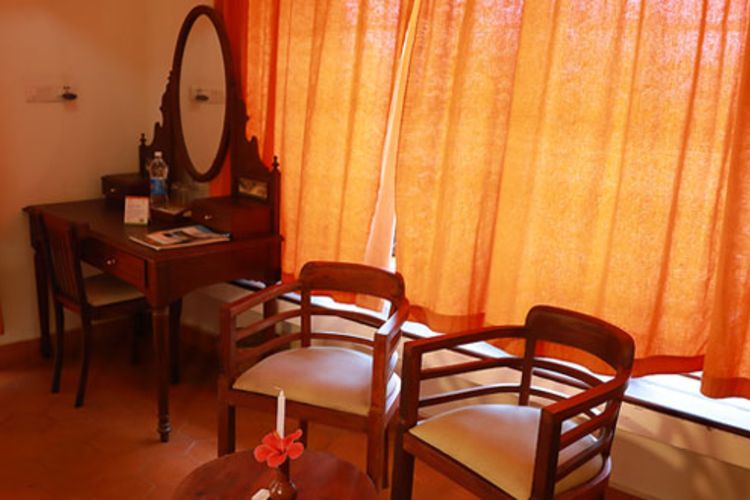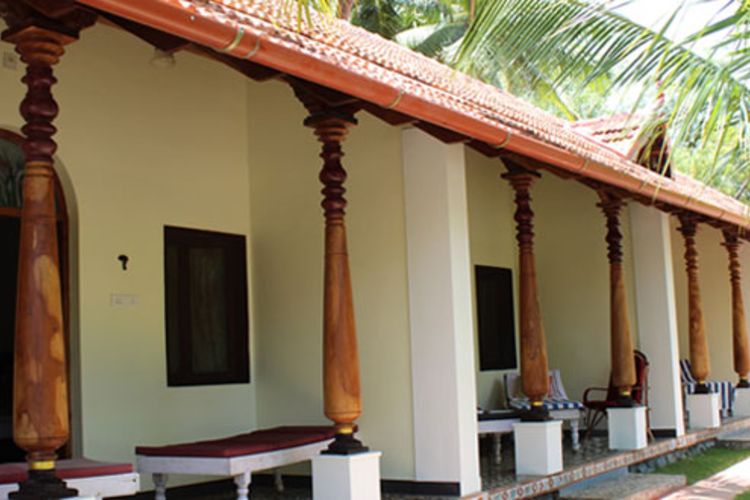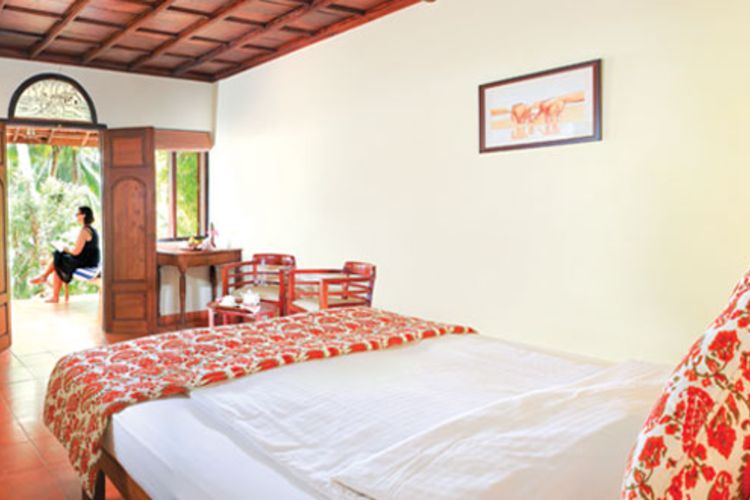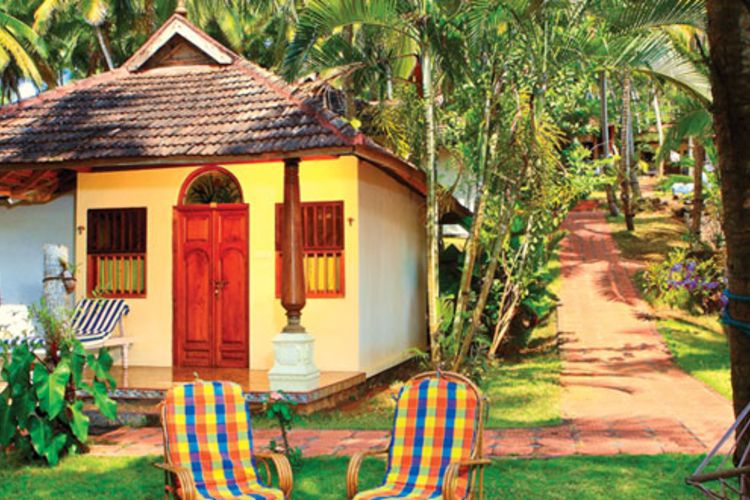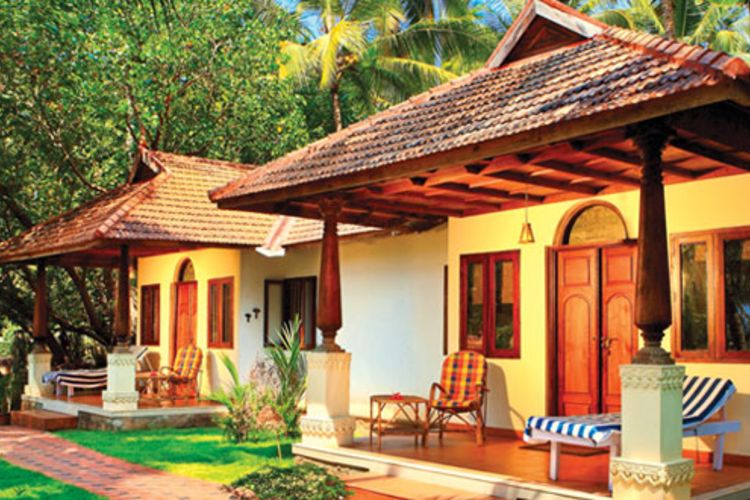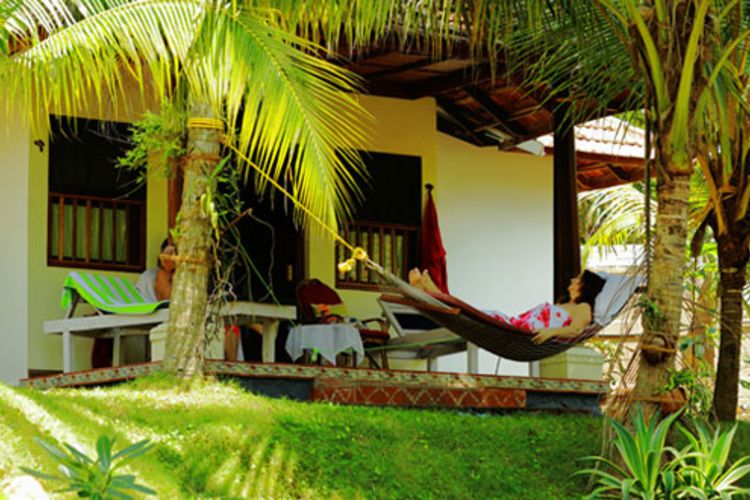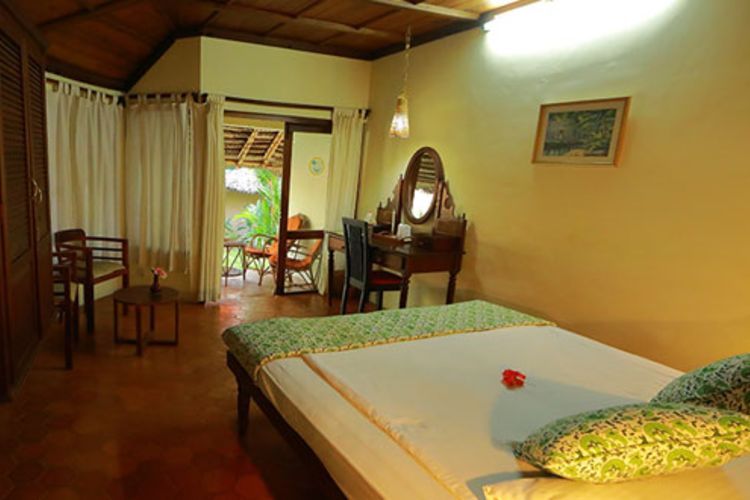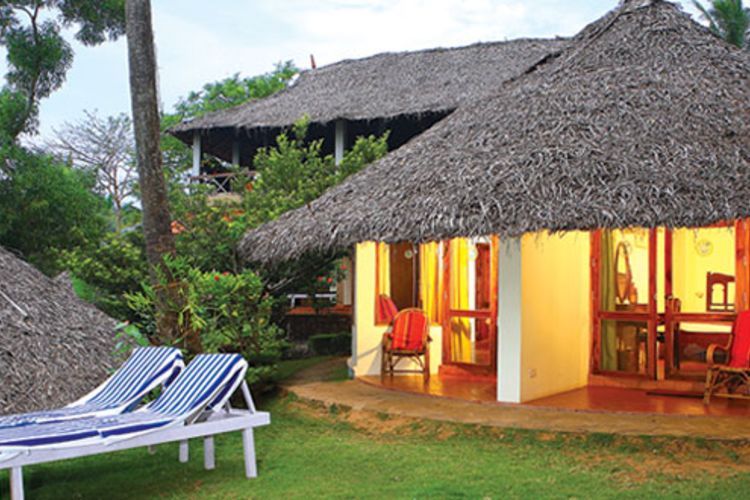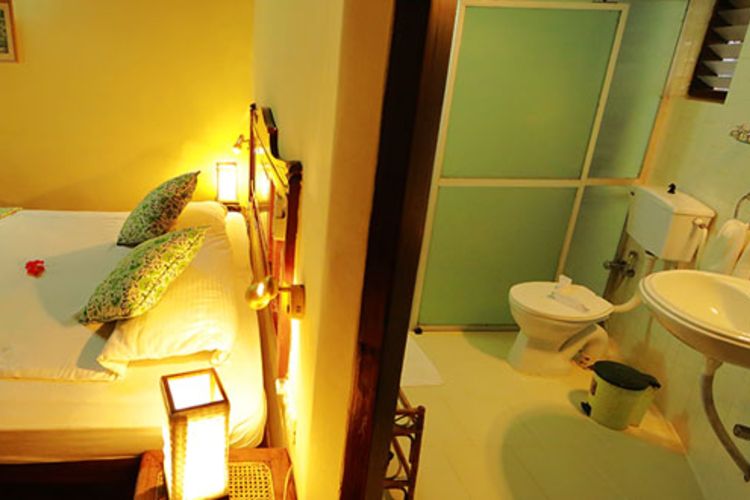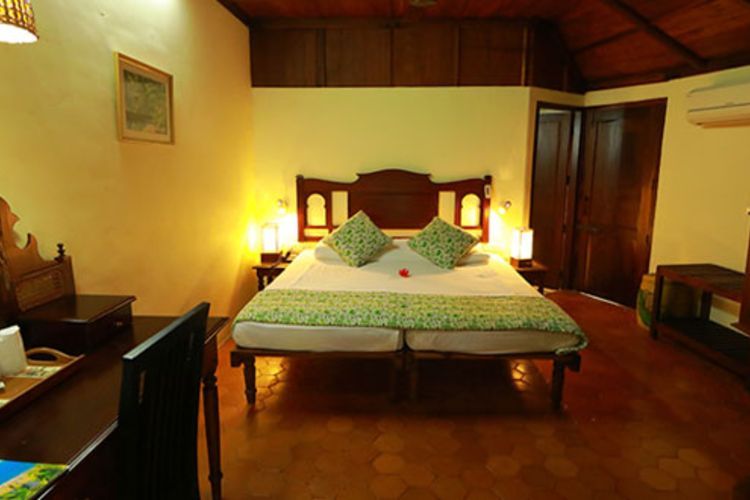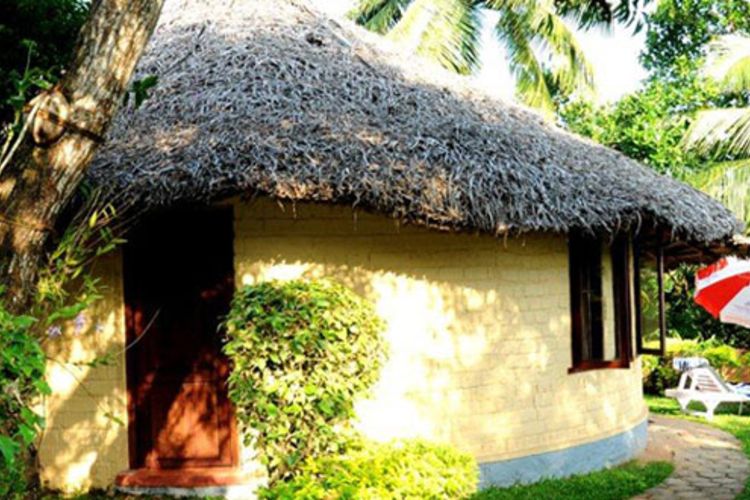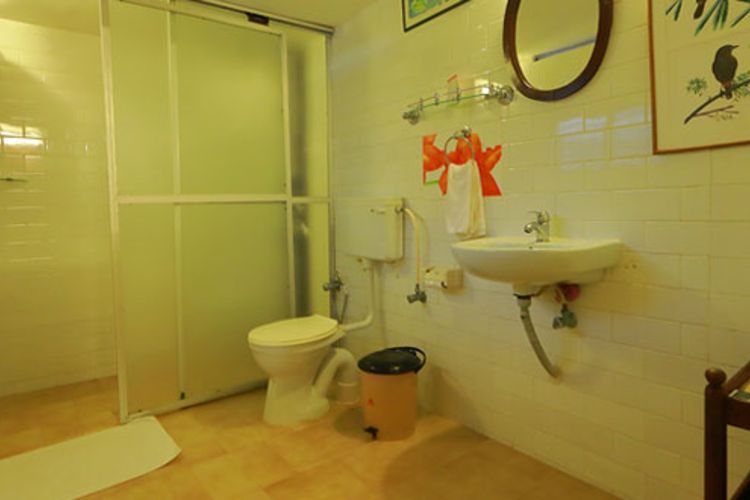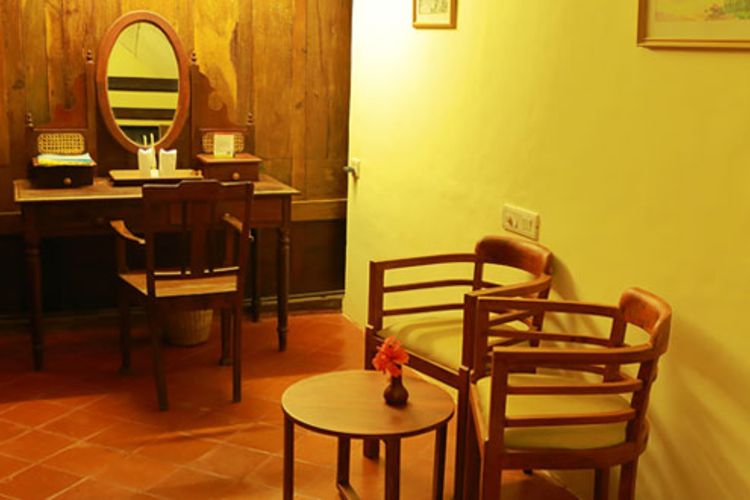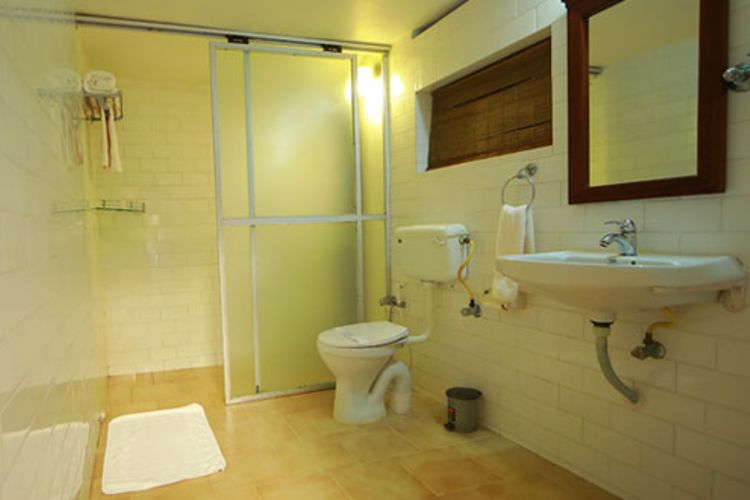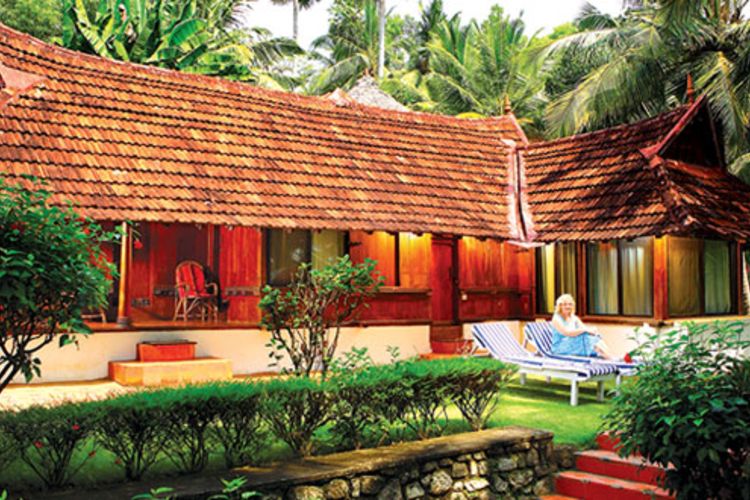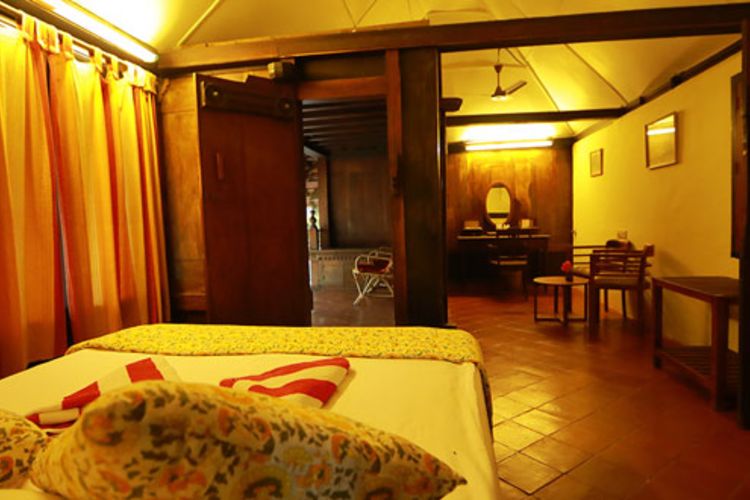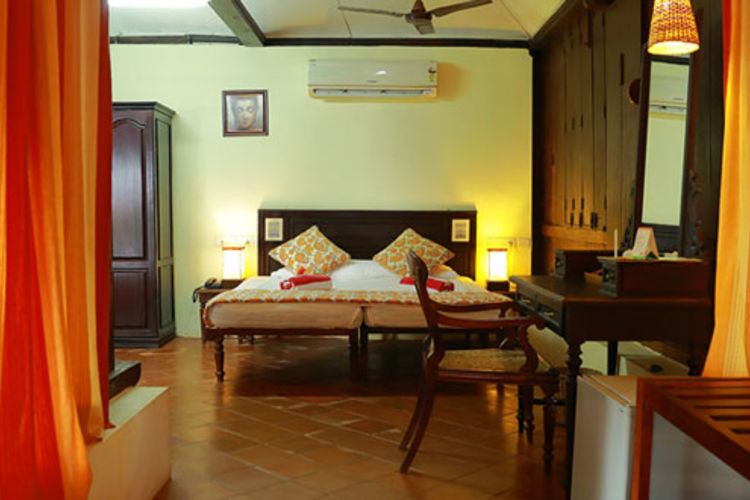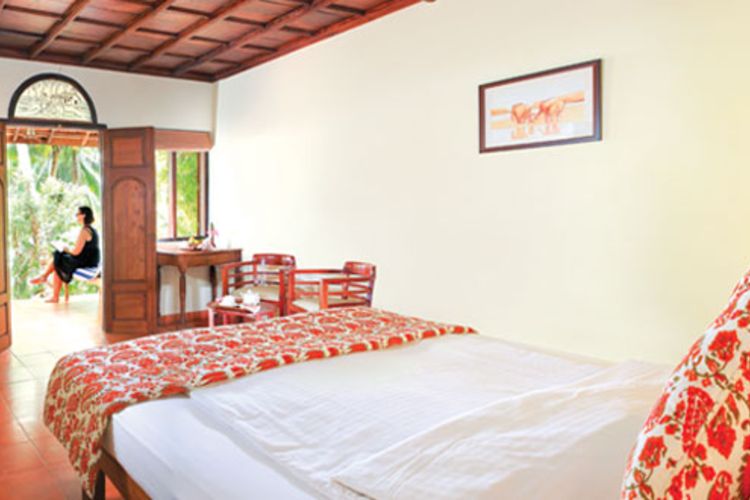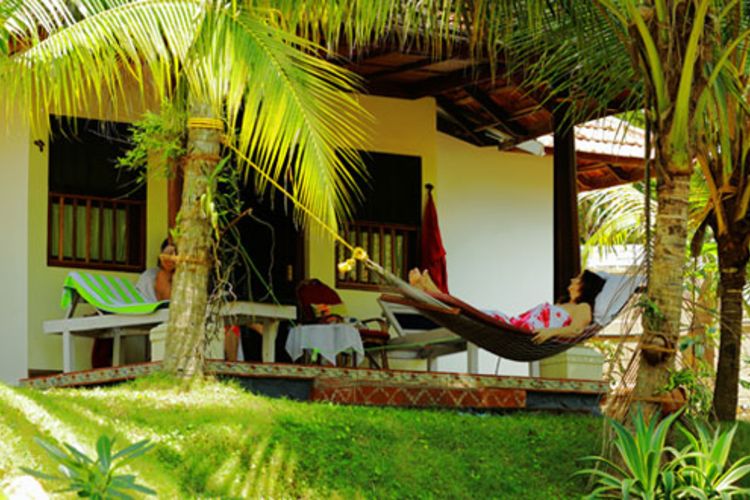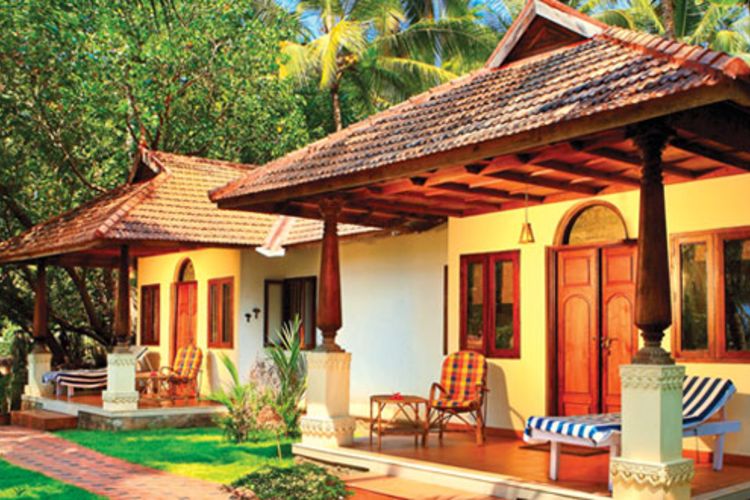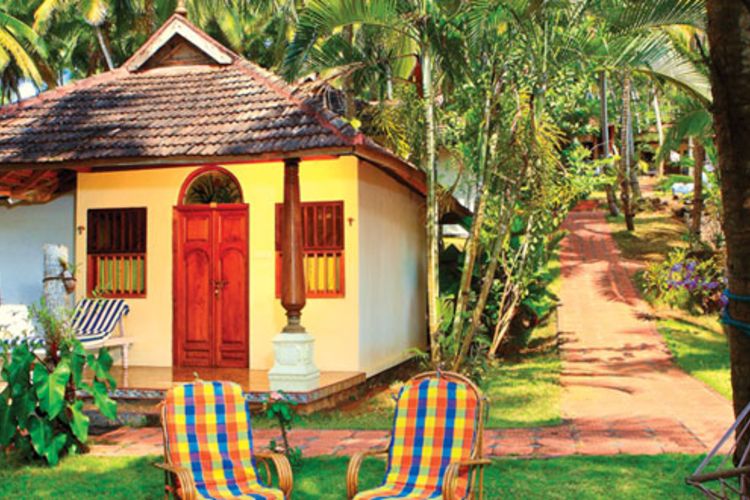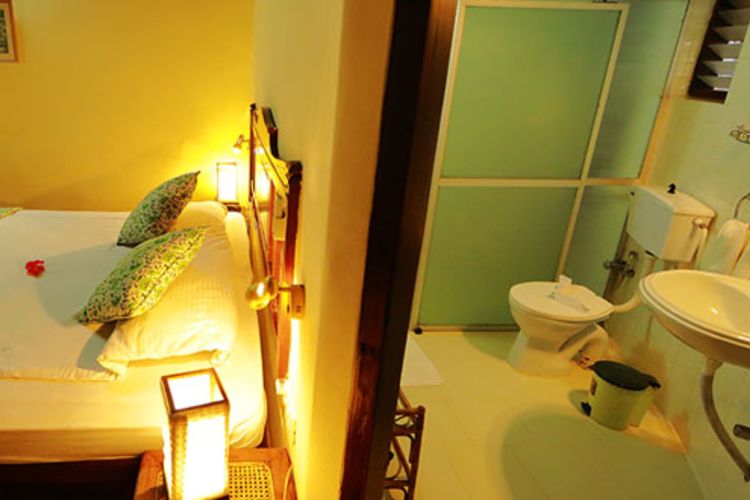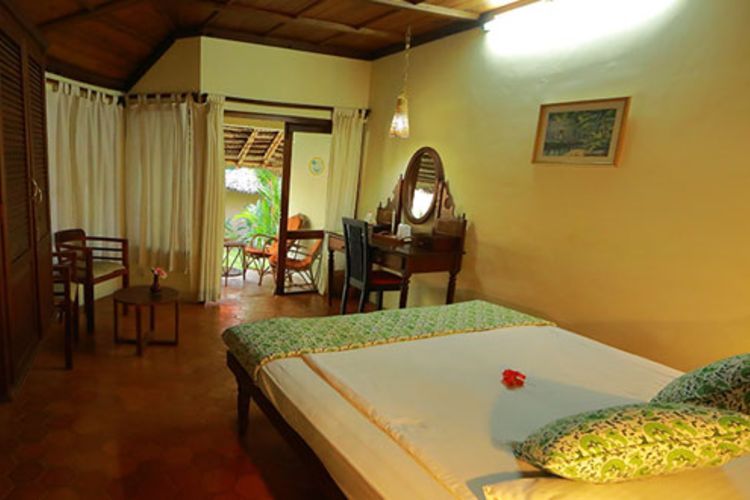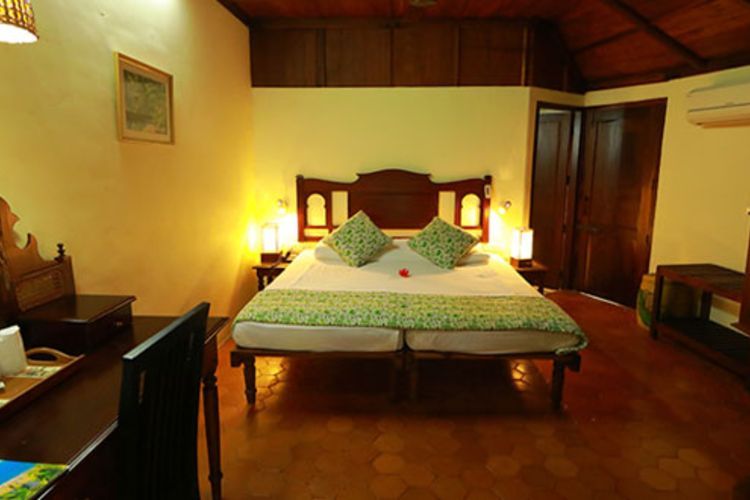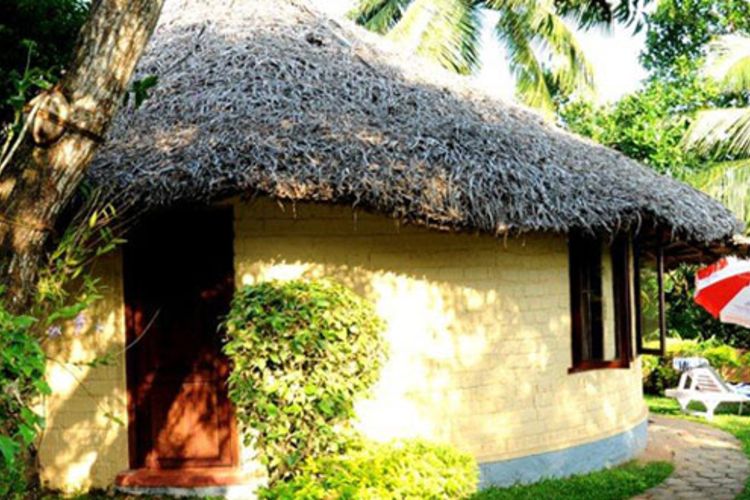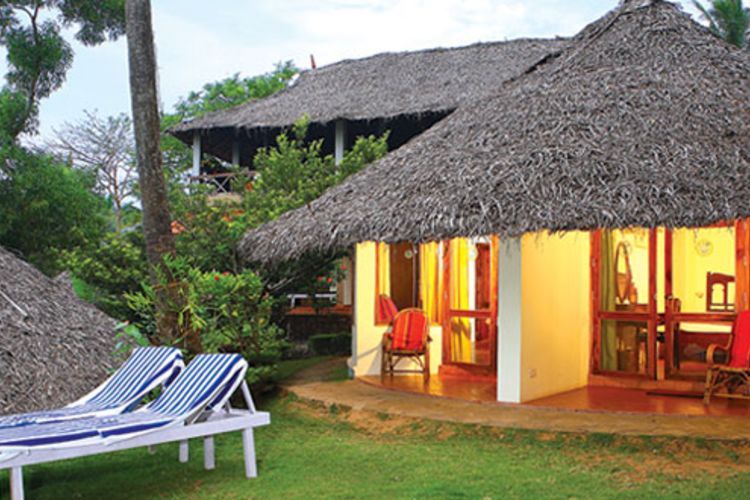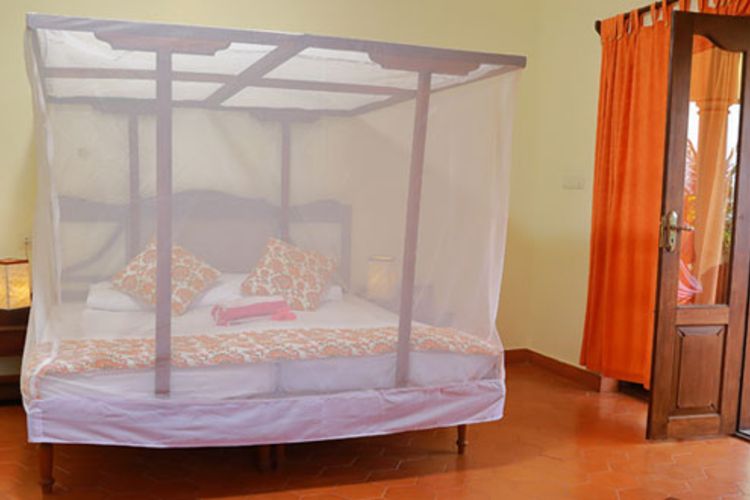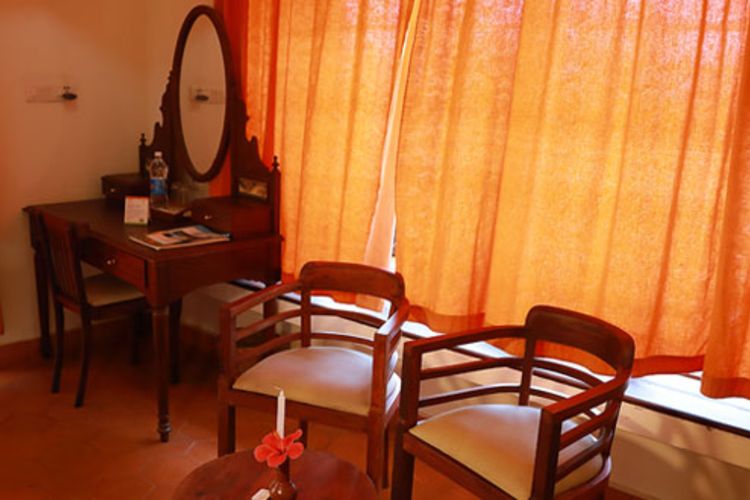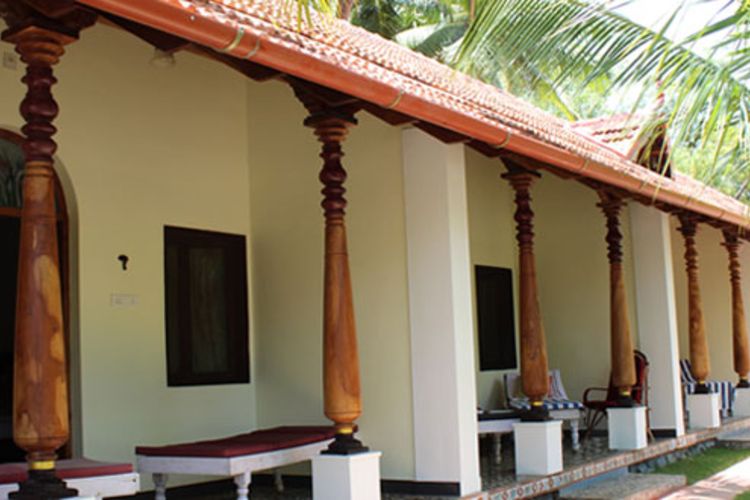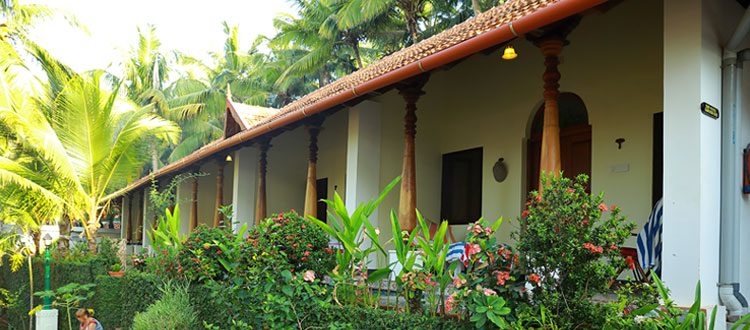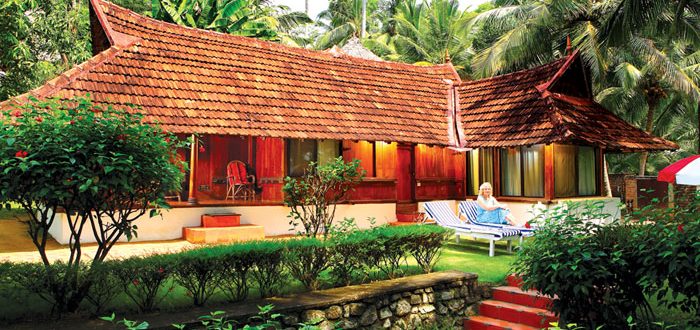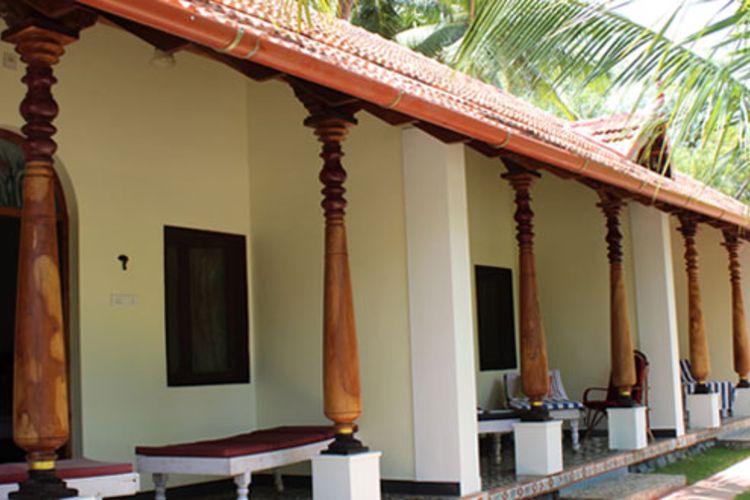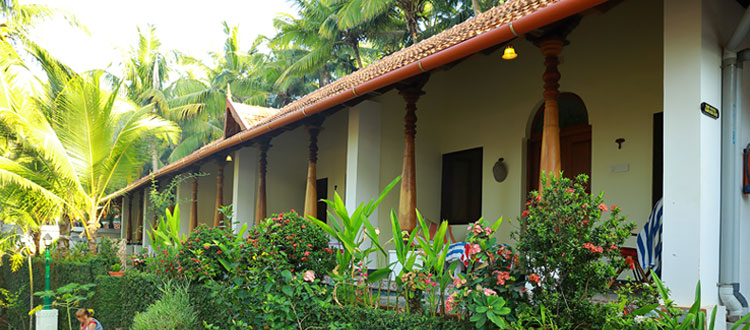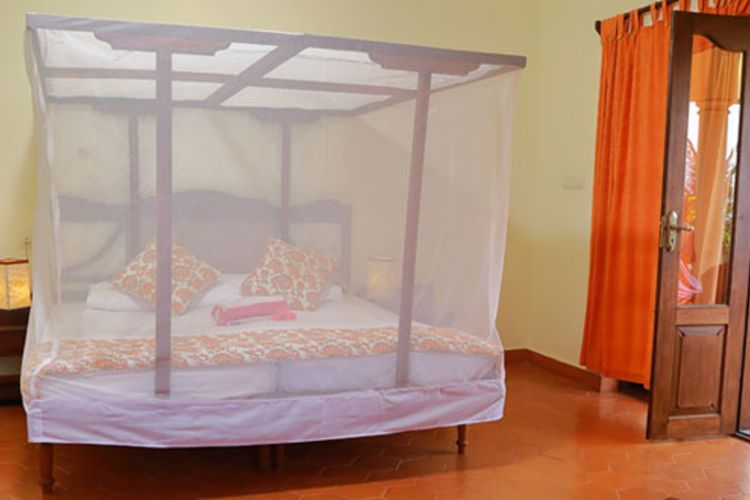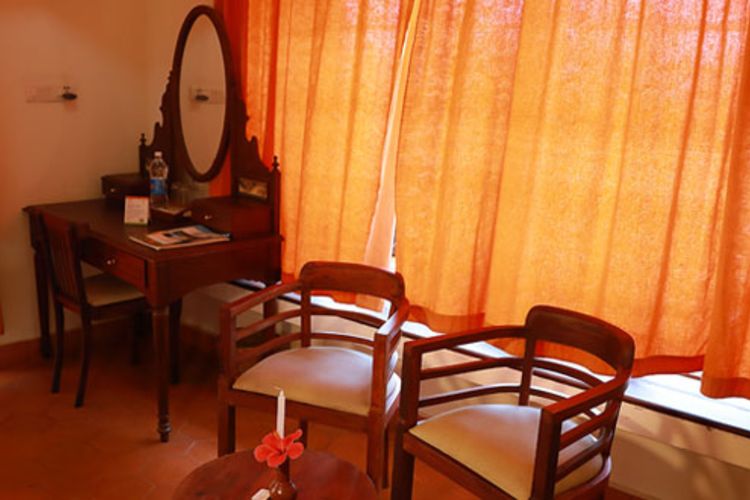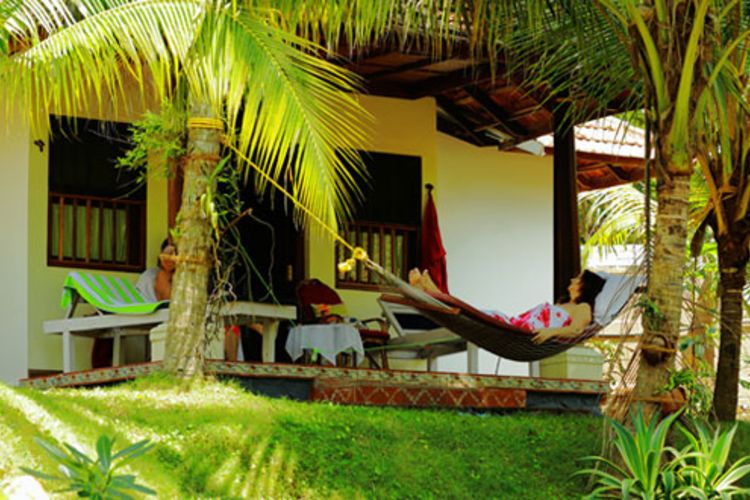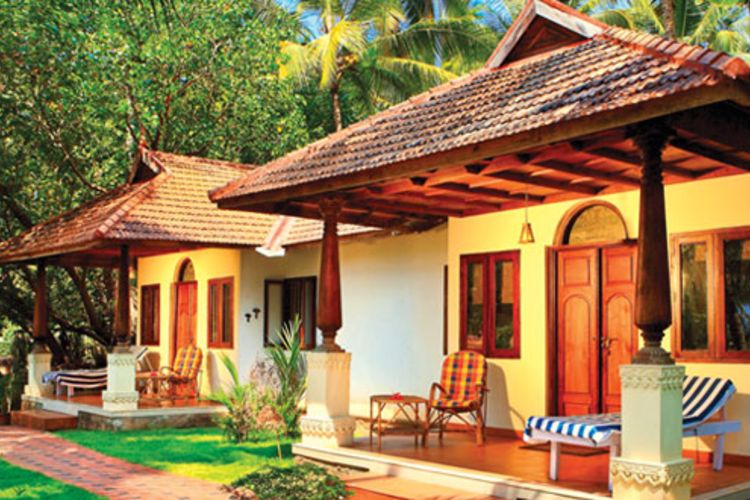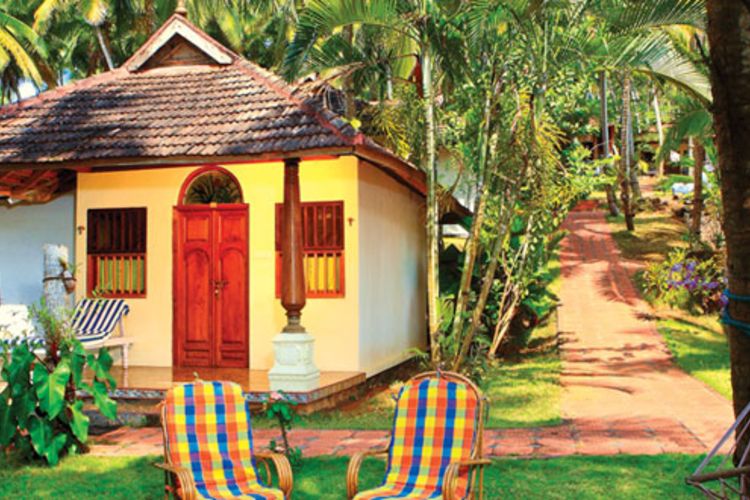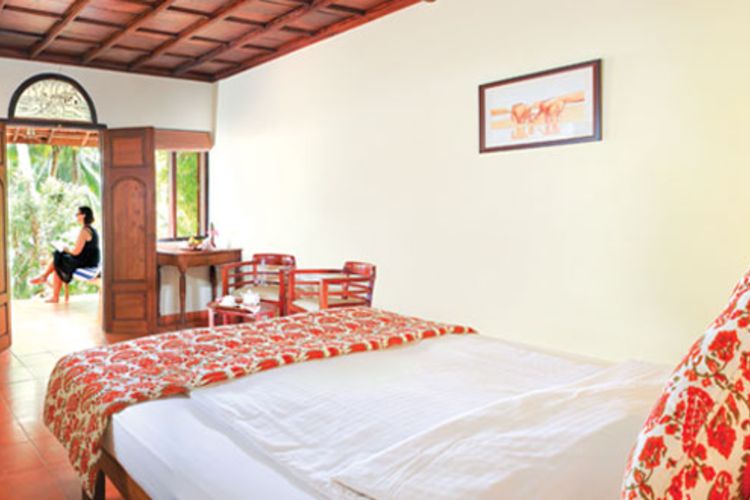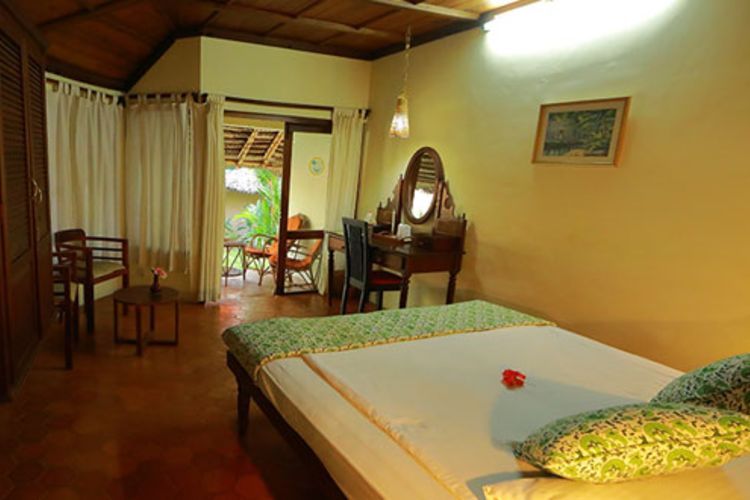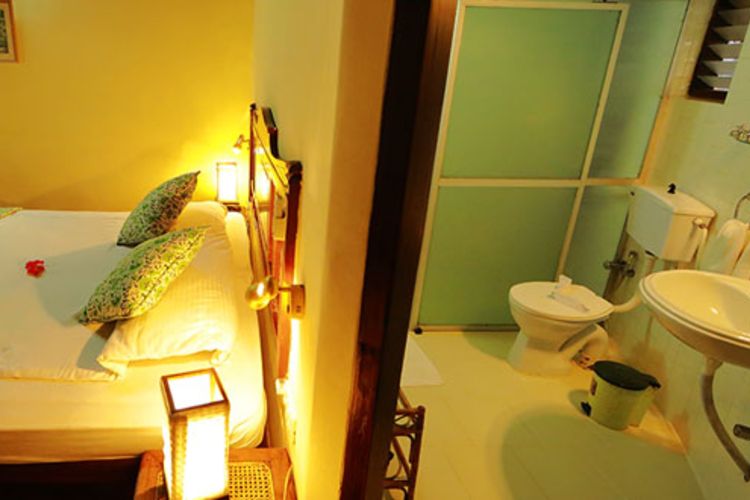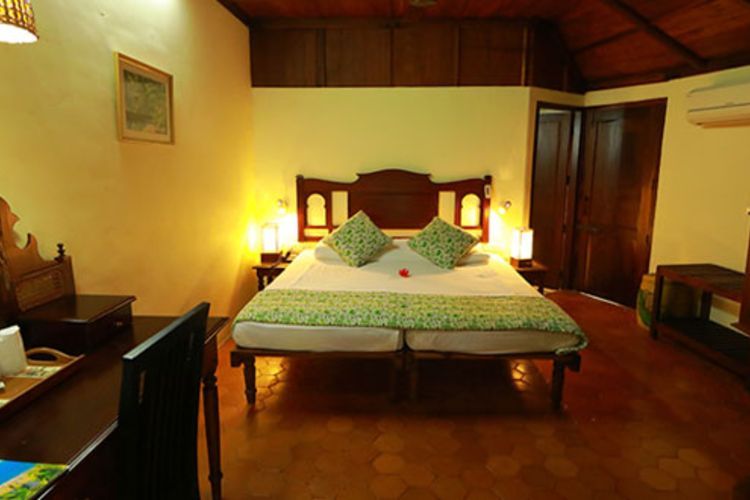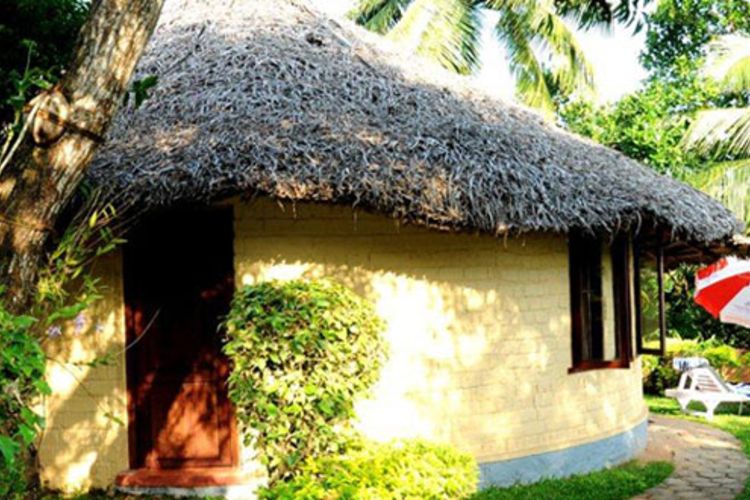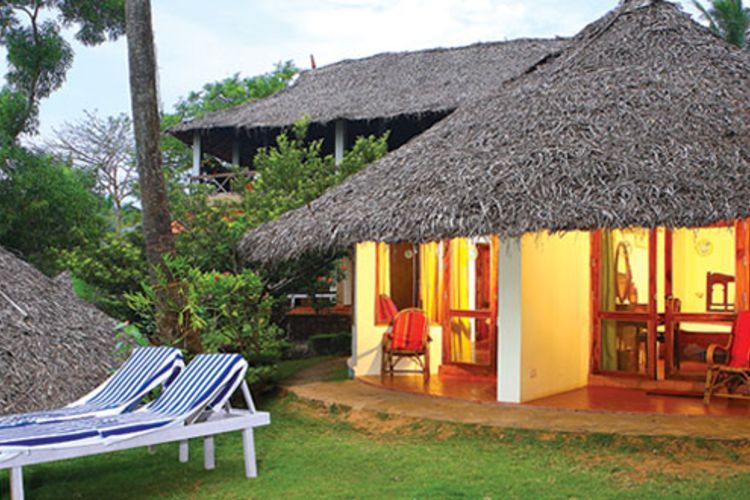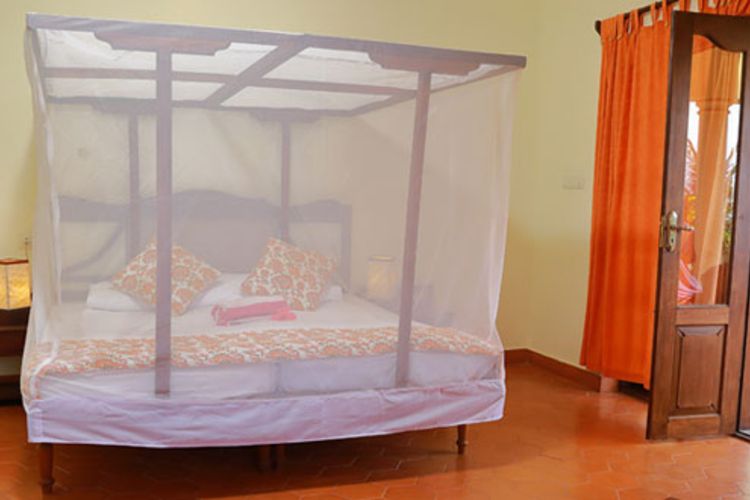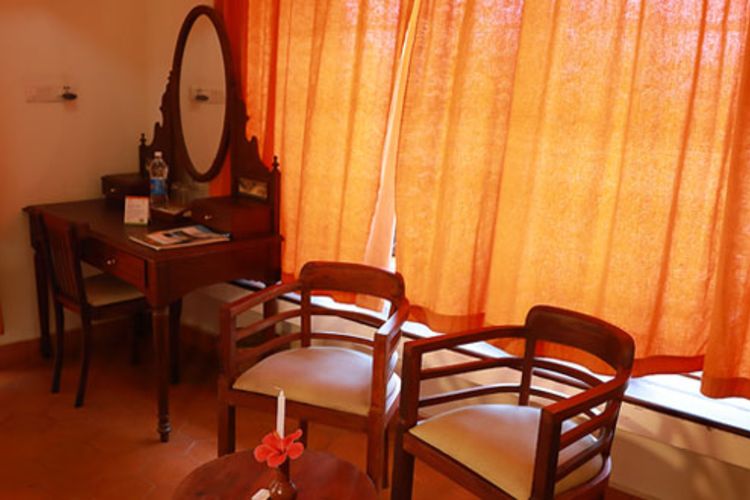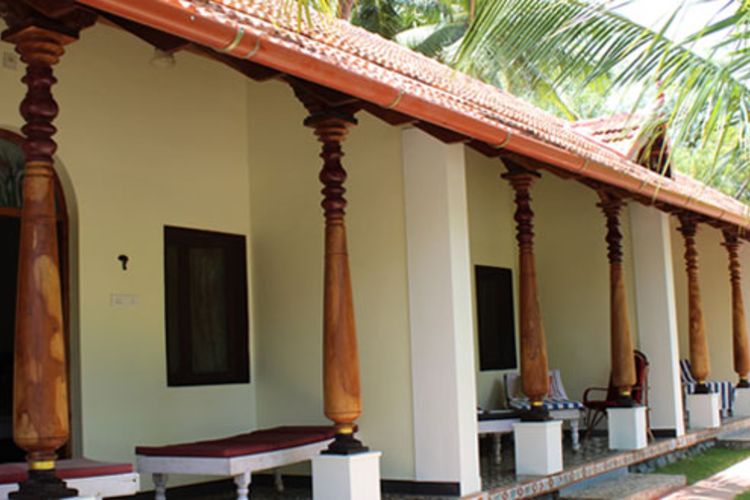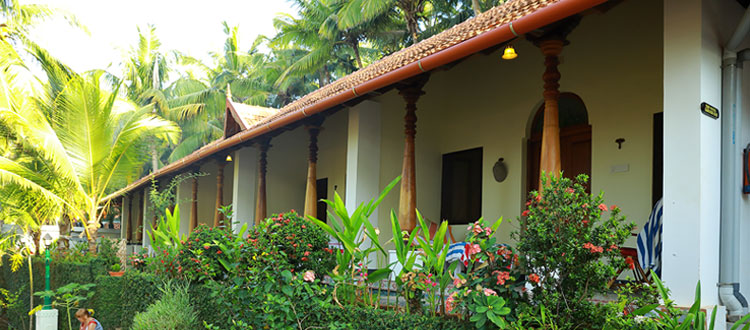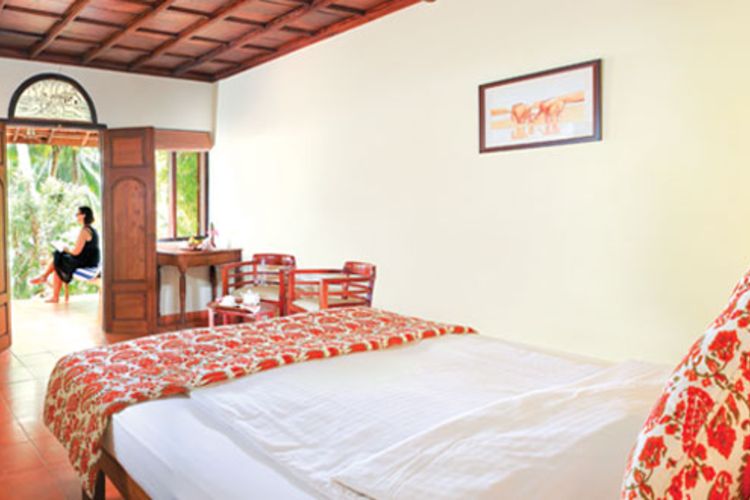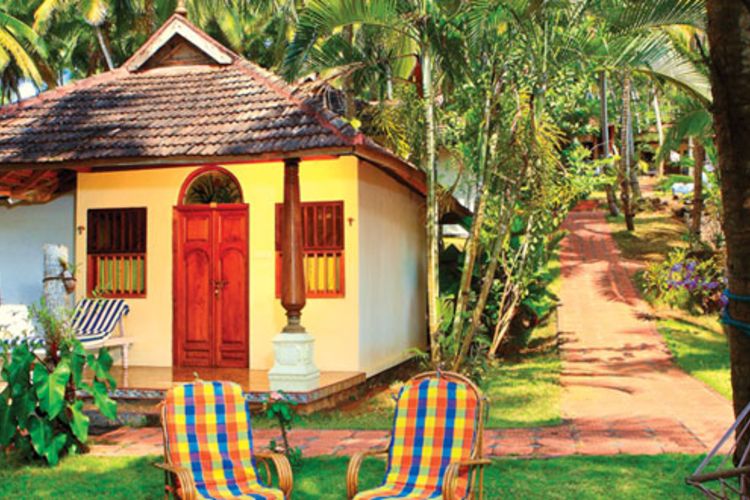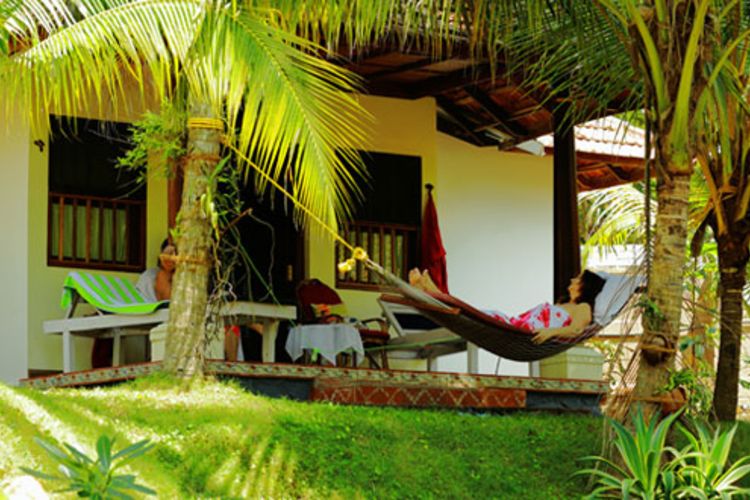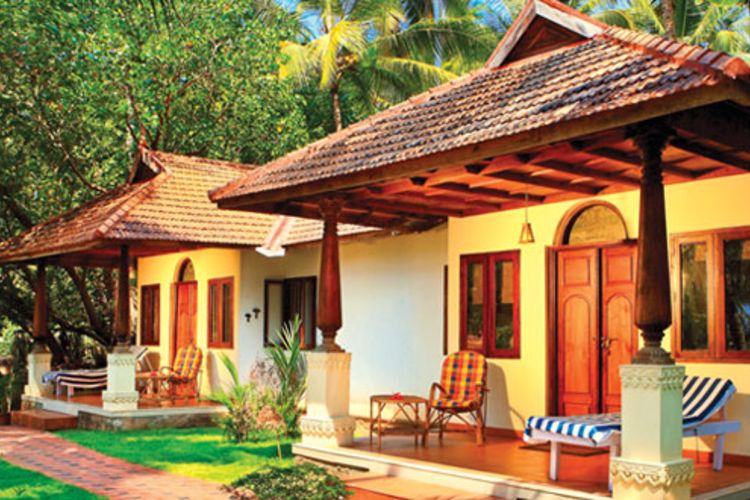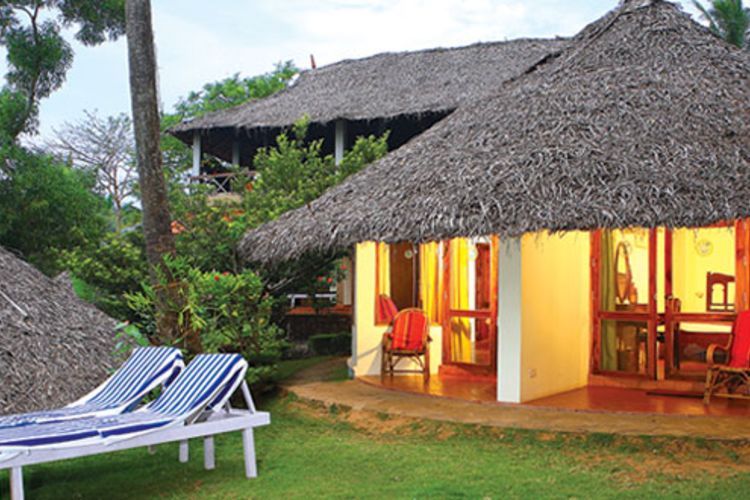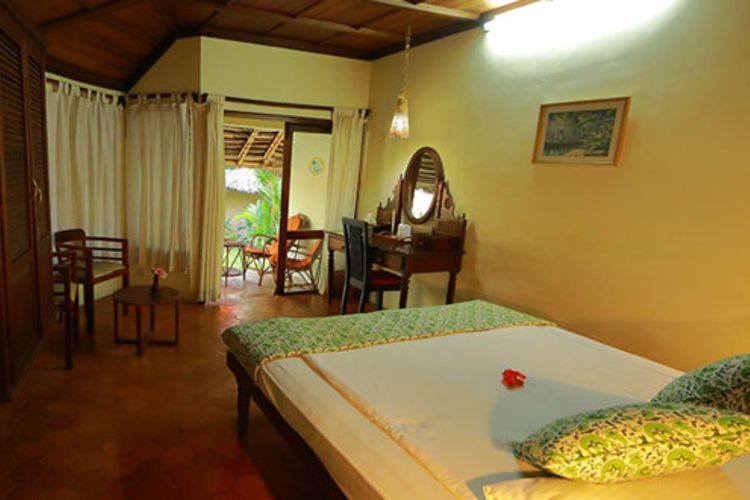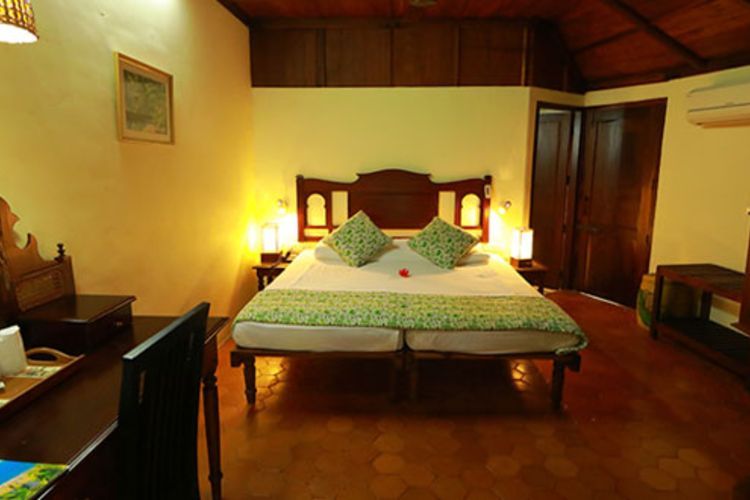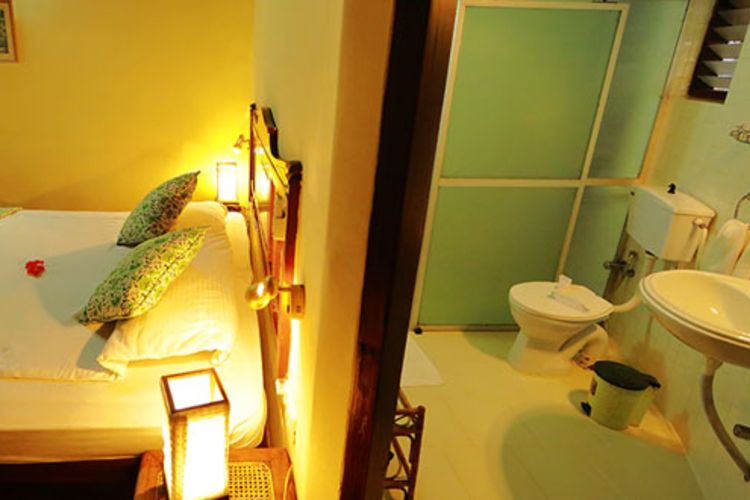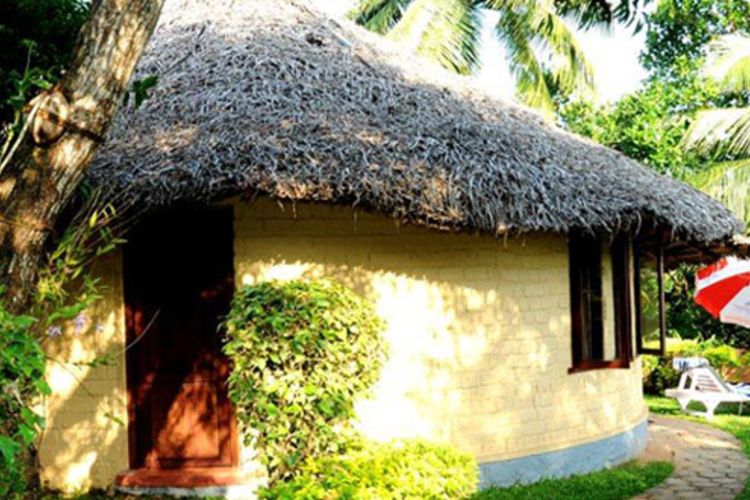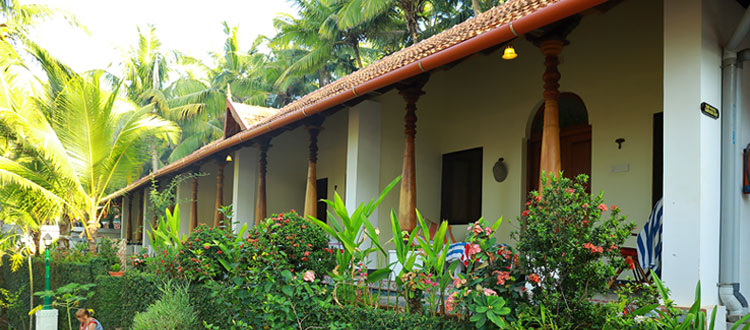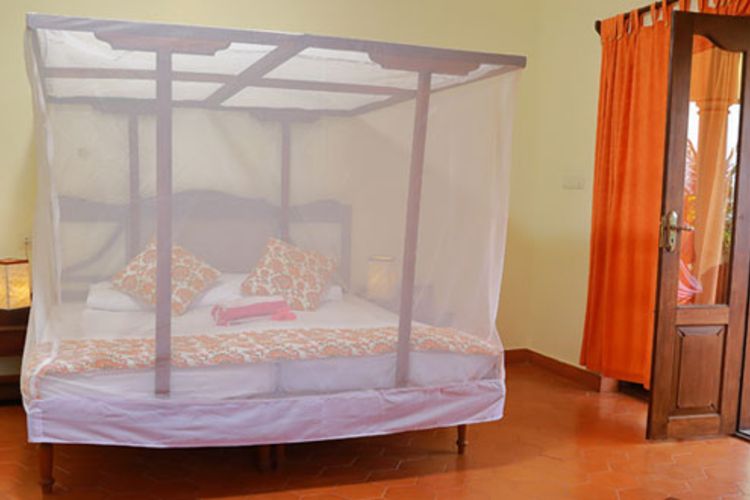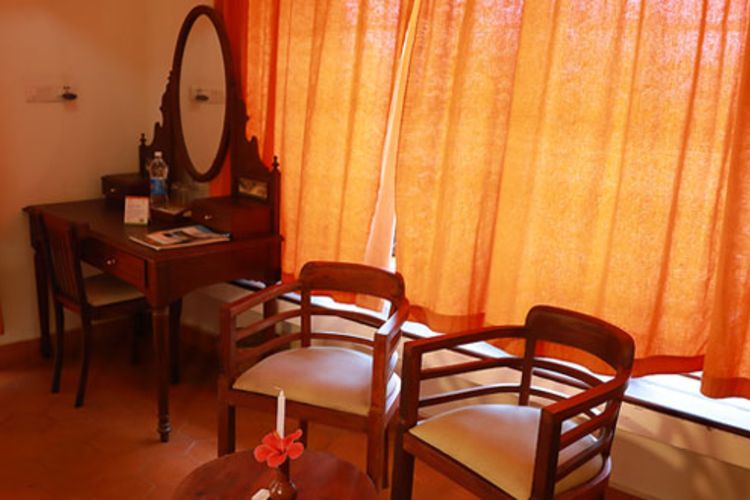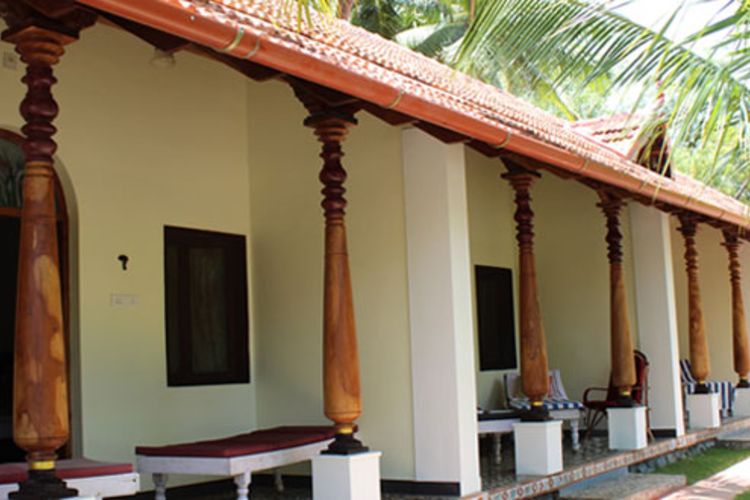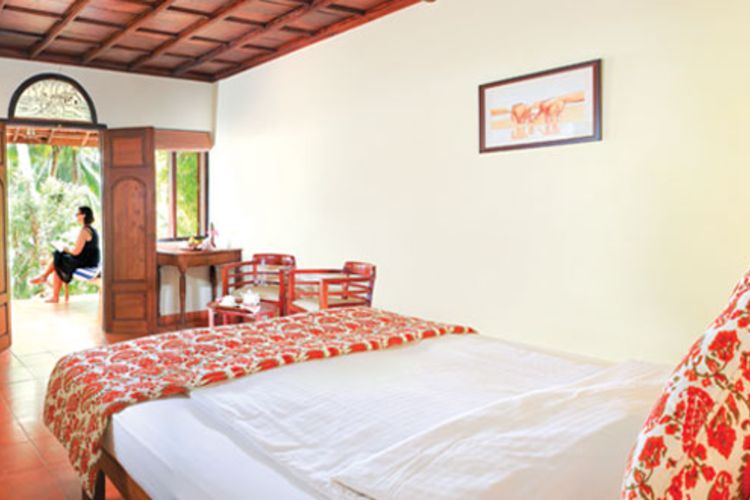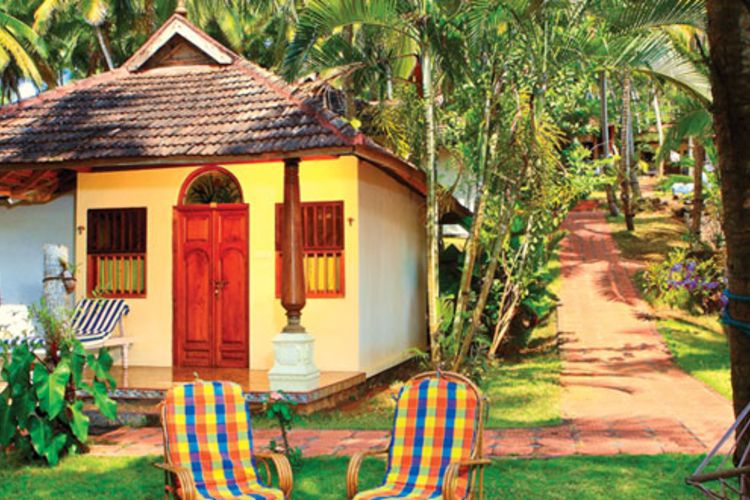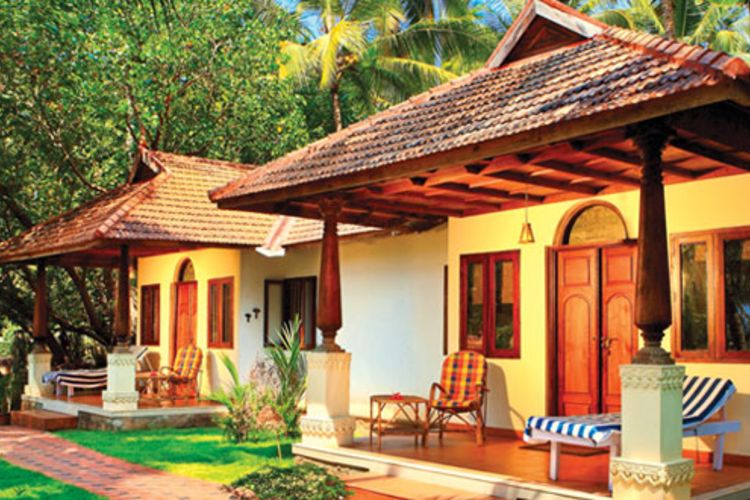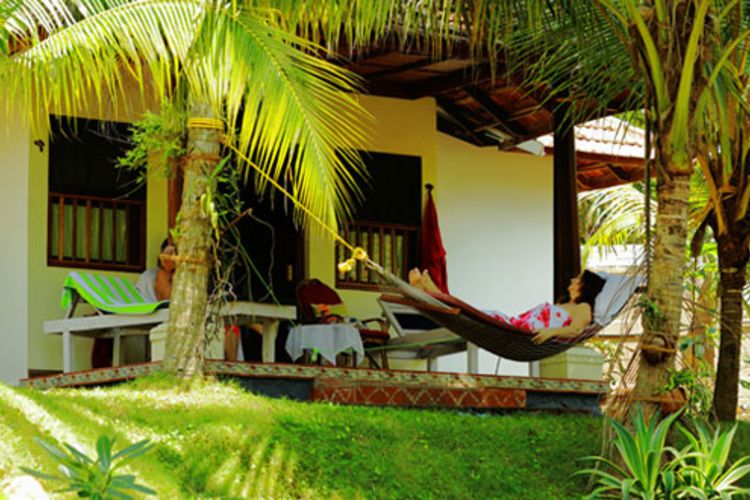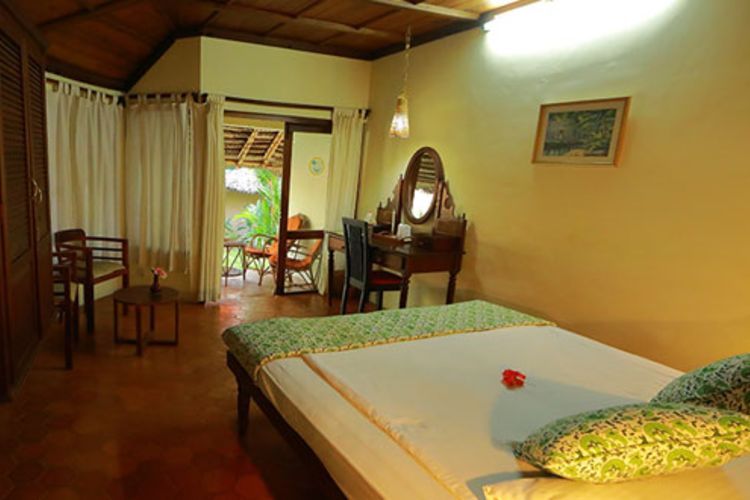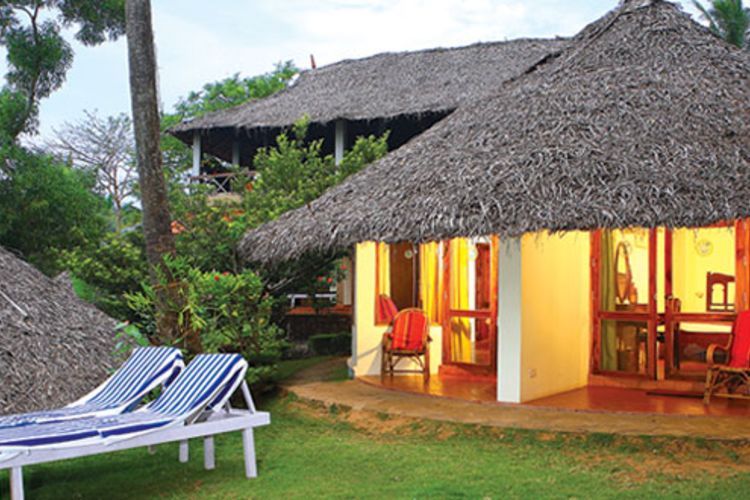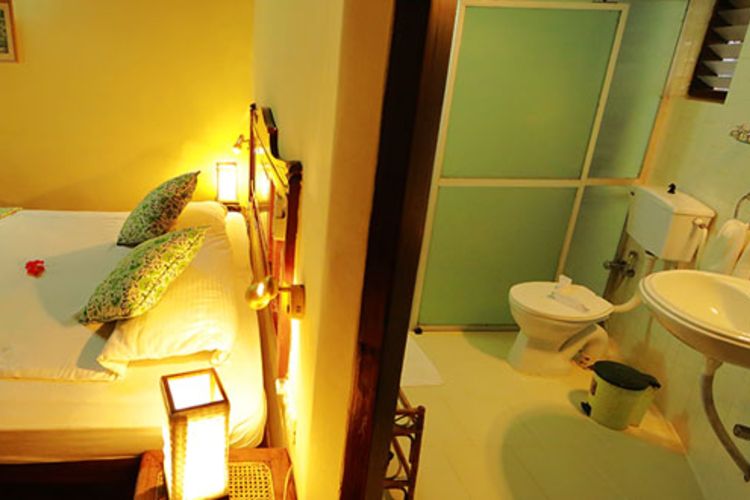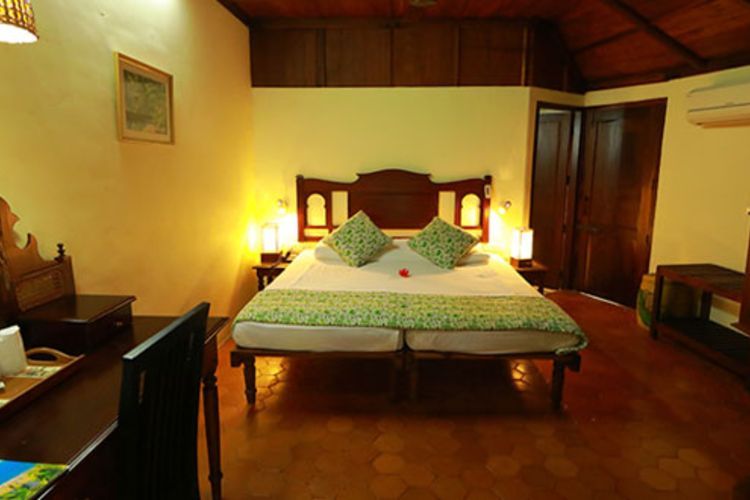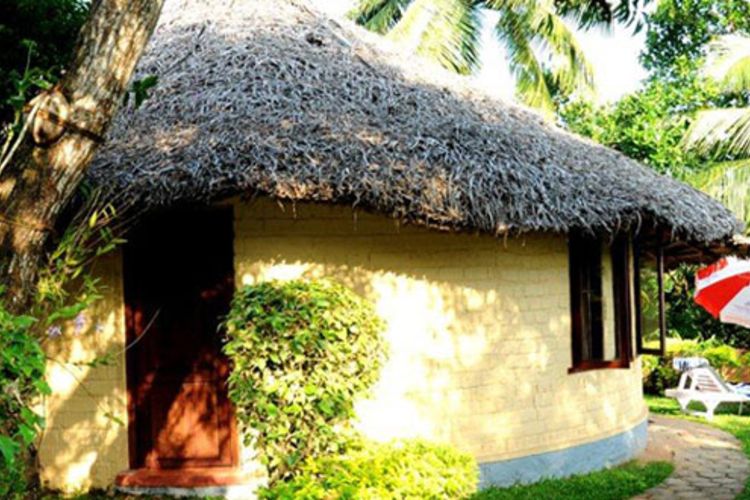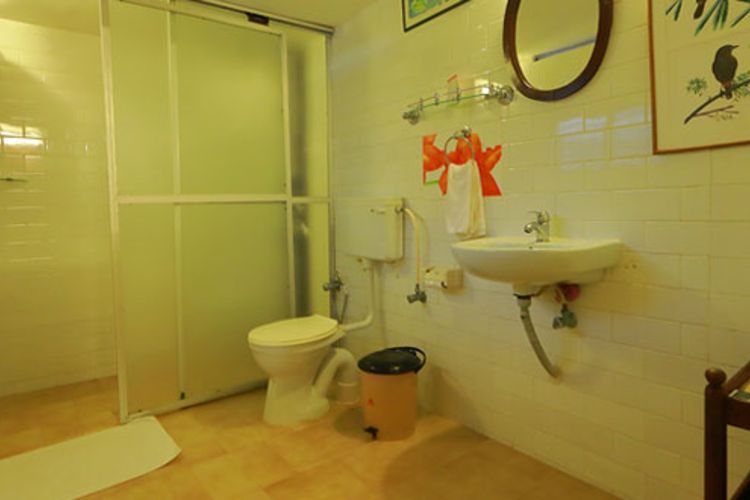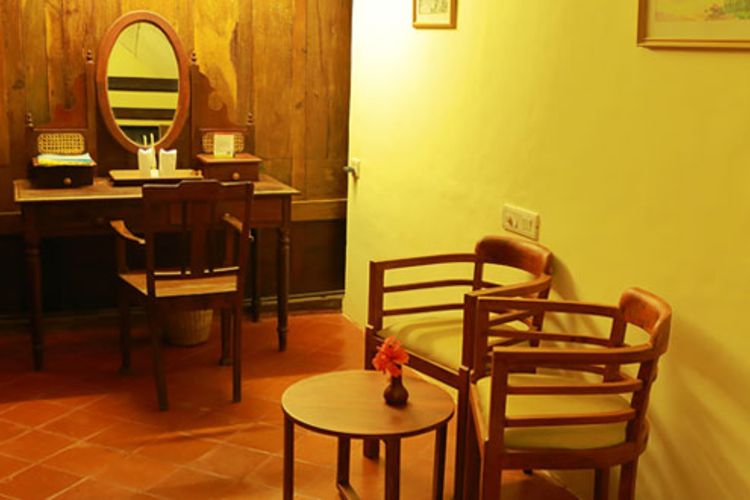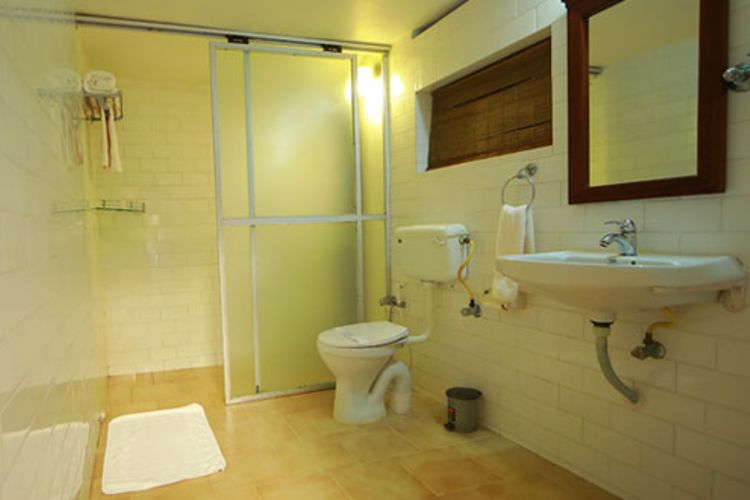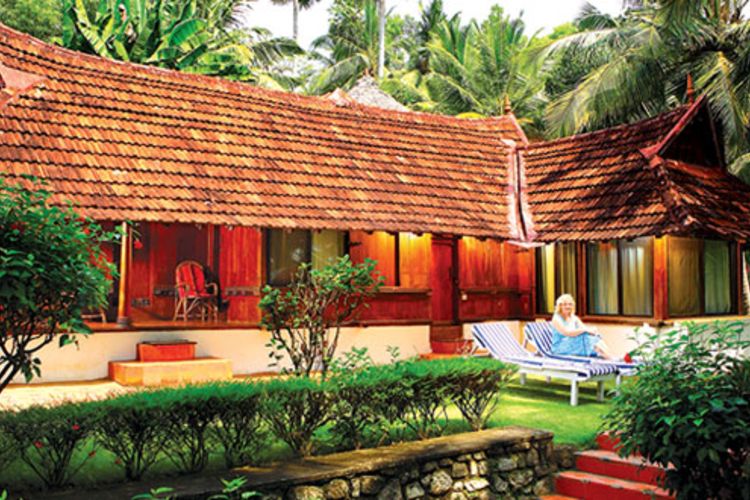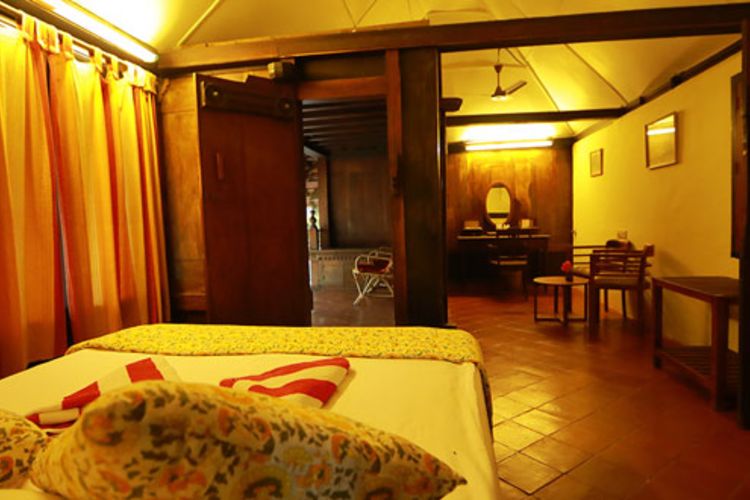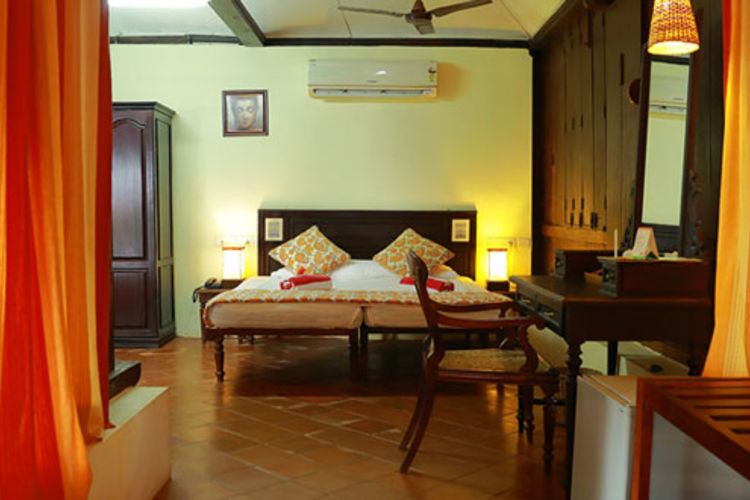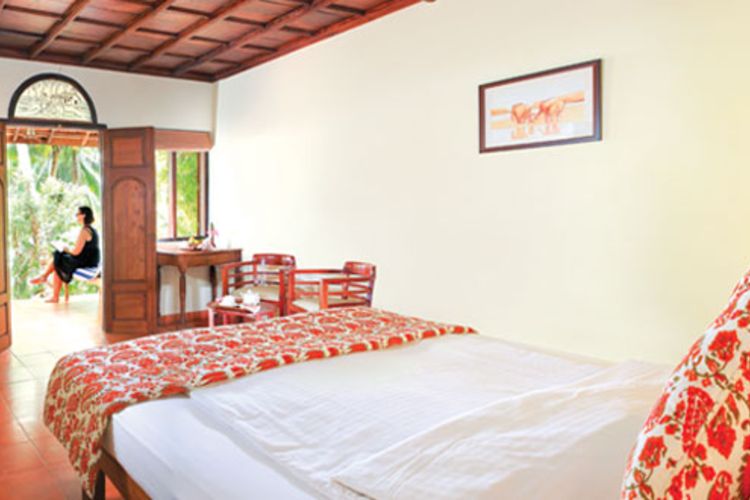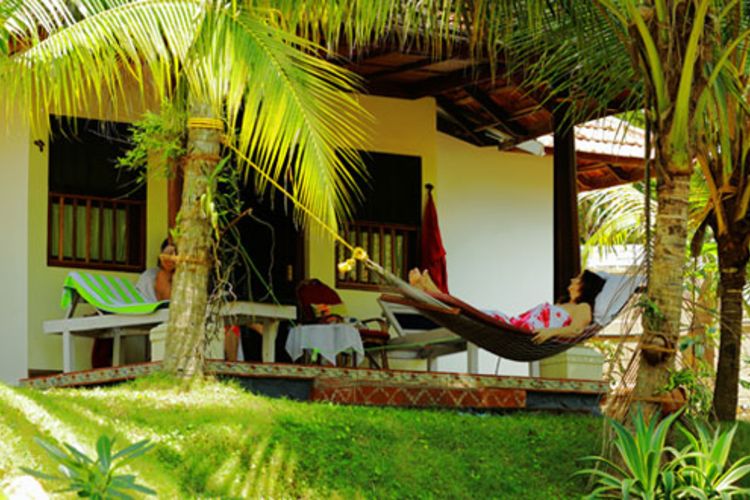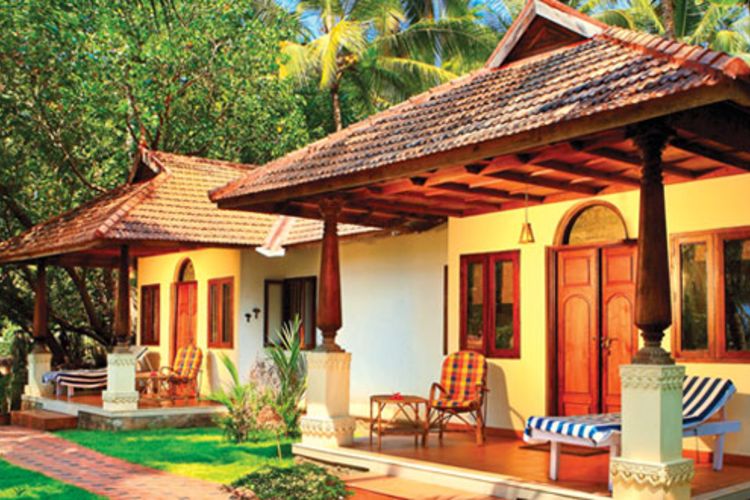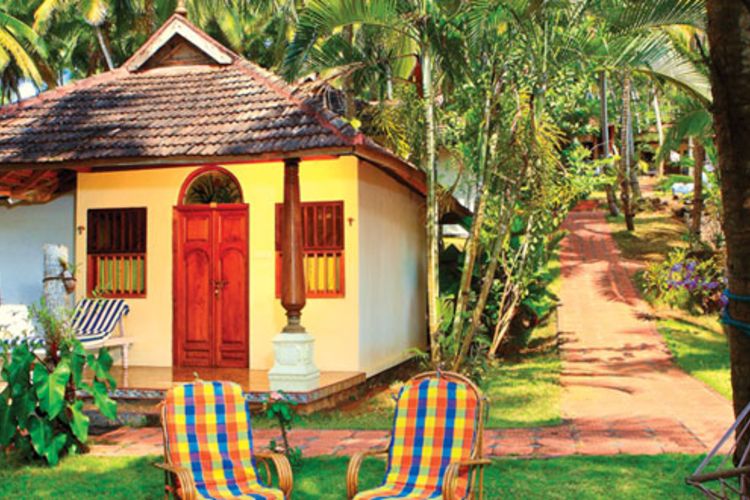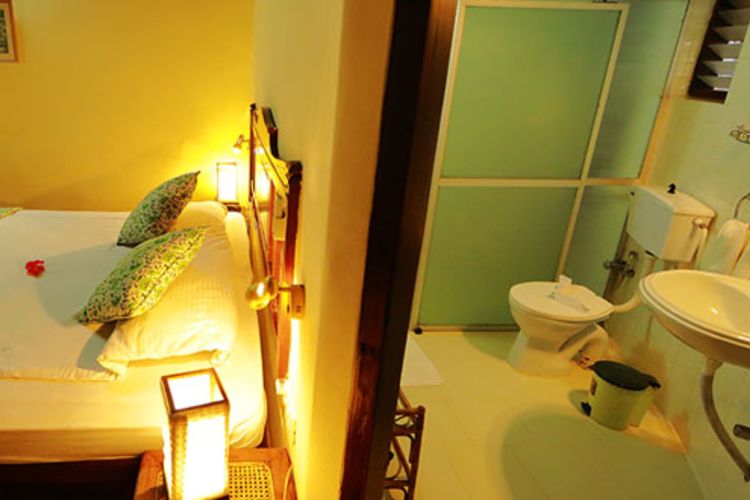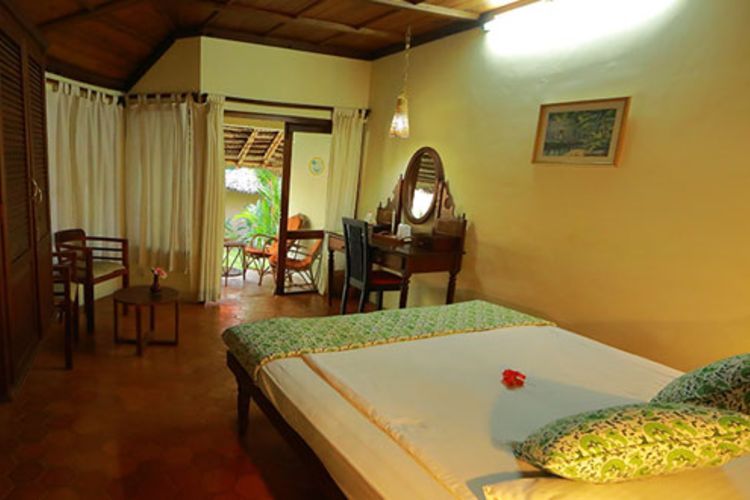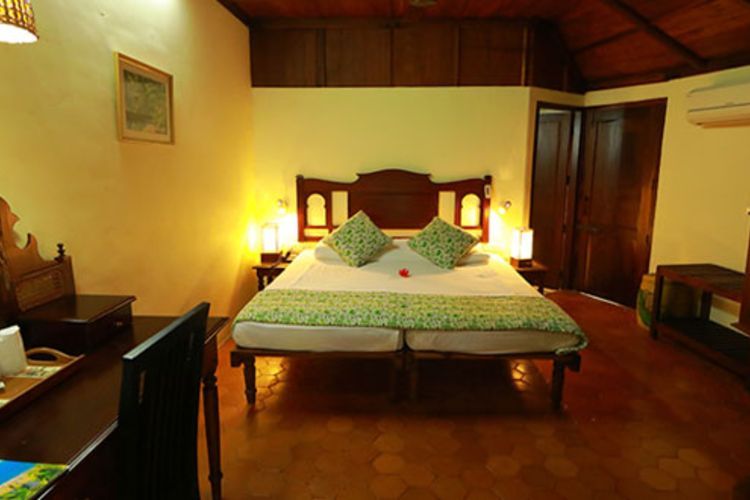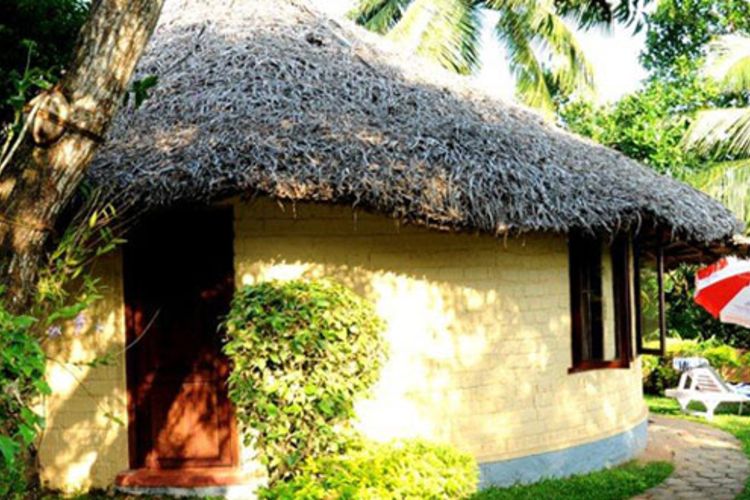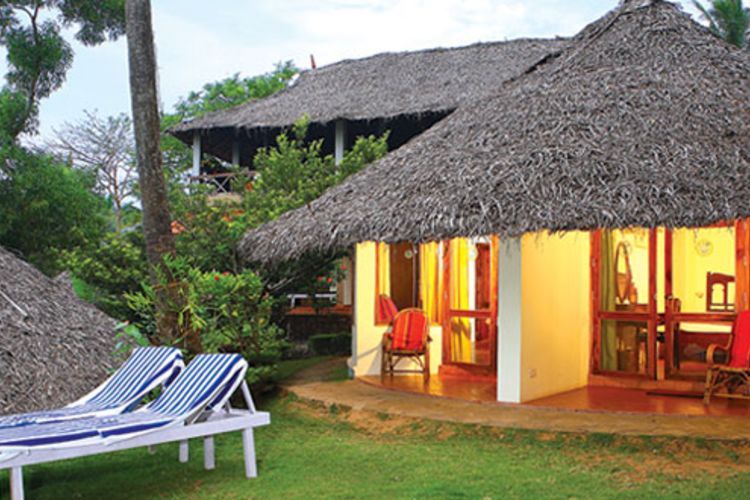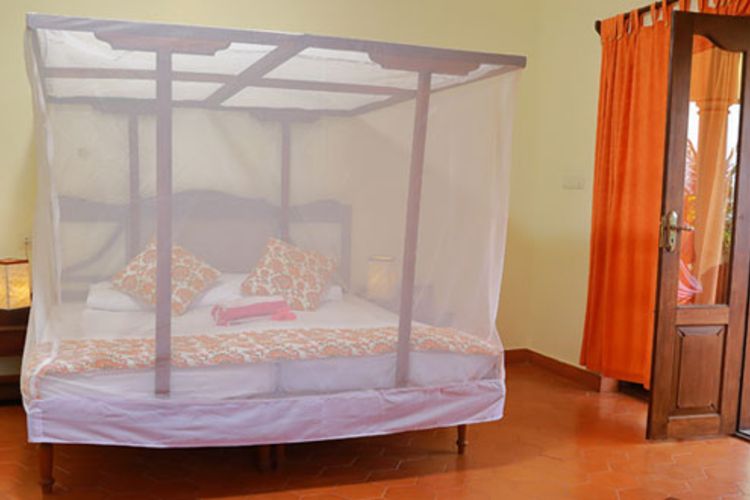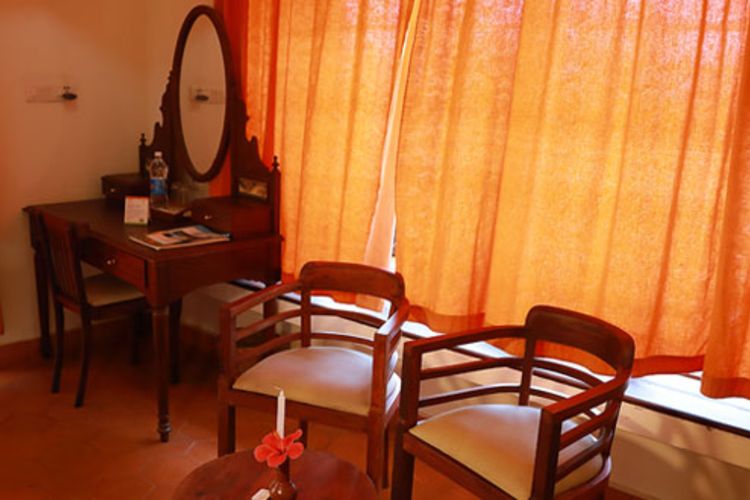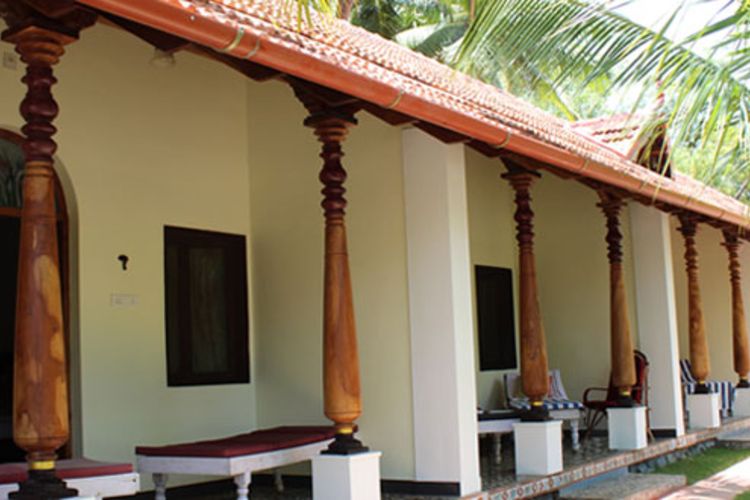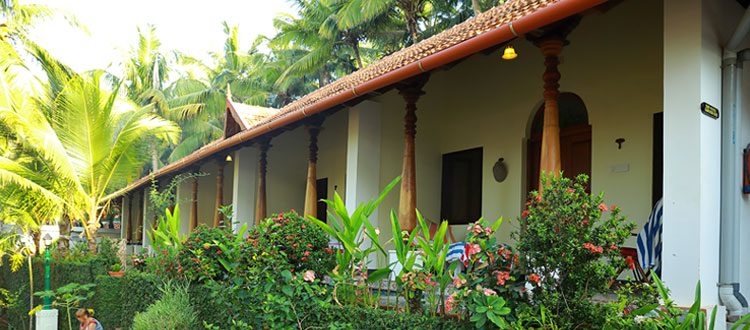 The resort is set off an ancient and rustic fishing village and offers views of the expansive ocean and glimpses of our local fishermen setting out in catamarans, lit only by a hurricane lamp and guided by the stars. Designed around open breezy corridors and lush green lawns, cottages at Nikki's Nest are sprawled across a palm-fringed hillock, gently sloping down to the Arabian sea. All our cottages are equipped will all the necessary comforts required for a rejuvenating holiday, and a private verandah open to various sights and sounds of India's spectacular south coast. The setting is picture-perfect, the view marvellous and the ambience rustic yet irresistible and laid back.
Amenities
Against booking all our guests are entitled to enjoy the following:
• Swimming Pool
• Spacious Sundeck
• Free Wi-Fi
• Safe Locker
• Currency Exchange
• Tour and Travel Advisor
• Beach Umbrella, Beach Deck and Beach Towels
• Mosquito nets are available on request
• Cultural Shows on special occasions
• Free dental checks upon request
• Credit Cards accepted
Sometimes guests arrive at Nikki's Nest without their baggage due to technical errors made by the airlines, but they are normally delivered in a day or two. For those traumatic days, Nikki's Nest provides a ''survival kit'' for free which contains essentials, including a set of unisex outfit for the day.
---
How to get there
By Plane: Nearest airport is Thiruvananthapuram International Airport
By Rail: Nearest railway station is Thiruvananthapuram Railway Station
By Road: Nearest landmark is Azhimala Shiva Temple Road Chowara, Thiruvananthapuram
---
Food Overview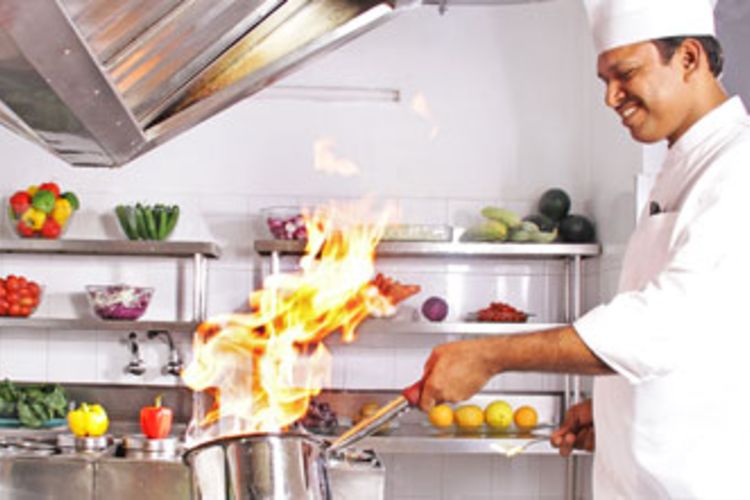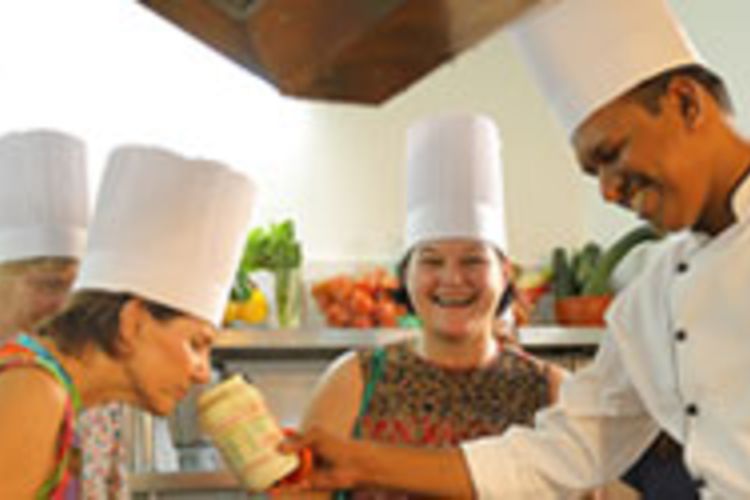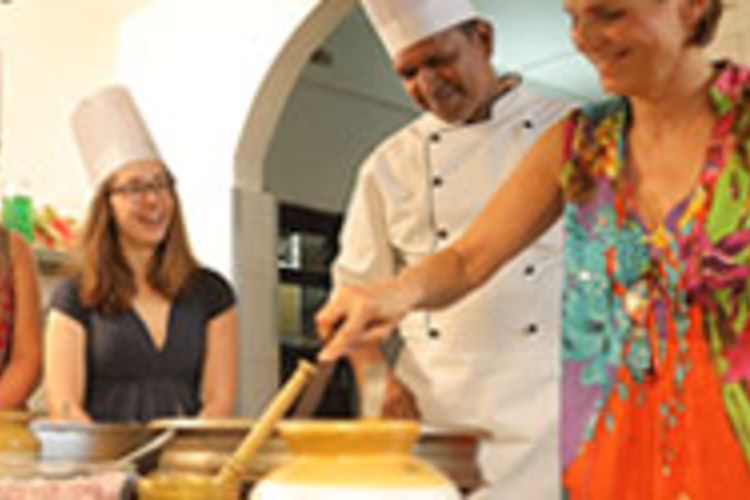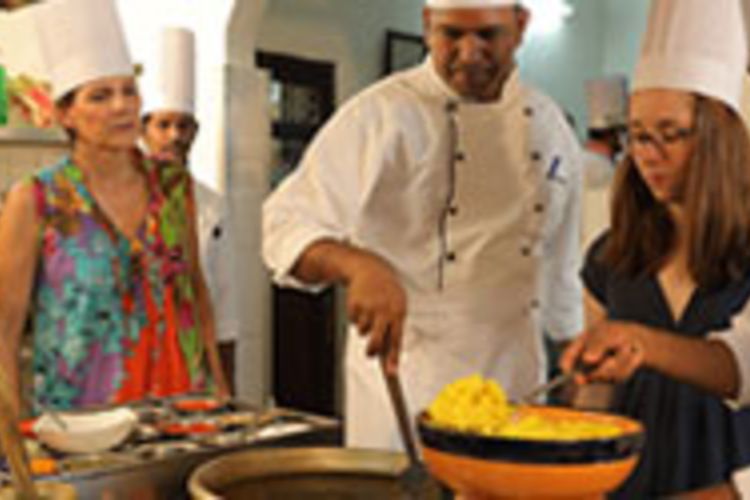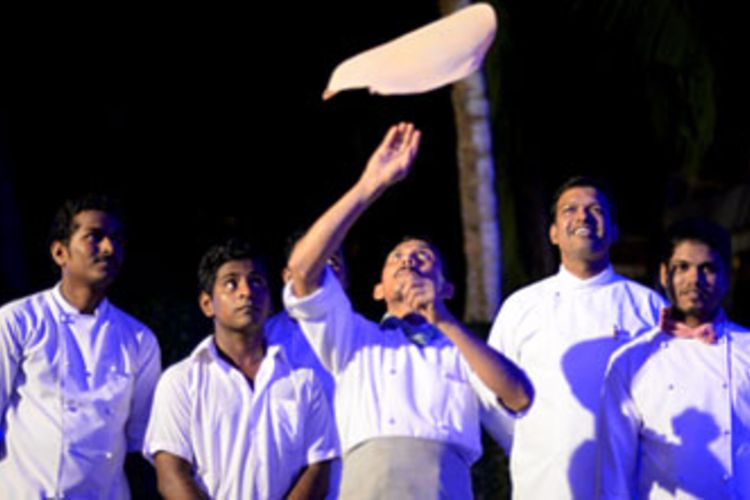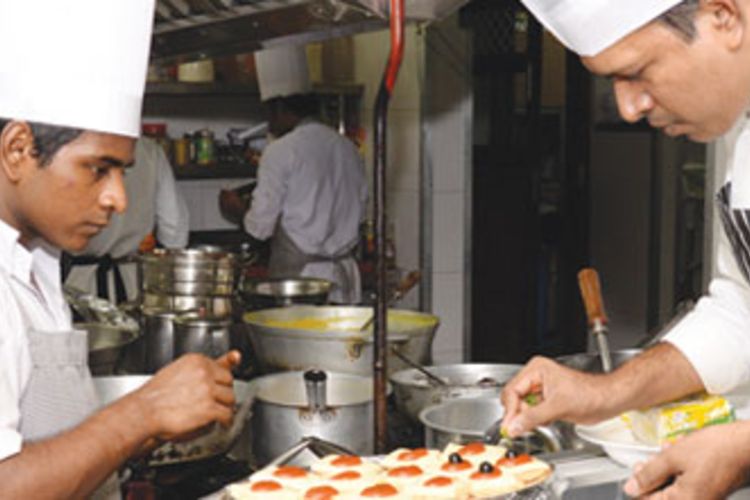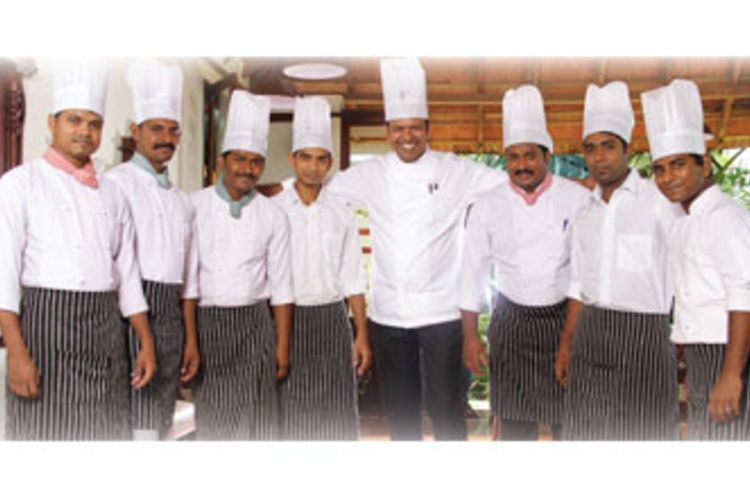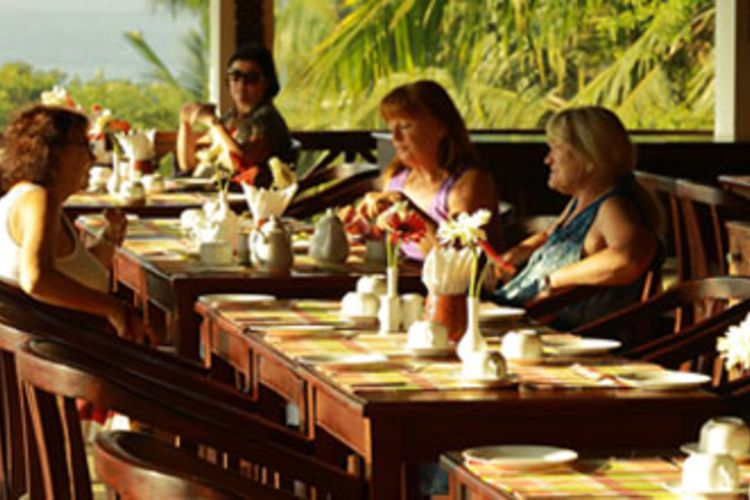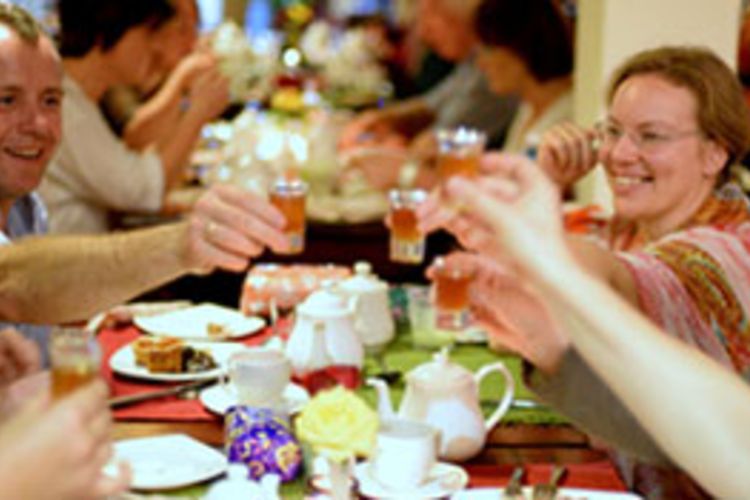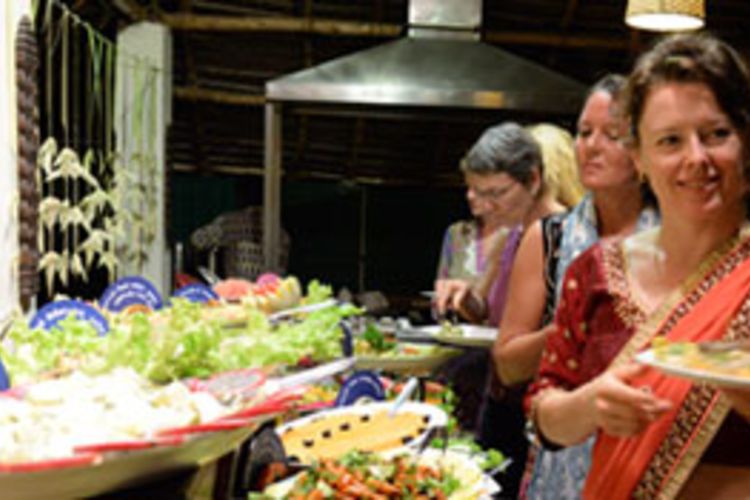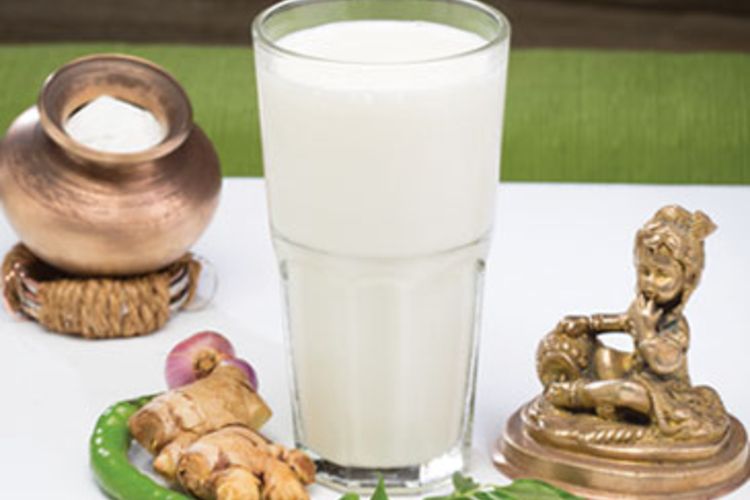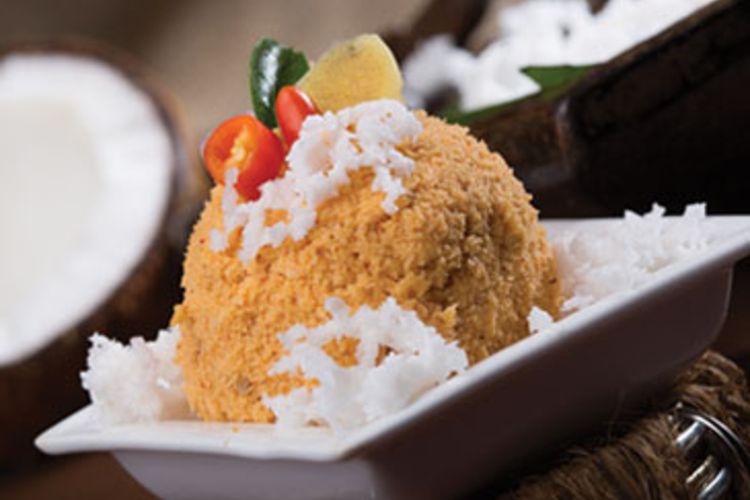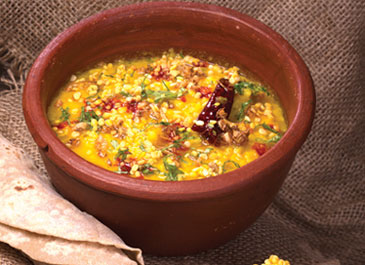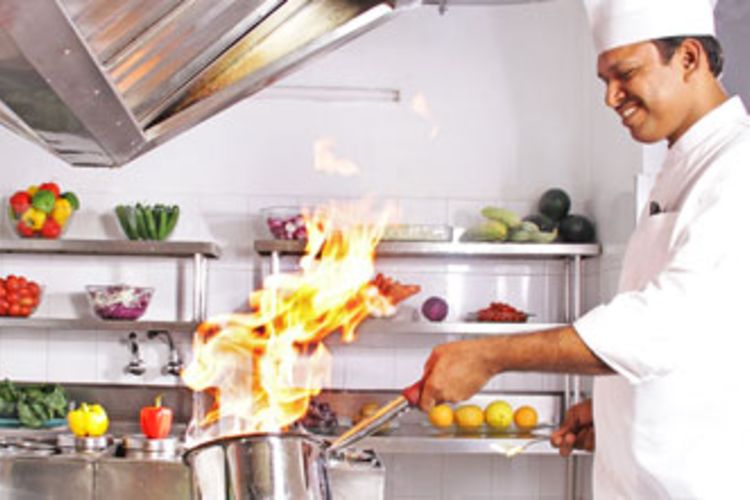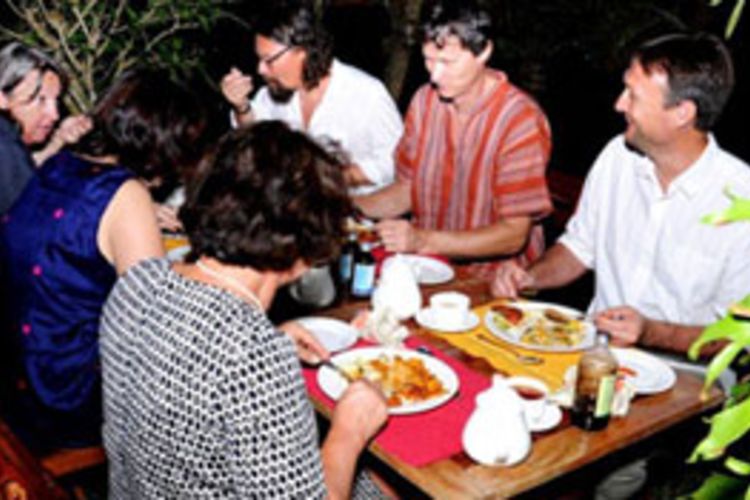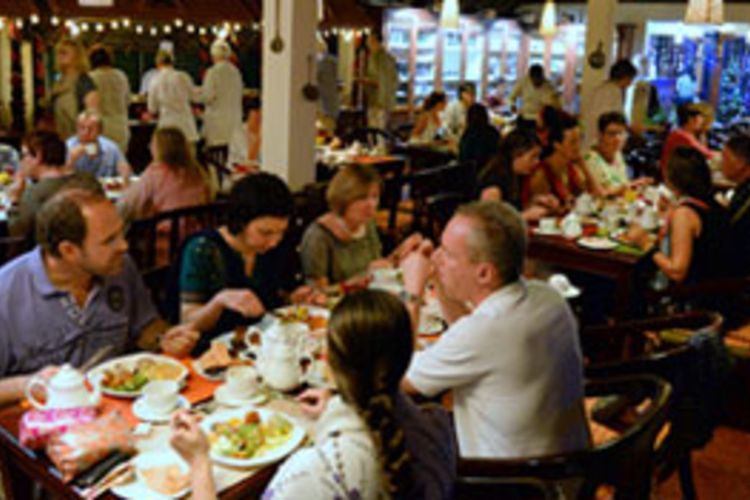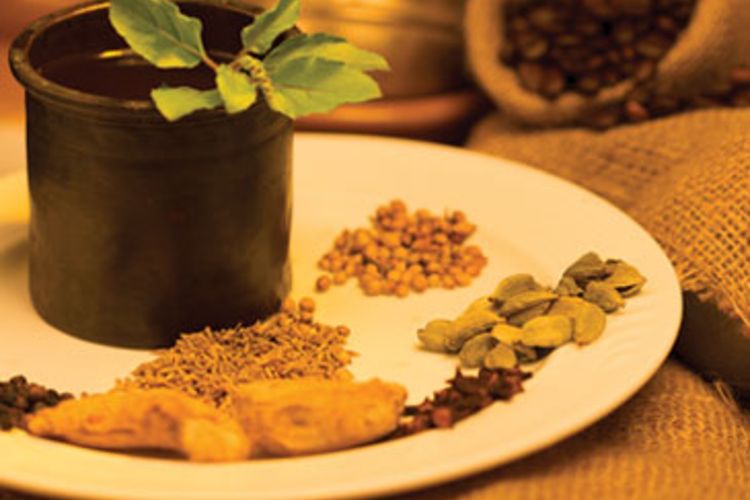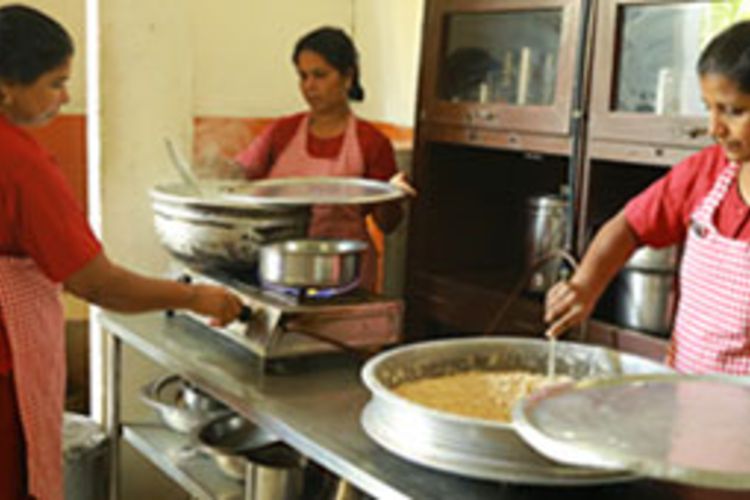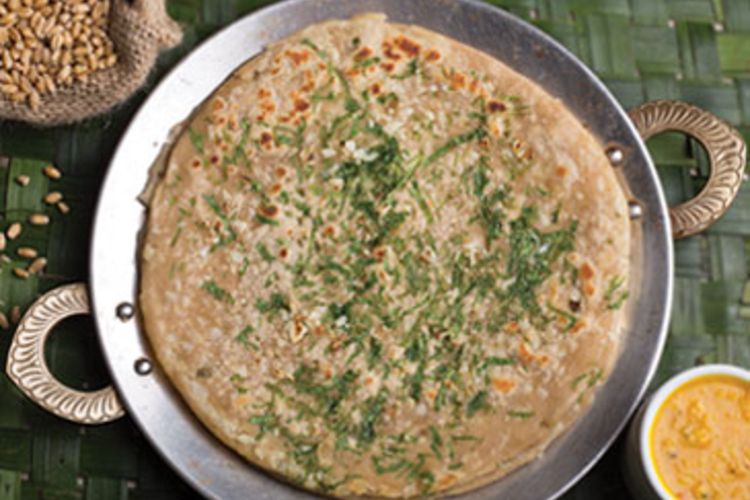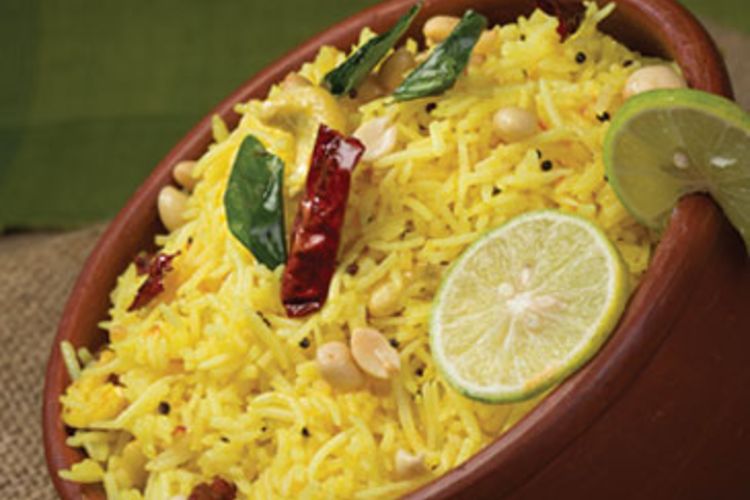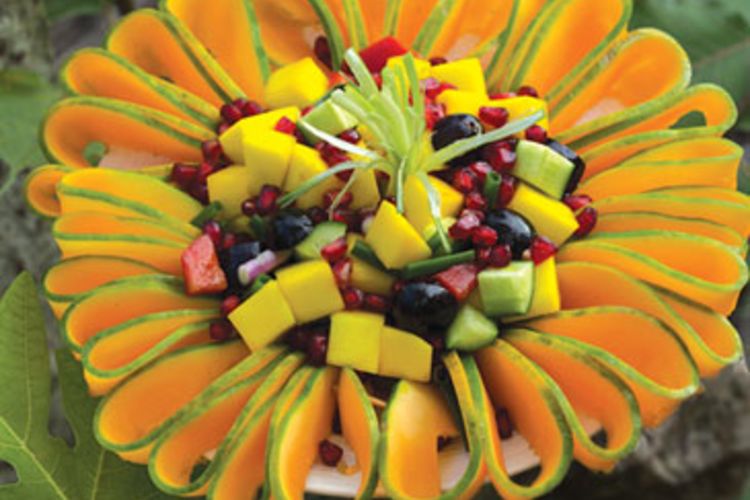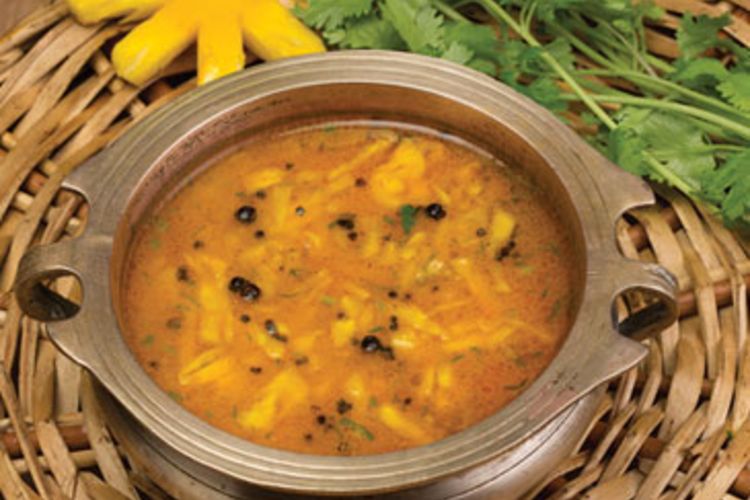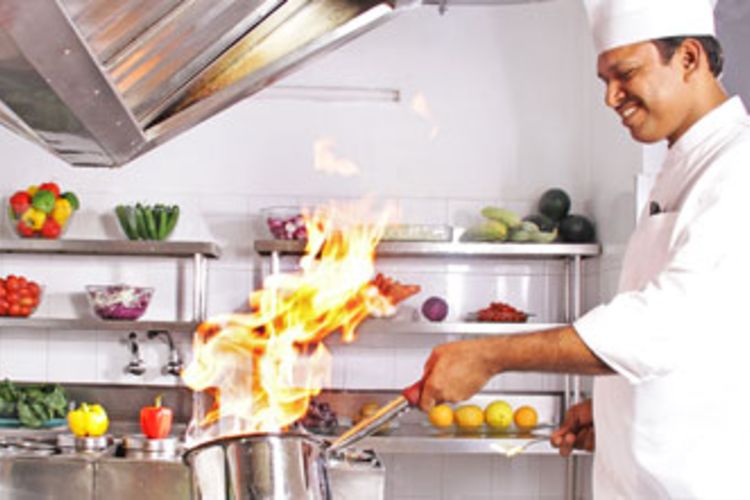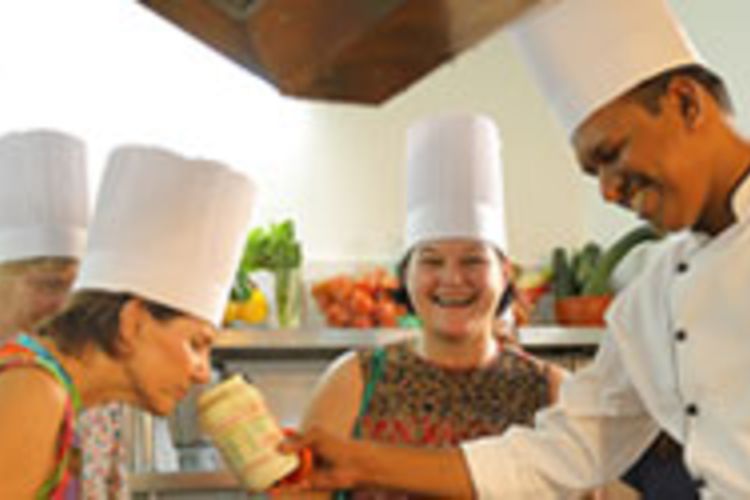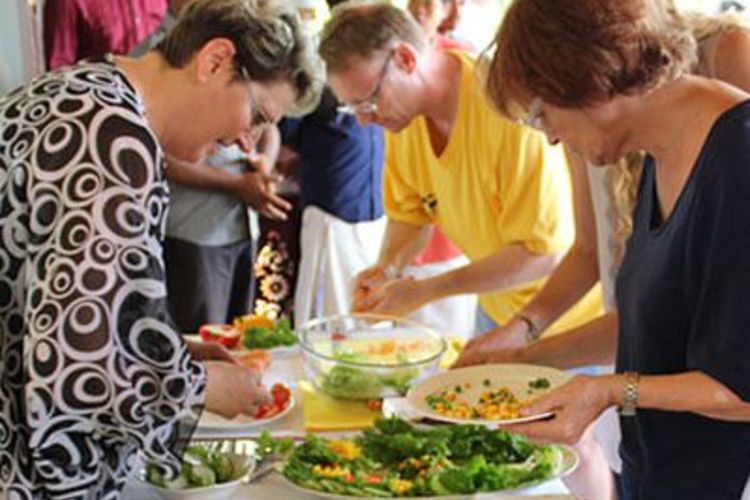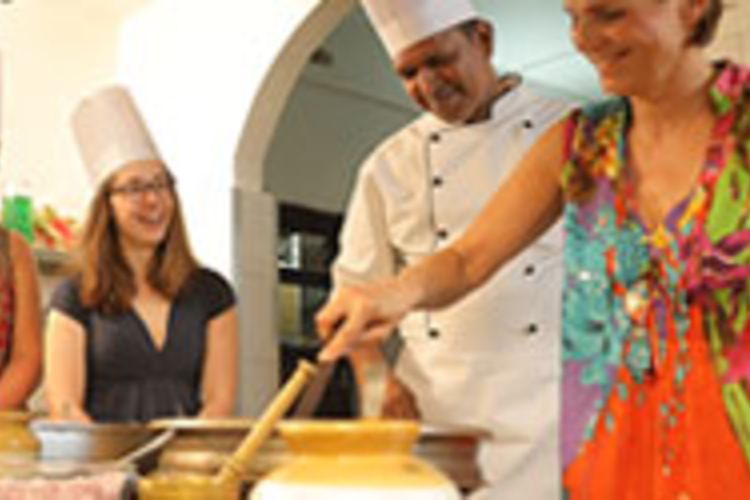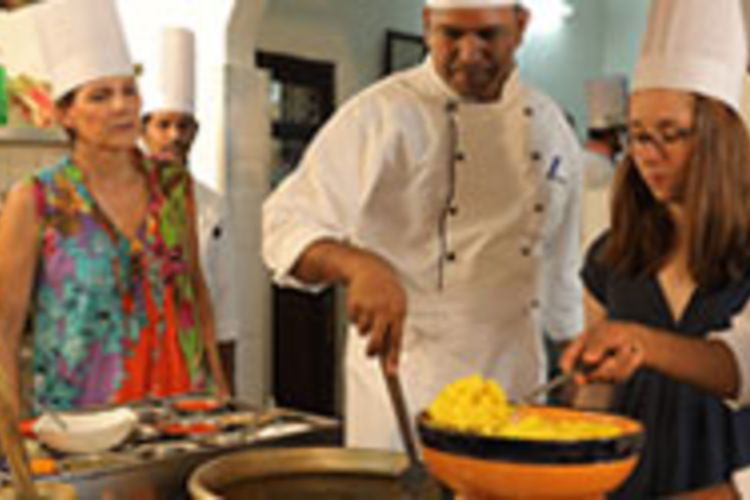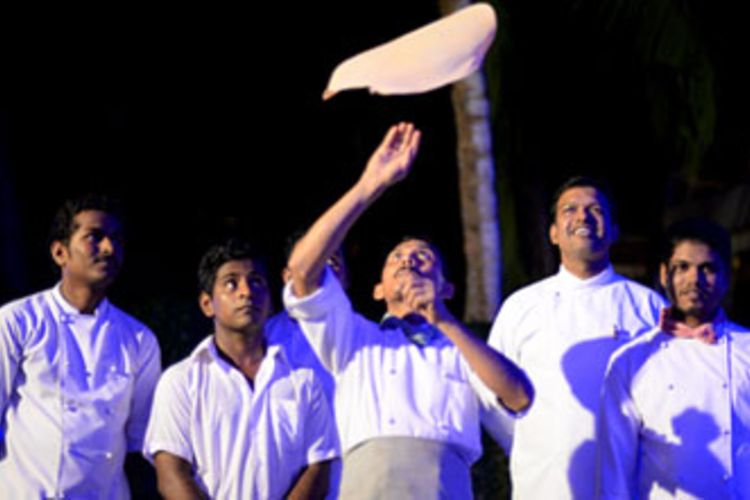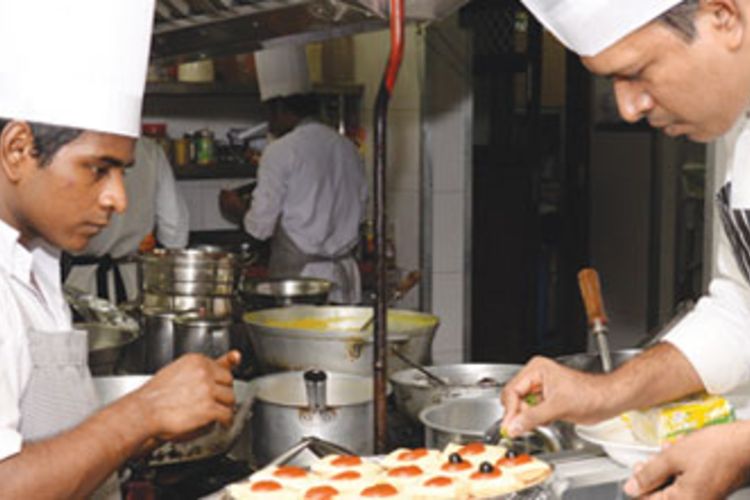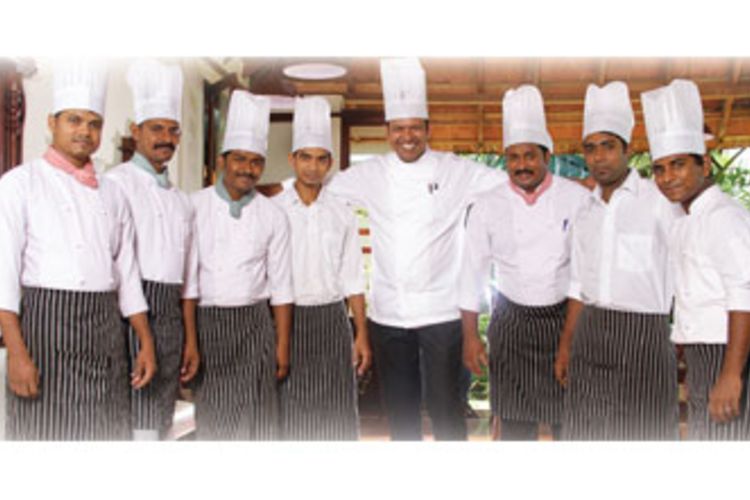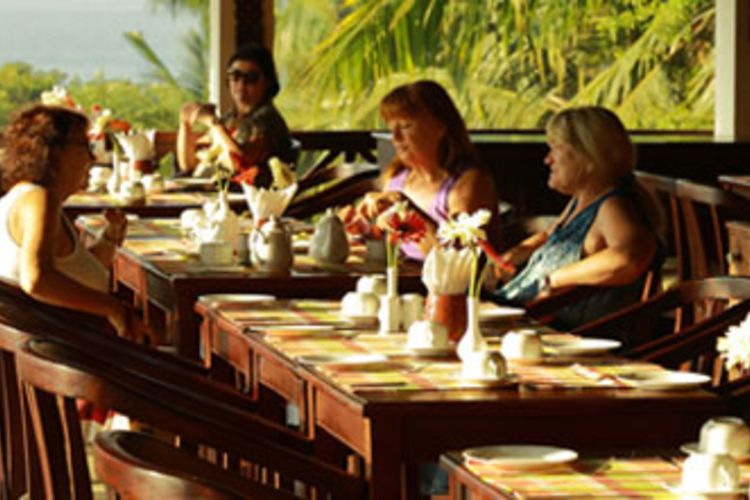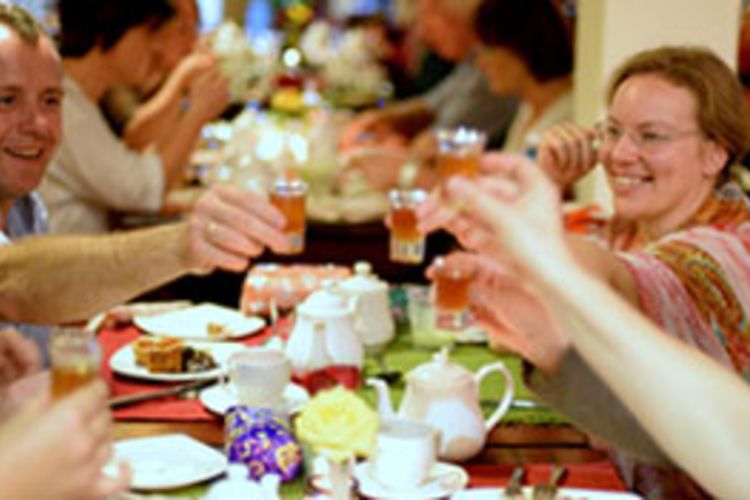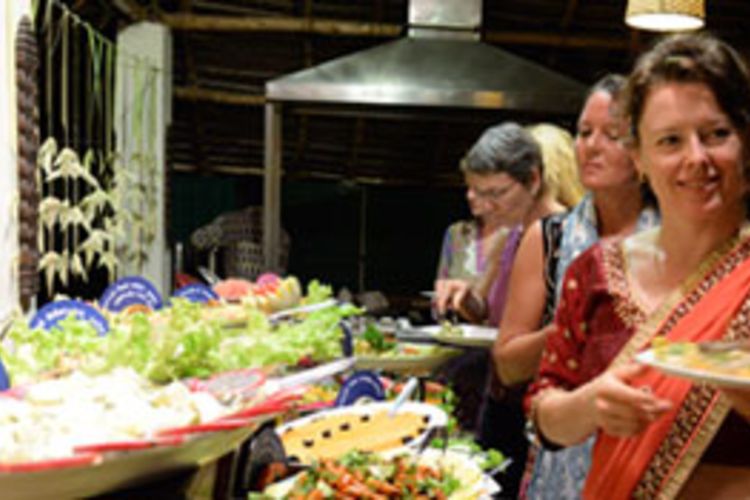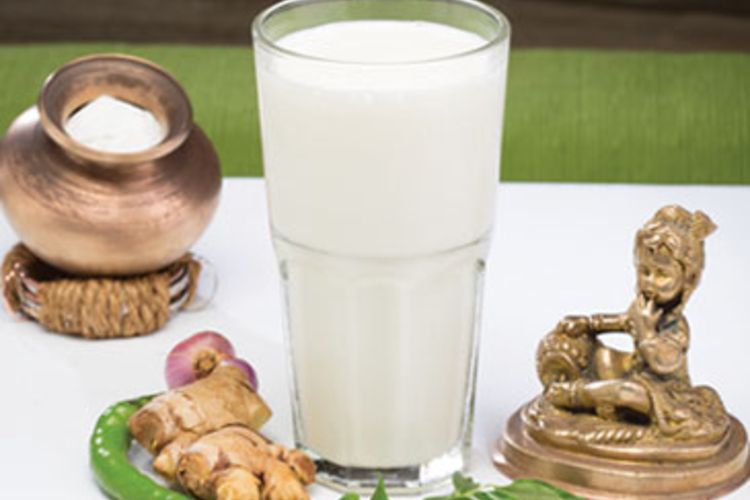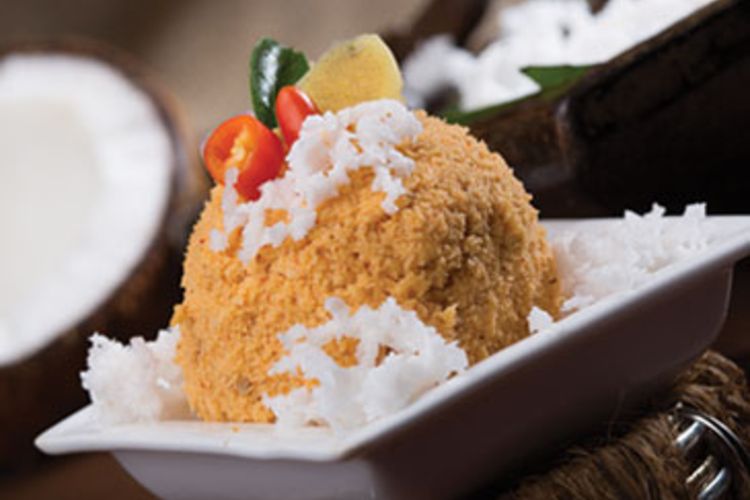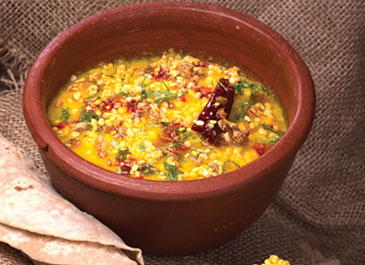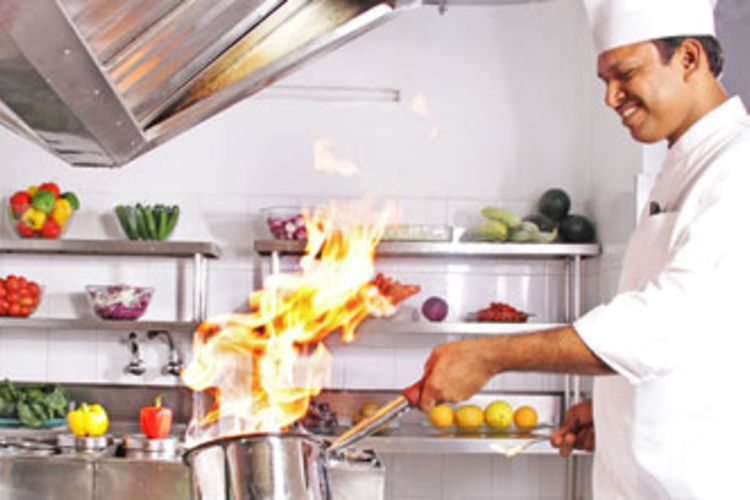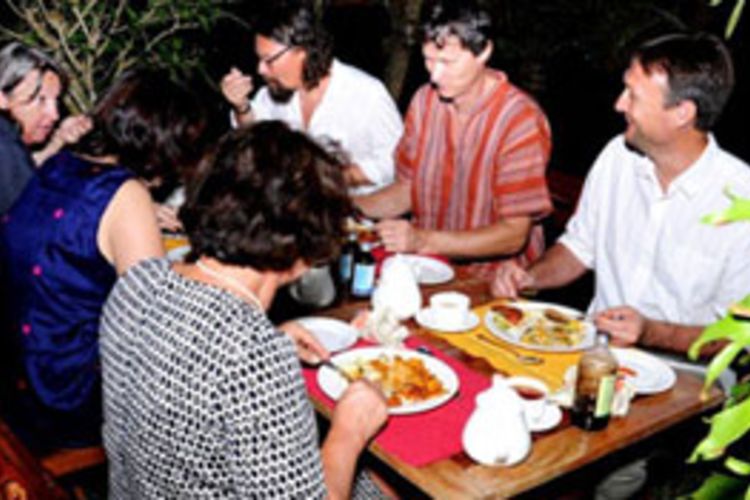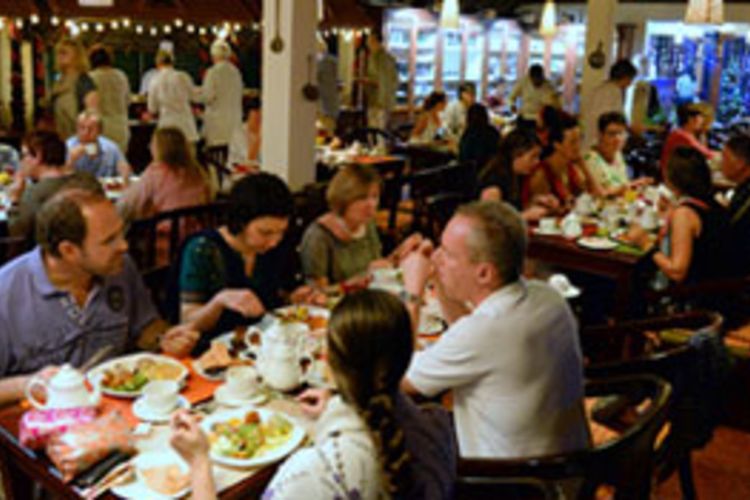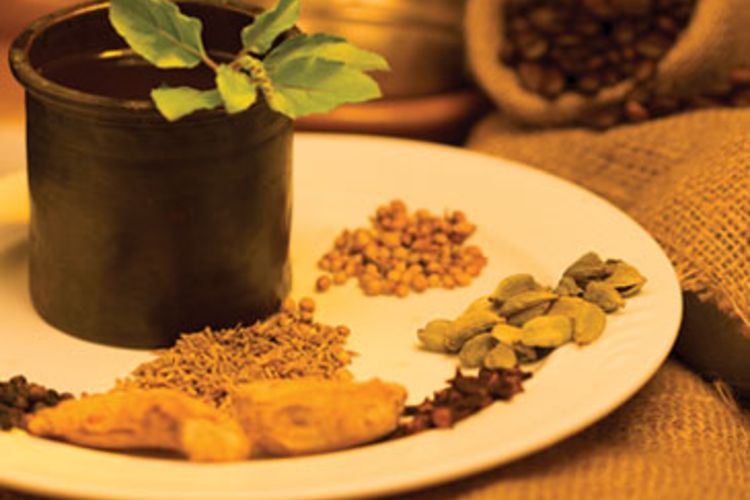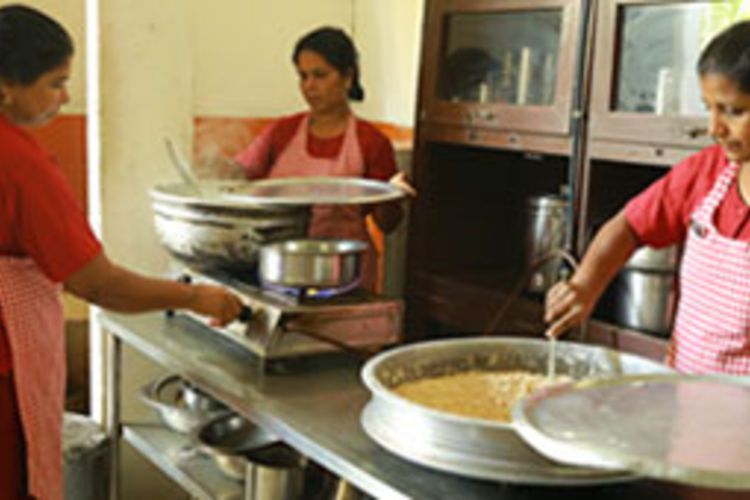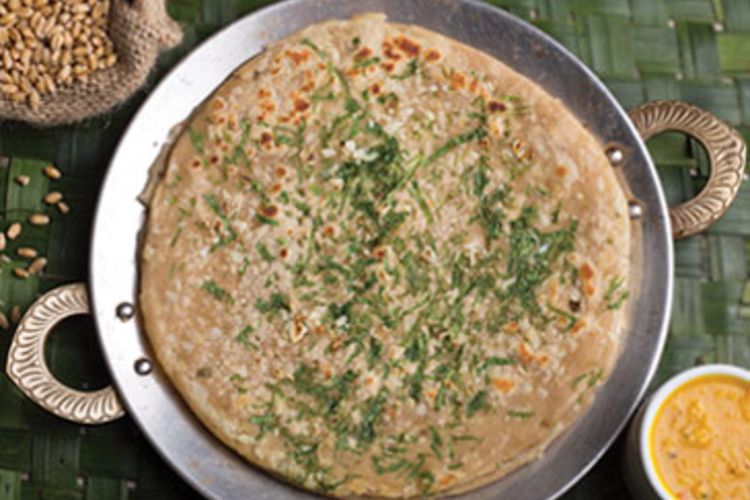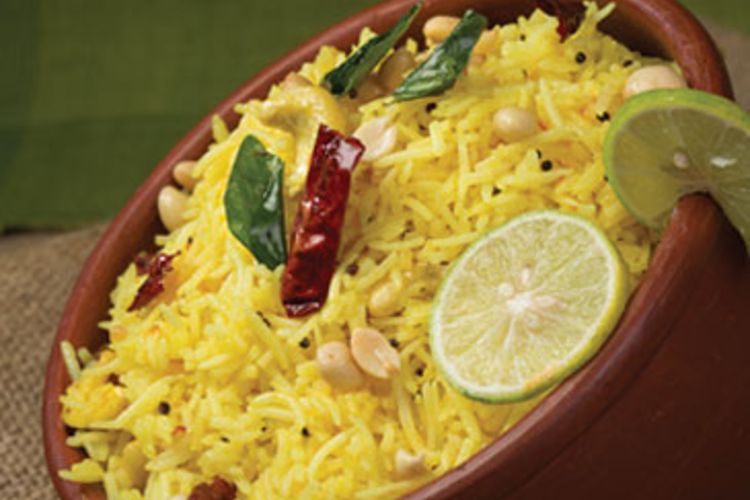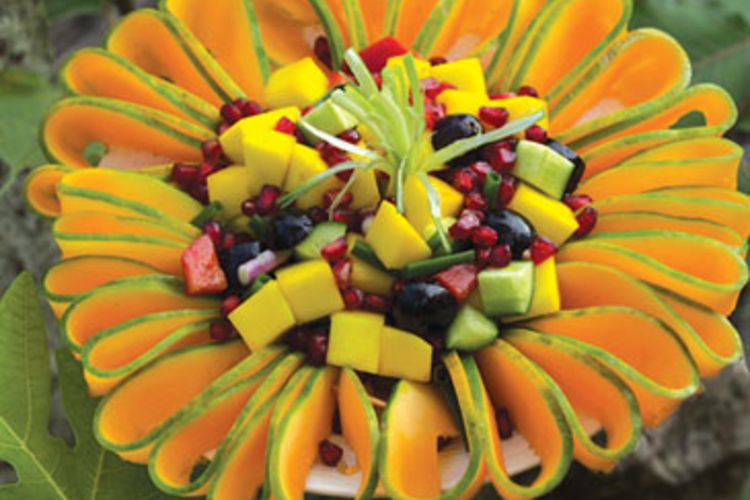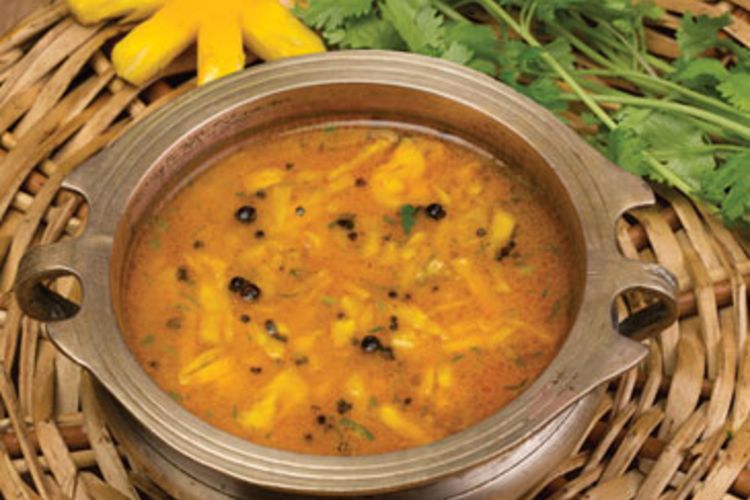 Dining at Nikki's Nest
Nikki's Nest has two unique sea facing restaurants. Hibiscus, our vegetarian restaurant, caters vegetarian food to our Ayurveda guests, while Orchid, the sea food restaurant, takes care of one's sea food cravings and any orders from our menu for both walk in and live-in guests. At Nikki's Nest, we take great care of any diet needs, restrictions and concerns our guests may have. Over the years, our kitchen has tenderly dealt with various and unique allergies and diets, including those allergic to onions, garlic, tomato, aubergine, capsicum, pineapple, peanuts and white sugar and guests who require a ''gluten free'' or ''vegan'' diet. Guests are free to email and inform us well in advance before check in, as this will give the kitchen sufficient time to welcome you with healthy suitable dishes. Whatever ''out of the book'' concerns one may have, our chef and his crew have deep-rooted answers and will try and find ways to create food especially for you, according to your health needs.
Crafting Ayurveda Food at Nikki's Nest
With careful consideration to serve food according to Ayurveda principles, meticulous planning and co-ordination between our Chef and the Ayurveda Vaydyars make it possible for our guests to enjoy Ayurveda food, that has been crafted to suit a unique blend of Indian cuisine and International favourites while basking in the warmth of our tropical sun. Very popular for her authentic vegetarian kitchen, the chef and his crew have created a wave, making the kitchen continuously bustle with activity. Following the principles of Ayurveda, and to enhance detoxification, we only serve a vegetarian buffet for all our guests undergoing treatment. But of course, the sea side could beckon someone to indulge in occasional seafood, which our Chef can cater to, with approval and consultation from our Vadyars (Physicians). As an extra precaution towards healthcare, the kitchen of Nikki's Nest uses only bronze cooking vessels as this prevents any kind of metal or alloy adulteration.
Nikki's Promise to Nature's Food Source
Nikki's Nest does not believe in the use of artificial food colouring, essence or preservatives, as we strive to serve wholesome healthy meals and we do not wish to adulterate nature for any monetary benefits. In an honest attempt to serve safe and healthy food, all ingredients utilized in the kitchen come from reliable and known sources including our own plantation at Duke's Forest Lodge, and our family garden. Our kitchen does not believe in storing half cooked food or taste enhancer sauces, as everything is made fresh from scratch. We also do not store chilled aerated, energizing or artificial flavoured drinks, because it has been proved time and again of the high content of sugar and other unwanted chemicals. Being an environment and animal conscious resort, we do not serve meat and any meat products and this concept happens to be complimentary to Ayurveda as well. But being by the sea side, when guests crave for sea food, the Chef serves it on request, and on special occasions. Through the power of vegetarian food, Ayurveda, regular morning Yoga and meditation sessions, we wish to spread the message of good health, and awareness about healthy food and lifestyle through our kitchen and vaidyashala.
Nikki's Cook Book
With repeated requests for the past many years, Nikki's Nest has finally released her special cook book, much to the delight of all our repeater guests. Nikki's Cook Book has been designed and created after a lot of research and consultation with Chef Raj, and the management team, Maria Jacob and Nikita Jacob. In addition to recipes mentioned, we have also included a small section listing out the medicinal value of spices used in Indian cooking, consulting our Ayurveda doctors, Dr Praveen and Dr Geetha. The Chef and his crew has put together wholesome vegetarian recipes from our ancient and traditional Indian kitchen, handed down from mother to daughter for generations. Indian ingredients are now available almost the world over at any Indian store. As promoters of animal welfare and environment concerns, the management of Nikki's Nest has decided to set aside a portion of the income generated from the sale of our cook book towards animal protection and environmental care, as well as for setting up of a much needed staff welfare fund.
---
What is Included
Daily Consultation with the Ayurvedic Doctors
Customized treatment plan made to the exact needs of one's body condition
Chosen Accommodation
Food (Full board meals as recommended by the Ayurvedic doctor)
Group Yoga and Meditation classes
---
What is not Included
Tickets and visa
Insurance
Pick up and Drop
---