200 Hrs Ashtanga Yoga Teacher Training at Vishuddhi Yoga School in Goa, India
200 Hrs Ashtanga Yoga Teacher Training at Vishuddhi Yoga School in Goa, India
Vishuddhi Yoga School, The whispering Lake Resort Dando, Arambol Beach, Pernem, Goa
Experience Schedule
05 Mar - 29 Mar 2019 |
---
Experience Overview
The 200 hours Ashtanga yoga teacher training course is carefully formulated to suit yogis of all levels with a passion to improve their practice and teach. The course offers the perfect opportunity to engage with spiritualism, and balance both physical and mental health.
Traditional Ashtanga yoga techniques will form the basis of the course with emphasis on postures, breath and pranayama.
Offered over a period of 24 days to ensure a full and complete experience, the Ashtanga teacher training course combines a dynamic array of lectures and discussions, both philosophical and academic. 4 hours of daily yoga practice with experienced practitioners complimented with meditation and self awareness practices make this a world class teacher training experience in the world's premier yoga destination.
Aiming to provide the appropriate skills and training across an array of backgrounds and philosophies, all students are rewarded the (RYT) certificate of teacher training course, impressively recognised at an international level. Qualified yoga teachers will be well equipped to set up as independent teachers or apply for work internationally, becoming part of the growing global yoga community.
---
Experience Highlights
200 Hour Ashtanga Yoga TTC
24 Days Accommodation
3 Hygienic Vegetarian Meals during weekdays
Morning Pranayama Meditation Chanting & Kriya yoga
Course Manual
Mat to Practice
Cleansing kit
Yoga Bag
Free Wifi
---
---
---
Schedule
06.30 AM – 07.00 AM: Morning Pranayama, Meditation, Chanting & Kriya yoga

07.00 AM – 09.00 AM: yoga asanas

09.00 AM – 10.00 AM: Breakfast Time

10.00 AM – 11.15 AM: Teaching Methodology

11.30 AM – 12:45 PM: Applied Anatomy

12:45 PM – 02:45 PM: lunch and rest

02.45 PM – 03:45 PM: Philosophy

04:00pm –06:00 PM : yoga asanas

06:00 PM – 07.00 PM: Meditation
---
About the center
Vishuddhi Yoga School Goa India
The Vishuddhi Yoga School is located in the heart of ancient Goa, fondly known by locals as the 'Pearl of the Orient'. Just 5 minute walking distance to the stunning beaches and tranquil atmosphere of Arambol beach. There really is no better place to unwind and submerge into a peaceful yoga practice against the backdrop of glistening sand and tranquil sounds of crashing waves. A favourite amongst yogis and holiday makers alike, Arambol beach is an ideal place to unwind during free time.
Vishuddhi Yoga School offers unparalleled support and ancient, traditional knowledge in a natural and English speaking environment. Following standards and guidelines set up by Yoga Alliance USA, the inspiration and accreditation that the school offers make it the perfect place to commit to a voyage of spiritualism and self discovery.
With a philosophy based on the quality of the soul, sharing emotions and affection are encouraged in line with ancient spiritual yoga teachings. Helping to extend understanding and allowing exploration of holistic yoga practice.
---
Accommodation Overview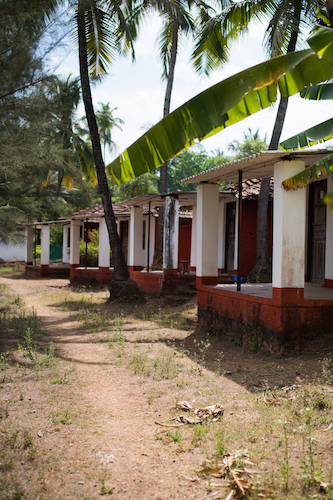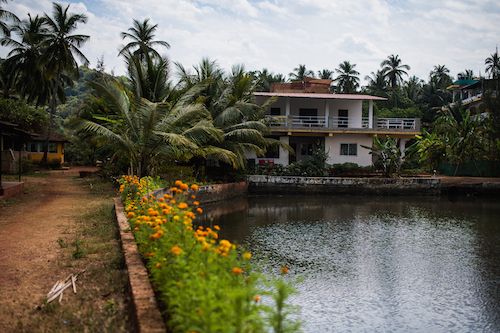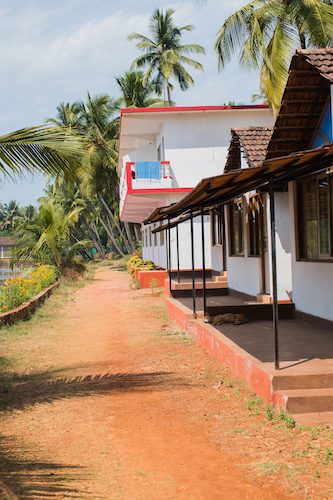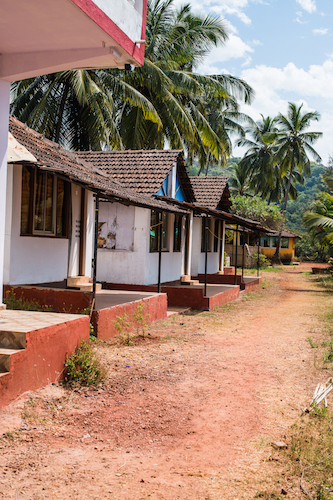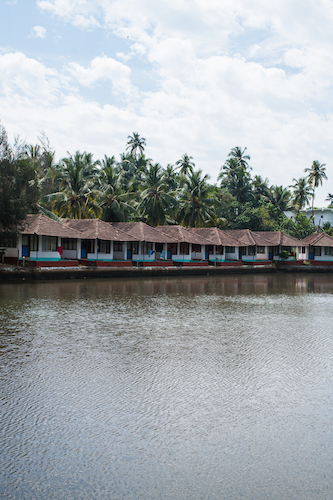 The Vishuddhi Yoga School offers yogis clean and simple accommodation with a running hot water shower and private toilet. All accommodation is naturally well ventilated and conveniently enabled with wifi connections, just a comfortable 5 minute stroll from the main yoga hall.
---
Food Overview
UV filtered drinking water is supplied and available to students 24/7, along with a hygienic vegetarian diet on weekdays in line with traditional yoga practices. The weekends are free to explore local delicacies whilst the kitchen is closed. The perfect combination to keep the mind and body suitably balanced for yoga practice.
---
What is Included
200 Hour Ashtanga Yoga TTC
24 Days Accommodation
3 Hygienic Vegetarian Meals during weekdays
Morning Pranayama Meditation Chanting & Kriya yoga
Vedic ceremony and course induction
4 hours of daily yoga asanas multi-style practice
Applied anatomy lectures
Philosophical discussions
Meditation and self-awareness practices
Art of teaching yoga
Course Manual
Mat to Practice
Cleansing kit
Yoga Bag
Free Wifi
---
What is not Included
Taxi pick up and drop – can be easily arranged against additional cost

Tickets and Visa costs

Personal expenses
---
Cancellation Policy
Refund and cancellation policy
In extenuating circumstances, such as bereavement or serious illness, the course can be deferred to a later date, subject to availability and deferral fee within 8 months of initial enrolment. NO REFUNDS, CREDITS OR TRANSFERS ARE AVAILABLE ON CANCELLATION PRIOR TO, DURING OR AFTER THE START DATE OF ANY TEACHER TRAININGS or any other short term or long courses at Vishuddhi Yoga. In all cases and situations, students and applicants must intimate us on time. 
Cancellation: In case of cancellation done from Institution's side due to unavoidable circumstances then we would refund the full course fee or booking registration amount  after normal deductions in the form of nominal bank transfer charges
---