---
Rajasthali Resort & Spa
Jaipur Delhi Highway, Kukas, Jaipur - 302028
About
Nestled among the Aravallis –Rajasthali Resort & Spa represents the amazing conjunction of kingly Rajasthan and quaint Aravallis. The magnificent history-clad Aravalli hills form the backdrop of our resort, allowing our visitors to soak up the glory of the valiant land. We attempt to create and maintain the ideal Rajasthan feel for our guests who choose our resort for the very same experience. Replete with all modern amenities and services, we endeavor to recreate the aura of royalty for our valuable guests.

We welcome each one of you to Rajasthali Resort & Spa for a unique accommodation experience in the cuddle of the Aravallis. Whether you are visiting Rajasthan for leisure or business, our 86 exquisite guest rooms, suites and tents offer you the most comfortable stay. Our high-end facilities that pamper our esteemed guests include swimming pool, spa, banquet hall and scrumptious food and beverage options.

We, the team at Rajasthali Resort, make every effort to provide great comforts to you. Our commitment to bring out the spirit of Indian hospitality and present it flawlessly to our guests from India and abroad is the onus we take on us with utmost importance.
---
Accommodation Overview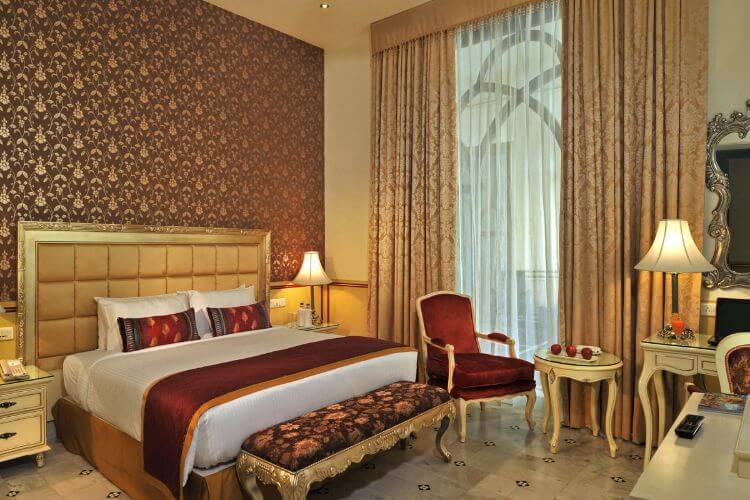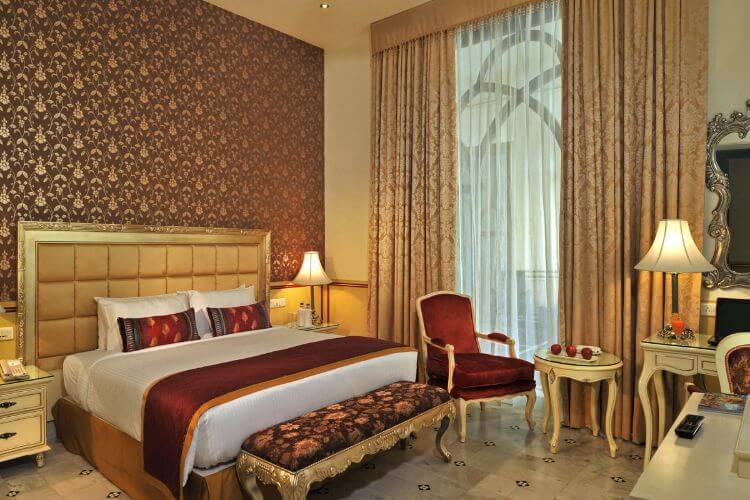 Rendering an advanced tone of quality to accommodation, our in-room facilities are an illustration of the fine grandeur that the Pink City boasts of. There are 53 exquisite guest rooms at our resort whose décor, design, color scheme along with other features endeavor to proffer an imperially fine experience to our resident guests.
At the premier palace rooms of Rajasthali Resort and Spa, the royal spirit of Jaipur finds recognition. Luxury and comfort is illustrated at its best in the princely décor and amenities that promise unmatched comfort and convenience. Relax on your king size bed in your room in Jaipur, indulge in a fine array of beverages at the mini bar while you watch your favorite program on the LCD television mounting the wall.
From state-of-the-art amenities to keep you connected to the whole wide world to a mini bar that comes to your rescue when hunger strikes at unearthly hours. Whether you want to relax on your king size bed or celebrate the view of the garden through the colossal window in your room, the choice is yours at the Deluxe Palace Rooms at Rajasthali Resort and Spa.
A 650 sq. ft. suite furnished with royal furniture, a king size and the most comfortable bed, a study table, a cubical shower, comfy chairs. The unique feature that makes the suite different from other rooms is its lobby and a private terrace that will help you take view of the Aravali hills. Our guests are our targets and we make the most to satisfy them with their stay in our resort.
A mini bar, a private Jacuzzi inside the tent, and a huge crystal window will let you take view of the garden from the tent. a total unmatched experience of being in a hotel and takes you to a special world. Fully air-conditioned with 4 poster king size bed, a study section, an elegant sofa will make you savor every bit of your stay in this 472 sq. ft. Royal Tent.
A study section, a 360 movement LCD Television have been provided in the tent to entertain our most precious gifts, our guests. Besides, you can take beautiful view of the garden with an arrangement of private garden seating. he 550 sq ft. royally decorated tent is the ultimate corner in the hotel to experience lavishness. The royal era furniture with 4 poster king size bed, a mini bar and a private Jacuzzi will make your trip the most relished one.
---