---
Raj Palace, Jaipur
The Raj Palace Jorawer Singh Gate, Amer Road Jaipur (302002) INDIA
About
In Jaipur Hotels Right in the heart, City Center of Jaipur, The Raj Palace is an imposing palace hotel that holds you spellbound. The oldest mansion in Jaipur, originally called 'The Chaumoo Haveli', it was built in 1727. It was named after the last ruler of Chaumoo, Thakur Raj Singh. In 1996, Princess Jayendra Kumari converted it into a luxurious palace hotel. It still retains the splendor and a lot of artefacts from the bygone era.
Highly talked about hotel in Condensate Traveler & Travel & Leisure, it is definitely extravagance at its best.You will be warmly welcomed with the marigold garlands, a soulful piped music and a very refreshing welcome drink on our exquisite jhoola (Swinging seating) in the courtyard every time you visit the palace.This luxury hotel affords you some larger than life, unique and memorable experiences that you would be hard pressed to find elsewhere, making your stay an experience worth having.
The Raj Palace is an extremely convenient place to stay during your visit to Jaipur. Being in the middle of four main palace complexes of Jaipur (Amer, Jaigarh Fort, Nahar Garh Fort and the City Palace complex), it is located at a short distance from all sightseeing and shopping places. Moreover, the fact that it is situated on the main Jaipur-Delhi Road and is only about half a kilometre away from Jaipur-Agra Highway also makes The Raj Palace an ideally located tourist stopover. Regular flights form most of the domestic locations like Delhi, Bombay, Calcutta, Ahmedabad, Jodhpur, Udaipur, also the city Airport is of international facilities and many international flights fly directly from Dubai, Bangkok etc.
---
Accommodation Overview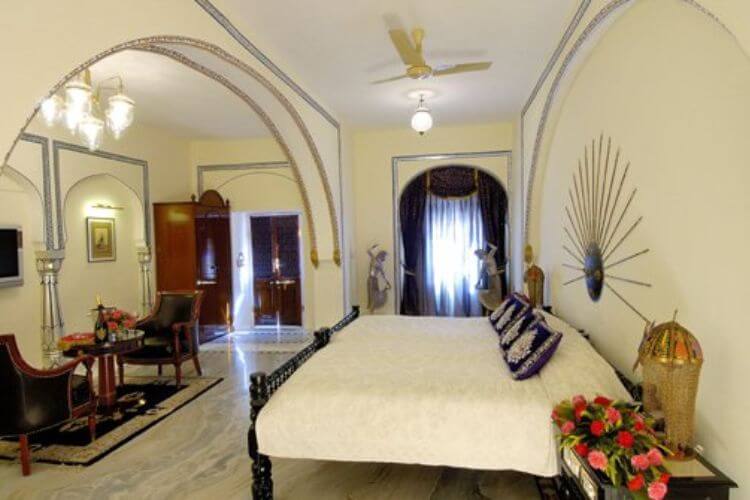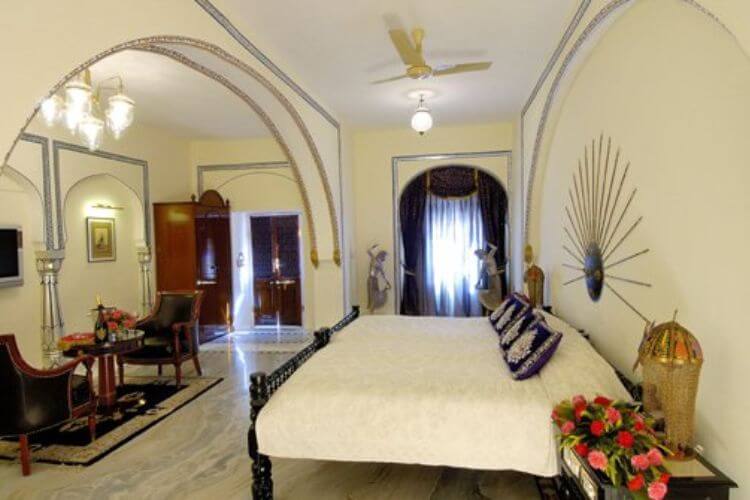 While there are many objective reasons to prefer The Raj Palace over other Jaipur Accommodation or other hotels in Jaipur, as we are a luxury hotel in Jaipur city center, it is an experience a winning combination of traditional luxury and modern convenience at the Jaipur Hotel. Entrenched in the cultural legacy of India's Pink City, our hotel in Jaipur welcomes guests with refined elegance, luxury bath amenities, and a very prime location near Jaipur city center. Our rooms and suites are rich in culture, renovated & redesigned with your comfort in mind, and feature luxury bedding, marble bathrooms, and high-speed Internet access. This Jaipur hotel has 50 Rooms and Suites overlooking towards Gardens, Chandani Chowk (Courtyard), and the pool. Each suite / room is unique and each seems still to breathe the spirit of illustrious guests who once stayed here.
---