---
Jaisalkot - A Luxury Boutique Hotel
Jaisalkot Kuldhara Turn, Off Sam Road, Jaisalmer - 345001 (Raj.)
About
We see ourselves as an organization which is committed to bring about a chain of boutique luxury resorts in the Country, Designing and Delivering products followed with exemplary services which enable us to Exceed Guest Expectations Every Time.
With our Hospitality we would provide to all our customers the unforgettable feeling of having been delighted Guests thru anticipation of their needs and personal preferences, paying attention to detail, warmth and concern.
We see ourselves as organization where decision making is encouraged at each level and which accepts change. It is committed and responsive to its Internal Guests, Empowering them and offering them career growth within the organization.
We see an organization which is conscious of its role in the community, supporting social needs and ensuring employment from within the local community.
We believe that it is essential to be a good corporate citizen. Along with being sensitive to the environment, promote reuse, reduce and recycling, we will serve the community that sustains us.
Jaisalkot – Hotel in Jaisalmer away from the hustle bustle of Jaisalmer, Jaisalkot comprises 25 acres of land and is enclosed within a strong and majestic fort. The ambiance is that of a lost world of royalty – quiet and elegant. Each room overlooks either the massive front Maidan or the vast desert scape. The spa, pool, gym, restaurant, and bar are spread luxuriously across the property. In spite of the old world charm, the hotel is equipped with all modern amenities required for a comfortable and peaceful stay. Jaisalkot offers its customers, what no other property can – a chance to go back in time. Jaisalkot is one among the best hotels in Jaisalmer.
Aesthetically designed and carefully appointed, all our four categories of suites are hallmarks of timeless elegance and modern convenience. The upscale décor is inspired by Jaisalmer's royal narrative with a thoughtful personal touch in everything – from luxury bed linen and curtains selection to rugs and furniture. Our hotel is one of best if you want to book the Best Hotel in Jaisalmer.
---
Accommodation Overview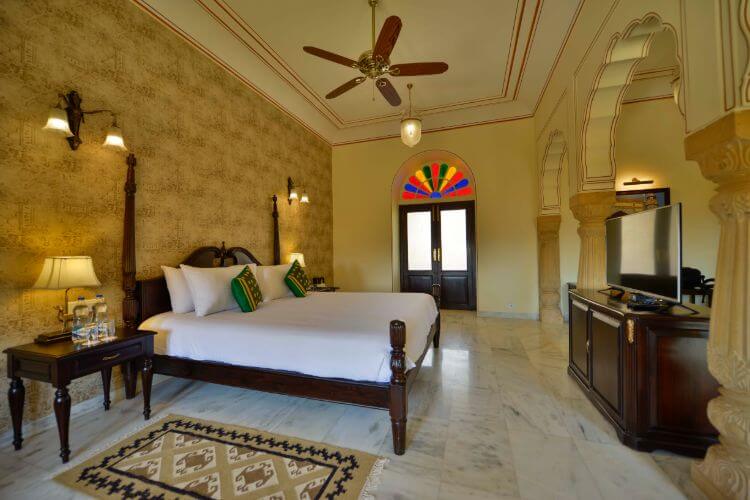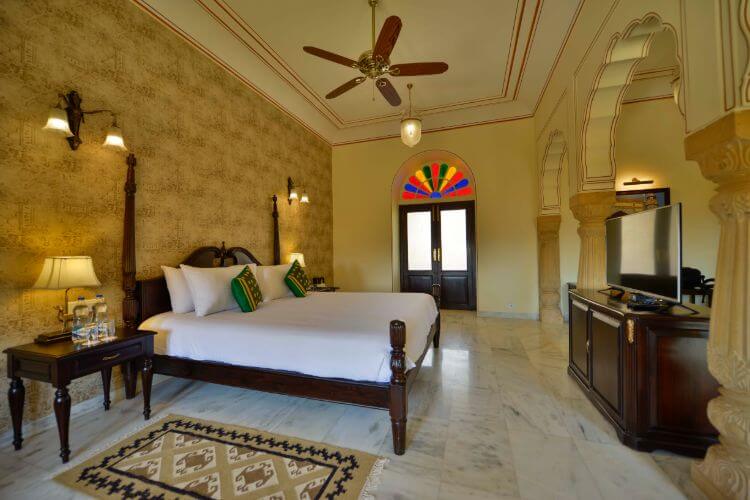 ---