---
Bhanwar Singh Palace Pushkar
Bhanwar Singh Palace illage Hokra, Ajmer-Pushkar Bypass, Phushkar, Rajasthan-305022, India
About
A Famous pilgrimage town, Pushkar has thousands of devotees and travellers flocking it each year. A tranquil city, it is also referred to as the 'rose garden of Rajasthan'. Adding a touch of class and elegance to this city is the famous luxury spa resort, Bhanwar Singh Palace. Spacious accommodations, friendly service and a paradise –like setting awaits you at this property
Located strategically within 10 minutes of the Pushkar's Sarovar and between Ajmer- Pushkar bypass, the hotel is apt if you are here to explore. Even the renowned Ajmer Dargah is within 15 minutes of the vicinity. Other important spots such as the Ajmer Railway station, the Ajmer city, Buddha Pushkar and the famous marble market of Kishangarh are all quite close by.
What sets us apart is the desire to ensure that you get nothing but the best. There is famous Japanese proverb- The reputation of a thousand years may be undermined by the conduct in one hour. That is why we strive diligently to build a trust with our customers and then repeatedly delivering up to their expectations. While they may visit us like guests but we ensure they definitely leave as family.
---
Accommodation Overview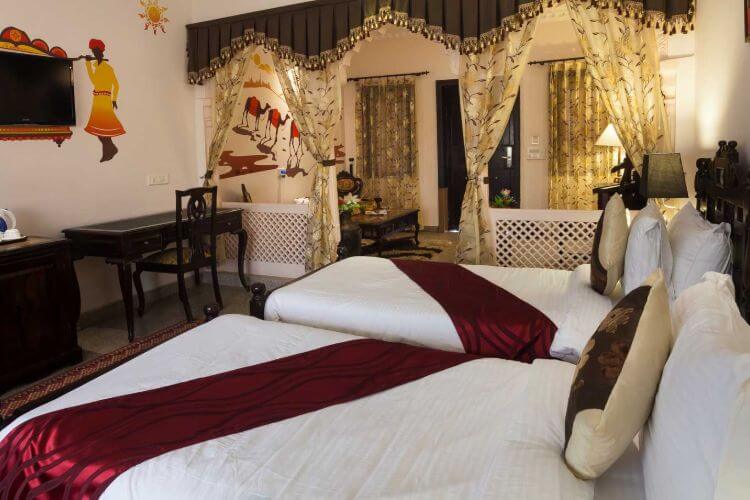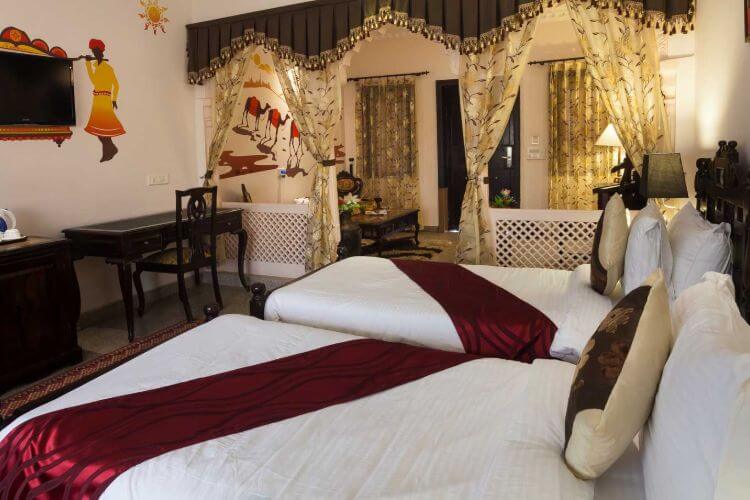 ---
How to get there
BY AIR
The nearest airport to Pushkar is in Jaipur, which is 140 kilometres away. The airport is well-connected to major metropolitan cities.
By Train
You will need to take a train to Ajmer and then take a 30-minute drive to Pushkar. The Ajmer railway station is well-connected with major Indian cities like Delhi, Mumbai, Jaipur, Allahabad, Lucknow, Kolkata, Bhopal, and Bangalore.
By Bus
This is not a great option for long distance travellers. However, buses from Delhi to Ajmer and further to Pushkar are easily available. The Rajasthan State Road Transport Corporation runs deluxe and semi-deluxe buses.
---