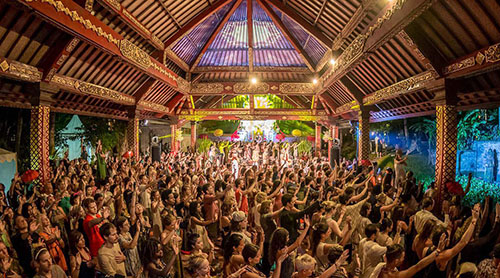 Touching hearts, transforming people and great vibes : Bali Spirit Festival 2019
Strolling around the Bali Spirit Festival terrain feels like spending time in an enchanted forest with bright rainbow colours, the subtle scent of incense and the sound of chanting and rhythmic music. The vibes are positive and high and there is a strong sense of community and togetherness. A special place, touching hearts and transforming people into the best versions of themselves…. Bali Spirit Festival is a true wonderland festival where anything could happen!
Looking back at the wonderful week I spent at Bali Spirit Festival just a couple months back in March 2019, I can't wait for the next edition in 2020! Located at Purnati Art Centre near Ubud in the heart of Bali, I drove through rice paddy fields and traditional villages to get there and I brought along my 1,5-year-old daughter, Jingga, by far the youngest and tiniest Balance Boat team member to join the festival. Now, I won't lie: going alone to a festival with a young child is a challenging thing! The heat, the mud, the walking around with bags on my shoulders and a kid on my arm, I can tell you, it is hard work but as it turned out, my daughter is a true yogini at heart, dancing in the crowd and making yoga poses as if she's been practising for years. I'm so happy we went, escaping into a world of positivity and high-life for a while! Also, I was very thankful for the amazing on-site kids club where my daughter could play under the supervision of loving volunteers. On top of that, the sparkling infinity swimming pool was another gift from heaven - a place to relax and swim when the heat would get too much to bear. We also enjoyed some downtime, sitting in front of the stage to see live bands and eating healthy snacks and Indonesian food. Yes, it was one blissful week to look back on with great joy and gratitude!
What is Bali Spirit Festival?
Bali Spirit Festival is one of the biggest events in Bali every year, spreading spiritual awaking, holistic healing and a strong sense of community across the globe. It all started in 2008, just after the Bali bombing when tourism was down. The founders were looking for ways to bring tourism back to the island and at the same time create a global community to spread awareness, peace and love to make the world a better place. Conscious, eco-friendly, inspirational, the festival has grown and grown to attract more visitors every year. Yoga, meditation, music, workshops, food, healing - it is all part of it with an unbelievable selection of teachers, presenters and performers, also coming from around the world.
2019 Edition
The festival grows every year and in 2019, the festival has more than 180 presenters and more than 90 artists, taking place to Puranti Centre of Arts, 15 minutes from Ubud. Over 5000 people attended the festival in 2019 and it was a great melting pot of cultures and people. March 31st was the last and the busiest day of the festival and it was also the day with the most families and kids as there were dedicated kids workshops and activities (yay for us!). Vibes don't get better than those family days!
Yoga, meditation, healing workshops, breathwork, music, capoeira, massage, Qi Gong, aesthetic dance, inspirational talks, Bali Spirit Festival is a wonderous wonderland to lose and find yourself, connect with others, restore, revive and transform into the best version of yourself. Love is in the air and it's easy to get into the flow, riding on the high vibes and meeting people openly and with kindness. Highlights were African drumming meditation with Chocolako, embodied dance for Daniel 'Sonic' Rojas, mind, body and spirit embodiment with Noel Bernhardt and many, many more!
Compost toilets, water re-fill points, pay with your festival bandage, it's all pretty perfect! 
Get into the flow and keep your balance
Balance is key! One week of workshops and high vibes is intense and it is important to find a balance between activity and relaxation. Introspection and healing are important aspects of the experience!
Rain and sunshine
Located in the rainforest and happening just before Bali's rainy season officially ends, you can expect some monsoon rainfall to come crashing down during the festival. A splendid mix of rain and sunshine, just what the world needs! How to handle the rain? Easy! Embrace it! It only adds to the magical experience: the scent of fresh rain, the sound of raindrops, the coolness after the heat of the sun beats down merciless, it is part of the magic! Wear slippers or go barefoot, bring a waterproof bag with some extra clothes and you're all set! Experience the workshops and listen to the sound of the rain while doing so! Amazing!
What to pack
Recycled water bottle (there are refill points across the property)

Sunblock & mosquito repellent

Slippers 

Waterproof bag

Extra clothes

Yoga mat

Swimwear
I didn't nearly attend all the workshop I wanted to but nevertheless, I enjoyed every minute of being there. It is pure food for the soul! Looking forward to next year (when my daughter is 1 year older and I can attend even more of the workshops!). Check out reviews here and here and if you like dance festival, yoga festivals, music festivals or any other kind of festival, make sure to get those tickets booked or become a volunteer at this world-changing-Bali-event in 2020.
Sampai Jumpa!
Gallery
---